A red banner cut across television screens on Tuesday, August 9, on the islands of Hawai'i. The message, accompanied by an electronic voice and pitchy alarm, warned of extreme winds strong enough to carry off outdoor furniture and impact driving conditions. While the warning repeated on loop several times, interrupting regularly scheduled programming, it did not warn of the fires that would level entire communities on Maui and the Big Island.
There was nothing that could have prepared the locals for the fires that would separate families, raze homes, and leave vibrant communities in ashes. Though the flames raged thousands of miles from the mainland, their impact can be felt all the way across the Pacific Ocean in McMinnville, Ore.
Forty-six Linfield University students call the islands of Hawai'i home, and more who have friends and family located there. With limited internet access and cell service, reaching friends and roommates who might be at risk has been difficult.
Linfield administrators are attempting to contact students who may have been affected to confirm that they are safe and offer assistance. A series of emails sent by Jeff Mackay, Vice President of Student Affairs, and President Miles Davis offered resources and asked students to report any information they knew about their peers' safety. Coaches have also been calling and texting their athletes.
Mackay urges students to report any information they have about friends and peers to the Office of Student Care and Support or to Mackay directly. Any information is helpful, Mackay is unsure if affected students are receiving the school's messages.
"We are trying to make sure that students and families in Hawai'i are safe," Mackay said. "If they are impacted by [the fires] we have financial support available through some of our emergency relief funds that we are connecting those students with."
It is difficult to anticipate the impact the fires will have on students. Mackay said that the university is prepared to work with students and families on a case-by-case basis. In addition, Linfield is preparing to offer students emotional support and counseling services.
"There are over 65 people and counting who have lost their lives and so I can't even pretend that I have the words to explain how this may impact a 17, 18, 19, or 20-year old who may be experiencing this," Davis said. As of 8:51 on Sunday, the number had risen to 93, according to The New York Times.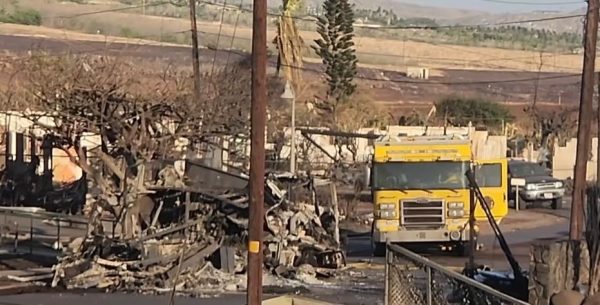 Several students have already reported losing their homes and others have reported that they have had to evacuate. These individuals have been difficult to reach, and may not have access to clothes and supplies. While several charities in Hawai'i are supporting families, it is clear there is still much work to be done. On Maui, the entire community in Lahaina has been displaced.
"My heart sank knowing that the Lahaina community got hit this hard. It hurts knowing that all of the families there lost everything." Kami Echiverri, a junior from Maui, said. "One thing I do know and appreciate is the hard work of our first responders. Maui was never prepared to have four fires all in the same night."
Linfield is joining the efforts to help by creating a fundraising campaign for affected students. The campaign appeals to donors and alumni according to President Davis. Students or staff who want to aid relief efforts can do so through several on-campus clubs that are organizing drives and fundraisers. The Hui o Lōkahi club, also referred to as the "Hawai'i Club," will be holding a food and supplies drive for survivors of the fires during the fall semester. Members of the Linfield community who want to help can stay tuned to the Hui o Lōkahi club Instagram, where they will be posting updates and links to resources.
While this time is shrouded in uncertainty for many, President Davis and other administrators have committed to helping students, alumni, and families.
"At the risk of sounding cliche, I want them to know that we are there for them. We have set up support services for people impacted. The students have given us so much and we're going to do our best to give back to them and support them in this time of need," Davis said. "I think that we have to reach out and be more than sympathetic, we have to do things to support people. Not just talk about it, but take action."
Any student who has been impacted by the fires should reach out to the Office of Care and Support or the Office of Financial Aid to receive assistance. Alumni can get in touch with the Alumni Office.