Finding love at Linfield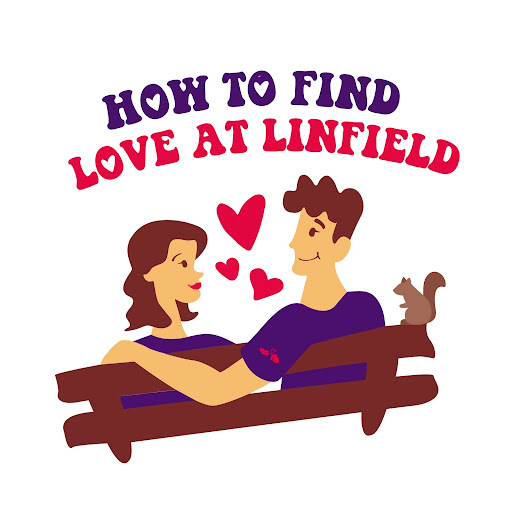 As college students, we all have one thing in common: we are here to learn and grow both academically and personally.
However, one aspect of personal growth that often comes up in conversations is dating and relationships. With numerous eligible bachelors and bachelorettes on Linfield University's McMinnville and Portland campuses, finding that lifelong partner is not only possible, but daunting.
For many students, college is the first opportunity to explore romantic relationships without the constraints of living at home or being under the watchful eye of parents. But as many quickly learn, finding genuine relationships can be difficult–particularly in a small community like Linfield.
The fast-paced nature of college life can make it hard to build meaningful relationships. Students often juggle classes, athletics, extracurricular activities, part-time jobs, and social obligations, leaving few opportunities to cultivate deep connections with others.
Plus, Linfield is way too small to date around. Once you've "talked" to one person, suddenly you've dated not only their best friend, but potentially their roommate, teammate, or even their fraternity/sorority sibling.
Therefore, us single 'Cats are left to wonder how to even start to find love at Linfield?
Thankfully this generation has invested in dating apps and social events, so meeting Linfield singles has never been easier. But, when it comes down to apps like Tinder, Bumble, and Hinge, it can also be hard to filter through those looking for a long-term commitment and those just interested in a one-night stand.
Despite the challenges of dating in college, it is possible to find genuine relationships with the right approach.
Looking for long-lasting love at Linfield? Get off the "dating" apps and create an environment for yourself where genuine relationships are more likely to develop. Strive to switch your mindset to prioritize long-term fulfillment over short-term pleasure.
Another strategy to find a romantic relationship is to expand one's social circle beyond immediate friends, teammates, and classmates. Joining clubs or organizations such as Circle K, Art Club, or Fraternity and Sorority Life can provide opportunities to meet new people who share similar interests.
Before diving into the college dating scene, students need to take time to understand themselves and their adulting lifestyle. College is a time of significant personal growth and students may find that their interests, values, and priorities shift as they navigate this new environment. It is essential to have an understanding of oneself and one's goals before pursuing a relationship.
At the end of the day, it's most important for students to first prioritize themselves by being surrounded by people that share the same values. In doing so, finding love and companionship that will last long beyond the college years will be much more likely.
That being said, don't fret if the fish for you isn't swimming in the sea of McMinnville; there are oceans beyond Linfield.
You never know where you'll be, who you'll meet, or even how you'll change in the next four years.
Leave a Comment