Linfield Student and Professor film's featured in McMinnville Short Film Festival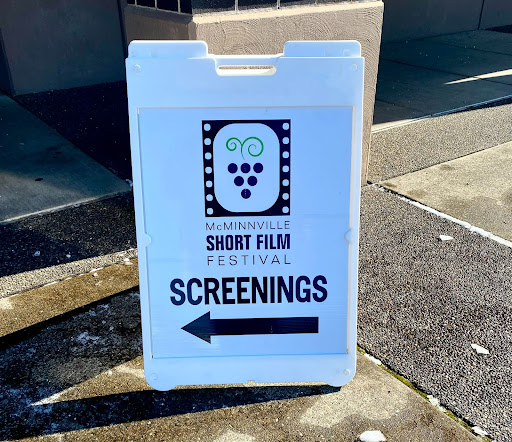 In the last weekend of February, McMinnville Short Film Festival debuted to the public 23-26. The festival was held at McMinnville cinema and several wineries where the films were played and where filmmakers spoke about their films and experiences.
The short film festival consisted of multiple categories, including: animation, college student showcase, comedy, documentary, drama, environmental, native american, experimental/a bit strange, LGBTQ+, Locals, Oregon filmmakers and suspense/horror/sci fi.
Featured in the festival in the College Student Showcase section was junior Andrew Goodwin, who creates experimental short films for his digital art major. Goodwin's short film, "Thoughts and Prayers" was selected to be a part of the festival.
Goodwin found the festival to be a good entrance point into the world of the film industry.
"This was the first time I got to interact with filmmakers outside of Linfield. The film industry is so heavily connection-based and I knew that I would need to start making those connections before too long. It was a great way for me to get my foot in the door of a very active area of society," Goodwin said.
The films all played on a full size movie screen at McMinnville Cinema. Natasa Posenc Stearns, who's film "Ziva" was featured in the Experimental/A little bit strange section, commented on the films playing on a big movie screen.
"It's important to see films on the big projected stage because it only adds to the films," Stearns said. "After I saw the film on such a big screen I knewI needed to go back and fix some things."
Around 100 films total were shown throughout the festival. Many of the films were made internationally. .
Getting the opportunity to see so many films from around the world in one place is important to the filmmaking community.
"Film festivals are so vital to a healthy film community because they serve as an indicator of the ongoing trends and priorities in different areas of the larger film and cinema industry. It's a good way to assess one's works in conversation with others and how the works stand on their own," Goodwin said.
Goodwin's film career didn't start with a film showing at a festival, though. "My film career started by taking video for the high school football team. I traveled with the team, celebrated with the team—I was a part of the team, but through filming instead of playing. That made the transition to experimental film so much easier as far as capturing the moment." Goodwin said.
Filmmakers can be anyone and come from anywhere.Film festivals help connect the community. Filmmakers get feedback on their films and allow them to show their work to a larger audience.
"I'm always seeking feedback on my works, both as suggestions for future growth and in what's going well. Getting the live feedback through questions and viewers' reactions is so significant in gauging my ongoing growth as a filmmaker," Goodwin said on showing his film to an audience.
Also featured in the film festival is JAMS and Art professor, Kahlil I. Pedizisai, who's short film "Lovelace" was featured under the experimental/a bit strange section.
Pedizisai touched on his filmmaking process during the question and answer for his film. As an experimental filmmaker, his filmmaking process is often different from other genres of film.
"I actually think that my next idea is gonna be the greatest idea and maybe that's what keeps me going," Professor Kahlil I. Pedizisai said.
Experimental film is a favorite genre of both Goodwin and Pedizisai's to make films in. Film festivals are often one of the main places experimental films can be shown.
"Film festivals, especially ones that have room for experimental video, offer the opportunity for visual artists to show images in motion, musicians and sound designers to have their sonic works listened to, and actors to be recognized for their energy." Goodwin said, highlighting the importance of events like film festivals within the arts.
Mcminnville short film festival occurs every year, and is an opportunity for the viewing, showing and enjoyment of short films within the community and greater world. Roll the tapes!
Leave a Comment