BLOOM, An Exhibition by Belle Bezdicek
From February 8 to March 24, the work of Lacroute visiting professor of digital art, Belle Bezdicek, will be displayed in the Linfield Art Gallery. Her exhibition, titled "Bloom" displays works of printmaking, woodwork and digital art inspired by her love of animals and architecture.
Originally from the Isle of Wight in England, Bezdicek grew up surrounded by animals. One of her first jobs, at the age of seven or eight, was to muck out the horse stables and take people out on riding lessons.
"When I proved the point that I actually could look after a horse, my dear dad bought me my first pony. . . saved from the knackers, but that's like slaughter" said Bezdicek.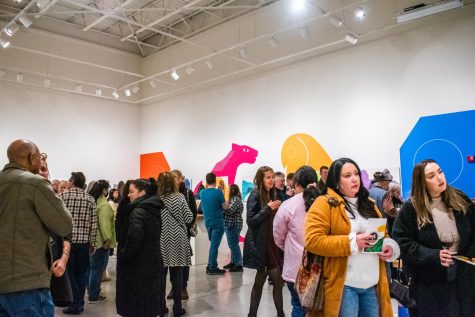 Taking care of this scruffy horse helped shape her love of animals and thus her artwork. This includes the animal prints, animal jewelry stands and large vinyl animals currently on display in the Linfield Art Gallery.
Throughout her life Bezdicek's mother has sent her paper clippings (on display in gallery). With the rise of technology her mother began to send her social media posts. Now Bezdicek and her mother enjoy sending photos and videos back and forth, especially of animals. One of these posts showed a group of elephants taking a nap together.
"I love these elephants, so I started building them with the glowforge [(a 3D laser printer)]. I start printing and I'm doing my thing . . . then I came up with the elephants. I used the glowforge to print the patterns – their cells, their DNA, how they're built and their structure. And they're like architects and I want to celebrate that" said Bezdicek.
However, when Bezdicek first started to think about her future career, she thought she wanted to be a cook. She actually applied to culinary school, but after some self reflection pulled her application and applied to art school instead.
"I just always was drawing. I really enjoyed art classes at school. So I went to [art school] in England" said Bezdicek.
Like many artists Bezdicek started her artistic journey with techniques such as drawing or painting. But in 1985 her father, a connoisseur of technology, bought the first Apple Mac. This is when she started experimenting with digital graphics and fonts.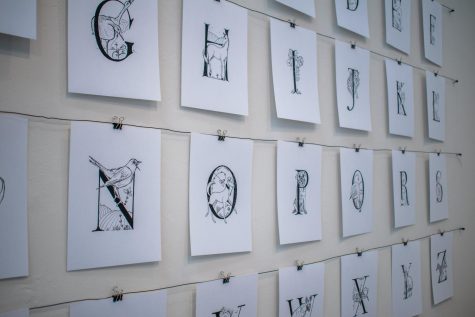 "[My dad] bought one and I started playing on it. It had very pixelated graphics, like three and four fonts – all pixelated, you know. I started hand rendering type and as I blew up the type I was like wow, I can see cave painting animals. Then I would turn them upside down and they were turning into these creatures" said Bezdicek.
By the time Bezdicek was ready to attend university, she was accepted on the portfolio of this experimentation. After being accepted into school she started playing around with printmaking.
"In England you have to do a foundation course and in that one year you do everything. You do printmaking, design, etc. and choose what you've really enjoyed. Then you apply to a college and that's what you're stuck with for the three years – there's no majors" said Bezdicek.
After finishing her undergraduate degree in printmaking, Bezdicek was accepted in a graduate program at Saint Cloud State University. There her work consisted of large 10 foot long compositions, emotionally influenced by the death of her father. These pieces were displayed with a large neon sign above them, sound and animation at her graduate show.
"I think I must have been going through a lot. You don't show emotion. You don't talk about death. You know, you just move on. You probably should not and I think I was expressing a lot of that because [the pieces are] pretty dark, but they're very industrial" said Bezdicek. "I've got a total fascination with animals, but I also absolutely love architecture. . . just absolutely swallowing, you know, absorbing it. So this is all prevalent to me." said Bezdicek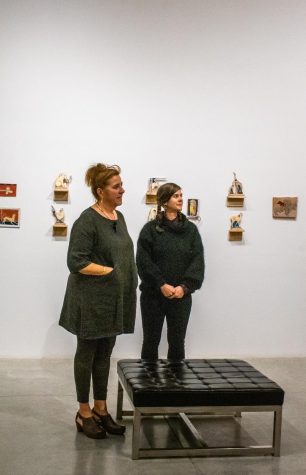 This love of architecture brought about a new found way of creating art for Bezdicek. She self-taught herself the Swivel 3D program, which she then used to create beautiful 3D renderings of structures. These structures became her muse for her artwork. She began projecting images onto her sculptures and utilizing the images within collages.
"I'm doing all these digital pieces and projecting them on all my sculptures. I was doing digital screen prints for the patterns and the mosaics. There's like 3 layers of paper, they're ripped, then I print the screen prints on top. I print the plate on top and then I cut out the city and put the city that I designed back into [the artwork]" said Bezdicek.
After graduate school Bezdicek artistic career continued to expand. She began teaching graphic design and commercial work to design students in 2000. She started working with colleagues and other artist friends of collaborative work, such as an exquisite corpse book (a collaborative drawing book where the participants use the "corpse" of the drawing prior to create a new drawing).
In 2015, she began focusing on her own brand and freelance work. This was around the time when she landed her position with Rosenstadt Brewery in Portland.
"[I] pitched quite a few ideas. But I really pulled concepts together to show some new ideas and then we came up with the shield. Very traditional. . . German bits, proper German. I think that clean, crisp influence of German black letters really spoke out there," said Bezdicek.
Other personal projects of Bezdicek include her book about training for a marathon, titled "The Perfect Run," small golden animal jewelry stands and her animal alphabet.
"I started to make these golden creatures. I wanted to make them like jewelry stands so they would guard people's treasures. It did okay. But the thing is when you're creating something you love – when you try and turn it into a monetary thing I think it changes everything," said Bezdicek.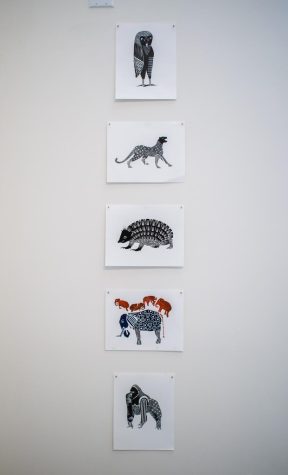 "Then [the] 2020 [pandemic] hit. So we weren't going anywhere and I'd always wanted to create an alphabet. The first thing I started sketching was a dog because I love dogs. D-O-G was the first thing I drew. And I went hang on a minute, instead of just spelling out words let's just actually start the alphabet" said Bezdicek.
The book, the golden creatures, the animal alphabet and other works are all currently on display in the Linfield Gallery. To see these works visit the gallery Monday through Friday from 9am to 5pm or Saturday from 12pm to 5pm.
To learn more about Belle Bezdicek and her work, check out her website: https://bezandkin.com/
Photos by Meghan Mullaly.
Leave a Comment