Tale of two (Linfield) winemakers
Linfield University, located in the heart of the Willamette Valley, has many connections to the winemaking world around it
This article was created as a final project for WINE212: Introduction to Winemaking, where students were asked to interview two winemakers, compare their styles, and choose which style they agreed most with, based on information they learned in the class. Article has been adapted for The Linfield Review.
Mordechai Kotler, Averaen Wines, Dundee, Ore.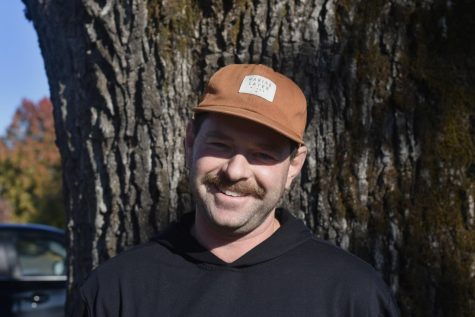 "Good grapes make good wine."
That's the guiding principle that Mordechai Kotler, Northwest winemaker for Valkyrie Selections, lives by. Kotler oversees three brands located in Washington and Oregon, one of which is Averaen, based in Dundee, Ore., where he lives with his wife and three daughters.
"Same goes for food, or clothing, or cars," he continued. "The makeup of something that is really high quality is, in essence, the material."
Kotler, a Linfield University graduate from the class of 2005, is passionate about finding the best material to make his wines. He says the most important thing for perfect grapes is to create great relationships with growers.
"Because then, as a winemaker, you don't have to do very much," Kotler said. "You're working with like-minded individuals who see things in the same light as you do, whatever that might be. And, at the end of the day, when you have people who really care about their site, you're going to get good grapes."
He aims to source from vineyards that align with his values. Most are organic, though not all are certified. (According to CCOF Certification Services, becoming certified-organic can cost businesses hundreds of dollars per year. Kotler said it doesn't matter to him whether they pay that fee–he maintains it should be the other way around and that non-organic growers should pay a fee to use chemicals on their crops).
All vineyards that work with Averaen are LIVE certified, which is an independent certification from a Pacific Northwest-based organization that ensures its members operate their farms sustainably and in a "salmon-safe" way, according to the LIVE Inc. website.
Kotler doesn't aim for a specific brix, a measure of sweetness, when he receives his grapes from growers.
"I don't want too much sugar but I like wines with a little more sweetness–consumers definitely like that," he laughed. "But, more than anything, I think I really know my vineyards. I spend a lot of time out there. It's one of the really nice things about being in a custom crush facility."
As Kotler explained to me, a custom crush facility is a place where winemakers can make wine, but they don't own anything except for the wine. The building, the equipment, and even the crew are all provided by a management team, leaving more time for the winemaker to focus on their job: winemaking.
"I don't have to be in here washing the floors before harvest, because the crew does it," he said. "It's just done automatically here, so I get more time to get to know my vineyards."
Since he can be so hands-on at the source, he bases picking decisions on taste. And in classic Pacific Northwest fashion, how soon the rains are coming. The last thing he would want is a heavy rain–or worse, a frost–ruining an entire crop of grapes.
Despite being hands-on in the field, Kotler says he has a more hands-off approach in the winery. He aligns himself with the natural wine movement, using only sulfur, grapes, and commercial yeast. Commercial yeast is necessary, he said, because there are so many wines being made in a shared facility. (Yeast is a microscopic fungus, essential to fermentation, that can be either naturally derived from the surrounding environment or bought and manually added. Commercial yeast is more reliant and specific varieties can be chosen for specific flavors or special attributes. Natural yeast is riskier and could yield unpleasant results if a foul-tasting strain takes over).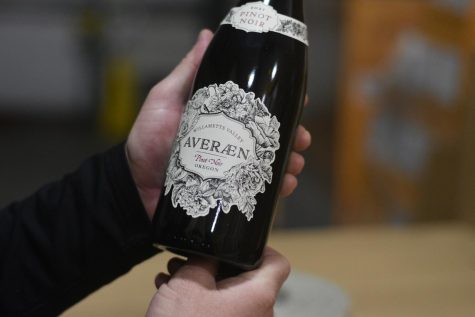 "The idea of fermenting natively [in this facility] is impossible because the fermentations are going to borrow the cultures that are already here," he said. "So you might as well get your own players on the field."
Averaen has whittled its selection down to just two varieties a year: Pinot Noir and Chardonnay.
"We try to do what Oregon is really known for, and we try to do it well," he said.
The Pinot Noir is fermented in two-ton steel tanks. His weapon of choice for managing the "cap"–the mass of fruit solids and skins that float to the surface when fermenting red wines–is not allowed at the custom crush facility. If it was up to him, he'd be in the tanks, stomping the grapes with his own two feet.
Instead, the tanks are outfitted with pumps that move the juice from the bottom to the top.
"Classic pump over," he said. "A really elegant way to get a double extraction and not break up the berries or overwork your fermentation."
But he divulged a secret with me, that he gave permission for me to share.
"I like to get in and just kind of, gently, get the cap submerged into the juice," he said, while the pump is simultaneously pouring liquid over the top. I clarified whether he meant stomping on the grapes.
"Sometimes, during lunch, I do it," he said, in a lowered voice. "They're all on lunch break and I'm down here alone in the basement, I'll do it."
Once the Pinot Noir is finished fermenting, it's put into wooden barrels to age and stacked high, on blue racks marking Averaen's brand, upstairs from the fermenting basement. Kotler said Averaen makes more than 10,000 cases of Pinot Noir every year.
Averaen also makes 10,000 cases of Chardonnay, another popular Oregon wine product. Kotler chooses to ferment his Chardonnay in barrels.
"There's something really magical and kinetic about a barrel," he said, about this choice. "It's just something that happens inside those walls."
All wines from Averaen go through a bladder press, which is a giant metal cylinder with a bag of air inside that gently fills up and presses the liquid out of the berries and stems. (One of the primary differences between red and white wines is the order that the liquid is pressed. White wines, which do not need to retain any coloring from the skin, are pressed before fermentation, while red wines are pressed after).
Kotler doesn't have a set preference on what percent "whole-cluster" his wines are; if it's a "riper" year, he might include more stems in his fermenting mix than he would another year. Stems, especially once they start to become brown and woody, contain compounds called tannins that give wine "structure" in its mouthfeel.
"I really like anywhere from 30 to 50% [whole-clusters mixed into free berries]," he said. "And anything more is really fun to play with but only as a component of a blend. I love a 100% whole-cluster wine as an eccentric wine to have in the cellar, but I could never do it at a massive commercial scale."
Erich Berg, Ricochet Wine Company, McMinnville, Ore.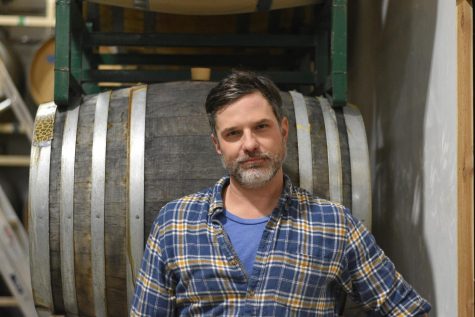 Wine is often associated with a hefty price tag. That, or it's a bottle of "two-buck Chuck" from Trader Joe's (Charles Shaw wines were historically sold for $1.99, though in some states prices have risen to $3.99, according to an article by Mike Pomramz in Food & Wine).
"All people deserve good wine" is the mantra that Erich Berg, the one-man army behind Ricochet Wine Company, uses to guide his winemaking. Making quality products accessible to as many people as possible is one of the calling cards for his brand.
Good wine, according to Berg, is possible only with community partnerships.
"I've made partnerships with my vineyard managers, but I also have partnerships with the very people who buy my product. To me, that's not just transactional," he said. "I have a deep gratitude for people who support my brand. And I feel like it's my job to continue making people happy."
Ricochet has roots in McMinnville, Ore., where Berg lives with his wife and daughter. On the side, he teaches winemaking courses at Linfield University.
Berg contends that even though his business has grown from just two barrels to thirty in five years, he doesn't want to get so big that people can't feel connected with the brand. Members of his wine club, known as the Social Club, text him on his personal cell phone.
He wants Ricochet to connect even deeper with the community.
"I contribute 5% of my earnings to local and regional nonprofits that help people bounce back, or 'ricochet,'" Berg said. "Because wine is community. It takes a lot of people to make it, it takes migrant workers in the field to people doing a bottling line. It takes the people who are supporting your brand. And generally, when you open a bottle of wine, it's a community you're sharing it with."
For all Berg's talk of community, a lot of his nitty-gritty, day-to-day work is done solo. He rents space from Harper Voit's winery to process and manage his grapes–which he drives even as far as Pasco, Wash., to fetch himself in a rented truck. (Pasco is 255 miles by car from McMinnville, according to Apple Maps).
When I visited the winery, Berg was in the middle of making a sale to a couple who got there before me. He joked with them to "step out to his office" to handle the transaction–to his truck, parked outside.
Ricochet offers a slowly evolving selection of wines. Berg is open to trying new varieties, since he is still in the midst of growing his brand.
He could've stuck with Pinot Noir–one of his favorites and a variety that does well in the Willamette Valley–but he wants to follow what his customers seem interested in. His current portfolio, available on his website, includes a 2021 Pinot Blanc, a 2021 red blend, 2020 Pinot Noir, and a 2021 Tempranillo, along with a few special blends or single-vineyard Pinot Noirs. (Wine names are determined by the variety of grapes used principally in the production).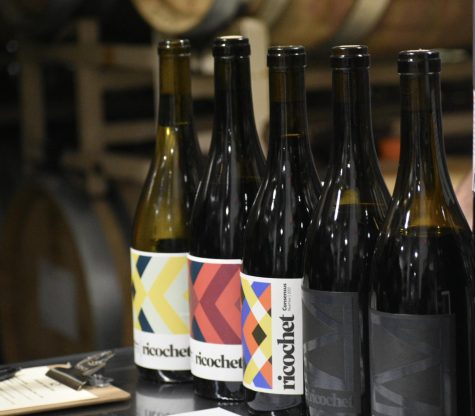 "People are still learning about who I am," he said. "And I'm still trying to figure out who I am."
The different varieties of grapes are all sourced from sustainable vineyards–such as those with organic or LIVE certifications, but Berg says he'll take their word for it if they haven't paid for the official label.
"It's all part of that partnership," he said.
Berg tends towards fruit that is fully ripe for his wines. He likes the stems and seeds to be brown, or fully lignified. Lignans are what turn vines and seeds woody and give that tannic kick at the back of the palette.
The reds are fermented in plastic tubs that are big enough for a person to submerge themselves in, then put in oak barrels to finish the job. Whites and rosés are fermented in oak barrels, though one ferment was chugging along in a steel tank as sort of an experiment. Light experimentation is baked into Ricochet's processes.
"I try to get native yeast fermentations going for the first three to five days," Berg said, referring to the microbes that occur naturally on the grapes and are responsible for the fermentation that creates wine. He adds in commercially produced yeast "if it doesn't light up on its own."
During that initial window, Berg uses pumps to manage the cap on the soon-to-be red wines.
"And then punch downs from there on out," he said, referring to the cap management strategy that involves using a long rake-like tool to physically push the skins and fruit matter back under the liquid. "Sometimes, I get my feet in there."
In this mix, Berg often leaves about 30% of the total as whole cluster. These mature stems add to the structure of the wine, what consumers usually refer to as "dryness."
Just like Averaen, all wines at Ricochet pass through a bladder press, which gently squeezes liquid out from the berries without releasing bitter compounds from the seeds. For anyone who's ever bitten into a grape seed by accident, this makes perfect sense.
Berg is hesitant to pour sugar, enzymes, acids, or other additives into his wines.
"A buddy of mine calls me natural-adjacent," he said, laughing. "Some of my products are natural—they would fit into whatever the hipsters are calling 'natural' today."
When Berg refers to natural, he means wines that have no added ingredients, including yeast.
"I start everything with a natural inclination, I just don't 'tie my horse to it' if the juice is starting to go south," he said. He also doesn't filter the wine before bottling if it doesn't need it.
"Basically, my rule is if I don't have to do something, I won't do it," Berg said. "But I reserve the right to do something if I [need to]."
The comparison
The two winemakers featured in this piece seem to be playing completely different games, at first glance.
Kotler, of Averaen, has an undeniably larger scale at hundreds of barrels of wine each year. His fermentations are carried out in a custom crush facility, outfitted with a crew that handles the bulk of the labor–leaving Kotler time to focus on creating relationships with his vineyards and tending to other duties. The brand has reduced their selection to just two varieties, but said they focus on doing them well.
Berg, of Ricochet, is operating at a smaller scale–30 barrels. He ferments his wines in a shared facility, operating the machinery himself and, as he likes to joke, endlessly cleaning them himself. Berg is offering a wider selection of varieties this year than Averaen, including blends.
To be as fair as possible, I tried the same type of wine from each: the most recent Pinot Noir I had access to.
Averaen's 2021 Pinot Noir pours into the glass a deep, dark purple. A quick swirl of the liquid lifts a fruity draft up toward my nose. It tastes just as fruity as it smells, with hints of dark fruits such as cherry and blackberry. Tannins don't prickle the inside of my mouth until it begins to reach the back of my tongue, serving as a gentle reminder of the whole clusters used during the process. According to the Valkyrie Selections website, this vintage utilized 30% whole-cluster.
On the other hand, Ricochet's 2020 Pinot Noir was bright from the glass to the nose to the tongue. Its peppery and earthy aroma were quick to hit, with a pleasant finish that lingered softly. There was enough structure to prevent any "flabbiness," but not so much that it took me away from the experience.
Both wines that I tried were sourced 100% from Willamette Valley vineyards. With such drastically different flavors, I would have never known. Many in the wine world believe that the place grapes are grown affect the flavors and qualities, a term often referred to as a wine's "terroir." (Jamie Goode, of "The Science of Wine," says the definition of this term is hard to pin down but roughly sums it up as "a local flavor, the possession by a wine of a sense of place or 'somewhereness'").
I believe a degree of these differences comes down to the climatic conditions of the years they were produced in.
2020 was the summer of historic fires in Oregon and Washington. The Statesman Journal reported that 2020 was the second-most acres burned from wildfires in the state of Oregon, ever. This may have affected the growth of the grapes used for Ricochet's Pinot that season—I know I was affected by the thick smoke hanging over the Willamette Valley for over a week.
The Pacific Northwest experienced a historic heatwave, known as a heat dome, in 2021 that topped the charts in several cities across the region and caused dozens of deaths, according to the USDA. The USDA also said that some farms experienced 100% crop loss in parts of the Willamette Valley. Though I can't say for sure how the grapes for Averaen's 2021 Pinot were affected by this heat, I can guess there may have been some sort of effect.
Other differences in flavor might be due to the minute choices made day-to-day when producing the wines. Even a little action can cause a drastic change in the final product.
However, these two winemakers are more similar than one might originally think. Kotler and Berg align closely in their principles–particularly when it comes to where they source their grapes, how they view their partnerships with vineyards, and how they treat the grapes they receive.
Both men value the work that goes into growing the raw material for wine. They expressed similar sentiments to me, in their own ways, about the importance of sustainable viticulture, but recognized that certification is not achievable for all like-minded growers. Building meaningful relationships with their vineyards are important to Kotler and Berg.
Once they receive their grapes and begin the process of making wine, Kotler and Berg follow similar philosophies–wines that lean heavily towards all-natural, with limited additives. Aside from small material differences–such as whether they choose to punch down or pump over or what style of fermenter they use–these two winemakers seem to agree on almost everything. Almost.
The verdict
The world of wine is new to me. I didn't know that I could find wines that I enjoyed the taste of until I learned what to look for.
If I were to choose which winemaker's style I align most with, based solely on taste, I would choose Ricochet's 2020 Pinot Noir.
I often find that a wine strong in tannins takes away from the experience for me. Averaen's Pinot Noir made my mouth pucker. Though not unpleasant, I prefer a wine that I don't notice the structure as much. I don't want my drink to "fight back."
Ricochet's Pinot was softer on the palette. In my notes, I didn't write anything about the structure or dryness of the wine. I didn't need to—it was neither too much or too little.
But a 2020 or 2021 Pinot Noir is not the entire brand. That would be like saying your SAT score determines your character.
In terms of apparent winemaking philosophy, I side again with Erich Berg of Ricochet Wine Company. Like I said, the two winemakers' beliefs are similar in almost every way—except for one thing. Berg's use of native yeasts during fermentation.
"Of the estimated 1,000 or so volatile flavor compounds in wine, at least 400 are produced by yeast," asserts Jamie Goode, in his book The Science of Winemaking.
When I read this passage in class, I was instantly amazed by yeasts and their power. If almost half of the chemicals responsible for the flavors in wine are created by tiny little organisms, then where those organisms originate from must be important. Take sourdough bread, for instance. Sourdough, which is created with a fermented starter, is wildly different tasting than the soft and sweet yeasted breads. The principal ingredients are often the same (flour, water, etc.), but the origin of the yeast is the point of divergence.
"Many winemakers… see the use of cultured yeasts as unnecessary and even plain wrong," Goode says. "They argue that the native yeasts present in the vineyard are part of the terroir."
I side with these winemakers, and Berg seems to, too. Using native or wild yeasts, when possible, is like paying homage to the ancient origins of this beverage while also honoring the land the grapes are being produced on now. David Bird, in Understanding Wine Technology, says on the first page that wine has been around for at least 5,000 years.
These first wines were not created by inoculated yeasts. It wasn't until the 1960s, according to Goode, that cultured varieties became widely available.
But now, it's almost standard practice.
Goode says that an estimated 80 percent of winemakers worldwide choose to inoculate their wine with cultivated yeasts. To me, it's clear who the underdog, the counterculture, is to the modern wine scene. Native yeasts.
If I were making my own wine in the Willamette Valley, or anywhere, I would follow Berg's lead and allow the yeasts naturally found on the grapes to take hold.
Conclusion
Winemaking is about more than just the taste of the beverage in a glass. It's about community, as Erich Berg likes to say, and about building relationships, as Mordechai Kotler says. It takes hard work and many moving parts to get a truckful of berries into a bottle.
It also takes many small choices along the way that add up to the final product. Steel or plastic fermenting tanks? Punch downs or pump overs? To add yeast or to let nature do its thing?
The answers to these questions must be answered by the winemaker. Their answers are formed by experience, taste, or necessity. Sometimes, those choices can make all the difference.
Leave a Comment