The Trials and Tribulations of a Division III Athlete
As I sit and reflect on my third year as a college athlete, I can't help but ponder what my 12-year-old self would think of my accomplishments. I became a college cheerleader and I've had the privilege to attend and cheer for the school which holds the record for the most consecutive winning seasons in all of football.
My younger self would have never imagined a Division III school like Linfield University would satisfy all of my ambitions and dreams.
Attending a DIII school and being an athlete myself, I've both experienced and seen the raw love and passion Linfield athletes have for their sports, no matter the level they are playing at.
I believe the average person downgrades DIII athletics due to the scarce media coverage, the small alumni bases and the lack of national branding. Most don't realize that there is just as much dedication and drive–not to mention a lot more talent than most think.
Just like at the DI level, DIII rosters all over the country are filled with players who were among the best in their high schools and even their states; it's not uncommon to find all-state and all-district athletes on DIII teams.
One major reason kids out of high school choose to go to a small, private university is that the education is a better fit, and they use athletics to enhance their college experience, not expecting to make it their career.
As someone who attends a small liberal arts university, I can attest that there is a huge significance in being a student first and an athlete second, which we know is often not the case at the DI level, despite what the NCAA claims. You are more than just a number on a big roster; the faculty and staff want you to succeed both on the field and in the classroom and the school is more invested in you as a person.
"DIII athletes definitely get looked down upon, especially since we don't receive scholarships,." said junior breaststroker Whitney Averill. "I think people just think they could walk onto the swim team and compete with us since technically there are no cuts on the swim team."
There is a stigma that if you don't have a Division I scholarship offer coming out of high school, you have failed as an athlete. But this couldn't be further from the truth. Many high school students look down upon the idea of playing at the DIII level without fully realizing how hard it will be to make it in college: just a little over 7% of high school athletes make a college roster, but less than 2% play at the DI level, and even fewer are on full athletic scholarships.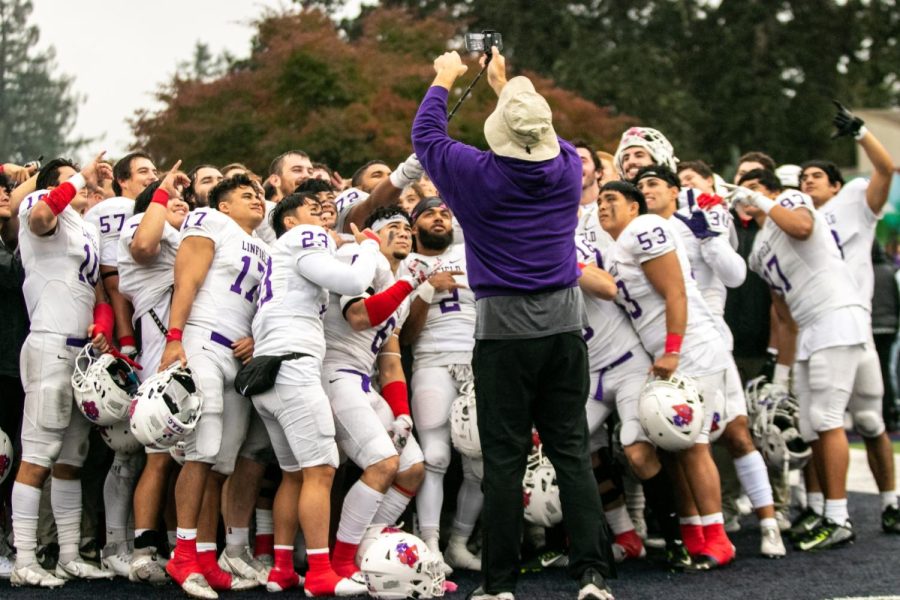 There are 350 NCAA Division I schools, 313 Division II schools and 438 Division III schools. Just like any large DI school, small DIII schools compete for national titles every year. Especially for some of Linfield's top athletic programs, this is something they strive for each season. Linfield's football team has dominated the national landscape with an unprecedented 66 consecutive winning seasons. Ultimately there are more schools that compete at the DIII level than any other division, making it more difficult to obtain a national championship.
"DIII athletics definitely gets a bad reputation. People don't realize that it still takes a great skill to play at this level, especially among a top-ranked program in the nation like Linfield football," said Linfield sophomore offensive tackle Alex Hankins. "I think there is definitely a skill gap between DI and DIII players or else we would all be playing DI. But at the same time across every division, we work just as hard and devote our lives and bodies to the game."
When I hear people downgrading DIII athletes it makes my blood boil. I don't think people understand the dedication and drive that it takes to be successful at any level, including DIII. We work just as hard as any DI athletic program, with considerably fewer resources and recognition.
One aspect many people don't realize about DIII athletics is that they have a small operating budget and most of our funding comes through individual team fundraisers and direct alumni donations to the athletic department.
"I believe that DIII athletes are not looked down upon by other athletes, but people who have never played at the next level do look down on you." said junior baseball pitcher Grant Knox. "Initially, I looked down on DIII sports until I got to Linfield. Then I realized the level of play is significantly better than any high school in my area."
At large universities, many athletic teams have their own dedicated facilities, trainers, operation personnel, chefs, tutors, large coaching staff, and corporate sponsorships. At the DIII level, many of the teams have to share facilities and trainers, and don't have the benefit of chefs, tutors, or sponsorships.
The path to success at the DIII level is much more reliant on the athletes rather than the institution. All amenities are provided at the DI level while we are struggling to find practice space and transportation to games. The non-revenue generating sports may even require their athletes to purchase practice gear individually.
DIII athletics is about the student-athletes who play for the love of the game, not for the next biggest Name, Image, and Likeness (NIL) deal or hopes of getting drafted to the pros. It's about playing the game you love for another four years.
Give credit to where it is due. All athletes should be respected, but those college athletes who practice until 10 pm due to lack of space, the ones who drive their teammates in 12-passenger vans to away games, the ones who provide and embellish their own winter gear, the teams that work concessions and are running the video screen to help make money for their sport are the ones who need the credit.
All of these extra efforts do not take into consideration the athletes who wake up at 5 a.m. every morning to share a squat rack with their professor.
Leave a Comment