Is a lackluster conference penalizing the Wildcats come crunch time?
In my three years at Linfield, I have watched two football seasons thus far. And what I have witnessed on Saturdays at Maxwell Field has turned into a rendition of Groundhog's Day.
The Linfield community joins together on Streak Street and inside Memorial Stadium to watch the Wildcats dismantle the visiting opponent by the time halftime rolls around. The starters are in for only about half of the game, the students leave their seats at halftime and tend to not return and the outcome is predictable nearly every time.
Some numbers, to put in perspective: the Wildcats have won home games over the last two seasons by an average score of 46-12. Yes, you read that right.
Needless to say, Linfield football has done nothing but impress the Wildcat faithful during my stint so far here in McMinnville.
However, with all of the success, there is still a desire to watch competitive games in the Cat Dome on crisp Saturday afternoons.
All of this got me thinking about other ways that Linfield football could expose itself to higher levels of competition and something dawned on me. A specific school in the NCAA Division I ranks has made having an independent football program a part of their image, their brand, and what the college football world associates with them. The Notre Dame Fighting Irish. What if Linfield, a NCAA Division III program, took up the Notre Dame route and went independent for football only?
Since the 2000 football season, Linfield has amassed an astonishing 126-7 win-loss record in Northwest Conference play. I'll save you from doing the math: The Wildcats have been winning at a near 95% rate. Of the seven conference losses, four of them took place from the 2006 to 2008 seasons. So if you exclude those three "down years" where the Wildcats went 14-4, that's an astonishing 97% winning percentage ( 112-3). Along with that, the Wildcats have either won or shared all but four NWC titles since 2000.
If that's not a prime example of pure domination, I'm not sure what is. And as you can imagine, it's pretty boring.
It's not just the NWC that lacks real competition for the Wildcats,either – it's a regional problem. In the most recent season, Linfield was the only West Coast school ranked in the D3football.com top 25.
But there are troubling stats within that time frame, too, especially if you look at the non-conference record. Still looking at their record since 2000, Linfield has been 81-27 in non-conference competition, which includes both regular season and postseason games.
In that same timeframe, Linfield has made several deep runs in the NCAA Division III playoffs, including a national championship in 2004 over Mary Hardin-Baylor.
Despite lifting the trophy in '04, the Wildcats have not reached the pinnacle of postseason success, failing to get back to the championship game ever since, though they've reached the semifinals three times. Their last semifinal appearance was in 2015.
Notre Dame, who is in a national championship drought of their own at the moment (the Irish have claimed 11 national titles), has been living the independent lifestyle since 1978, with one season in the ACC during the 2020 season whilst the COVID-19 pandemic was ongoing.
One of the biggest reasons for the Fighting Irish to stay independent came in 1991 when they signed an exclusive television rights deal with NBC for $38 million over a five-year period. As part of the deal, NBC broadcasted all Notre Dame home football games.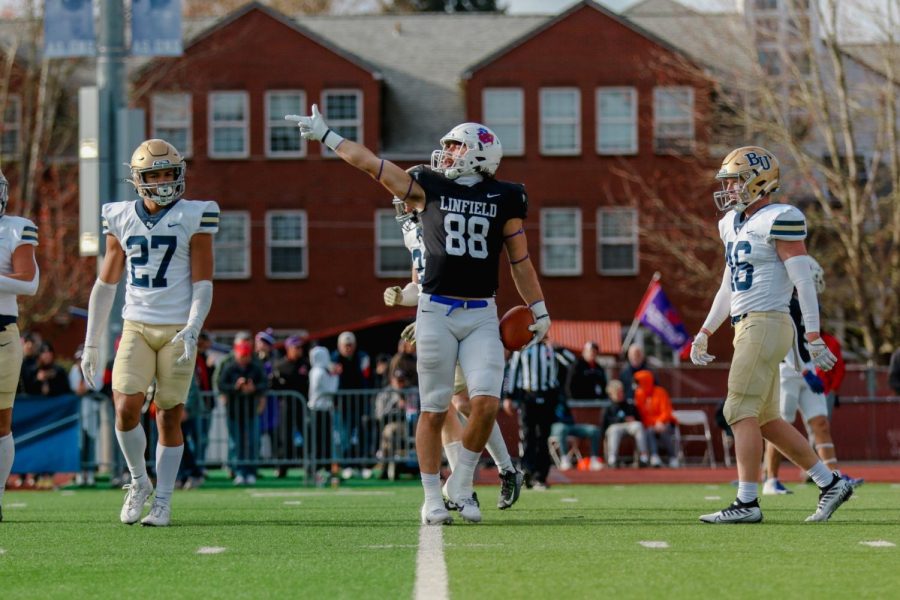 Back in 2013, NBC and Notre Dame agreed on an extension that started in 2016 and will last until 2025 that is worth around $150 million. What was groundbreaking about this deal was that the two entities had never signed onto a deal lasting longer than five years prior to the current contract extension.
While Linfield is nowhere near the national prowess as Notre Dame, there was a media rights deal signed in Fall of last year with Portland's KOIN 6 news channel to broadcast Linfield athletics both on KOIN and on its sister network, CW, through the 2022-2023 academic calendar year.
If the media rights deal with KOIN is extended in the coming future, Linfield would not only see benefits for its student-athletes, but also for the students that are solely focused on academics. When Notre Dame signed its NBC extensions in 2013, they announced that roughly 6,300 undergraduate students had received nearly $80 million in financial aid revenue generated directly from the NBC contract.
I know going independent would mean an increase in cost, particularly for travel. But the program can seek outside funding, including from the TopCat Club or other private donors. And theoretically, if Saturdays were actually exciting in McMinnville and games weren't decided until the fourth quarter, the school could generate more ticket revenue.
Something that I could see potentially standing in the way of the Linfield football program saying goodbye to the NWC isn't even tangible, has nothing to do with money, but it seems to be one of the university's most prized possessions. It's "The Streak."
I feel like I shouldn't have to explain what this is, but if you've ever been to a Linfield football game, you've definitely heard about the 66 consecutive winning-seasons in some way, shape or form.
Leaving a conference like the NWC which is composed of inferior football programs where games are most likely less competitive than practices, for a more cutthroat schedule where the outcome isn't predictable, would put the precious "Streak" in danger, no doubt. If that were the case, maybe it would put some extra urgency into the football program earlier than the middle of November when the playoffs are already underway.
Unless Linfield makes a change when it comes to conferences, scheduling tactics or if the rest of the NWC teams drastically improve (unlikely), it's looking like the same trend will linger. Saturdays will be spent watching our Wildcats overwhelm inferior opponents, until November rolls around and we inevitably aren't ready for postseason challenges because we haven't been challenged enough early.
View Comments (2)