OPINION: A+ atmosphere lifts Linfield to victory
After a 36-year hiatus, intercollegiate wrestling returned to Linfield University Friday night in front of a spirited and boisterous Ted Wilson Gymnasium crowd.
Actor Will Rogers once said, "You never get a second chance to make a first impression." With this being my introduction to the sport of wrestling, I'd say it was a smashing success.
If you made your way into the gym Friday night, you might not have believed that it was the debut of a program making its return after three decades. The lights were dimmed and focused on the mat to set the tone for the historic evening. Everything about the environment pointed toward something special being built.
Linfield won both the mens' and women's matches, the women not allowing a single point by a single Pacific University wrestler all night, whereas the men had to fight a little harder to earn their victory.
While a Wildcat victory definitely assisted in how I felt walking out, I talked to a few Boxer fans and they shared my sentiment. Both were very impressed with how the Linfield students and community were already supporting their wrestlers, so early in the program's season.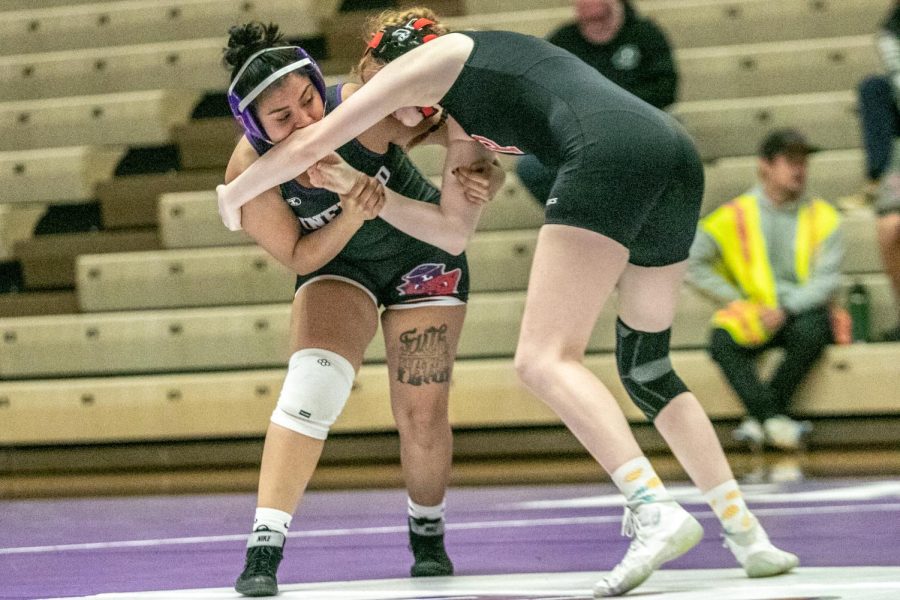 From where I was situated—mat-side with my camera—I couldn't help but think about how the atmosphere was eerily similar to the last two minutes of a wire-to-wire basketball game, or a never-ending rally during an intense volleyball match. The crowd was into it from start to finish, always on the edge of their seats waiting for their respective side to make a move.
Rather than a reaction after a game-winning shot, a go-ahead home run, or a crazy catch in football, the excitement and noise being made acted as a catalyst to keep their respective side motivated. From start to finish in each match, it was non-stop cheering and encouragement from the crowd.
The Linfield women immediately got momentum on their side with a quick pin by Ayana Medina at the 130-pound weight class to open the match. Following Medina's quick work, Brielle Buck and Alice Rickett took care of their opponents, both winning in 10-0 technical falls.
Pacific was unable to supply a wrestler at the 123, 155, 170 and 191 weight classes, all resulting in a forfeit and a 33-0 Linfield victory.
After a slow start, the Linfield men, backed by the cheers of the Wildcat faithful in the stands, were able to comeback from an early deficit to defeat the Boxers 36-19.
Pins by Linfield's Lance Van Hoose in the 174-pound class, Price Pothier in the 184-pound class, and Darrius Walker in the 197-pound class, surged the Wildcats onto the path to victory.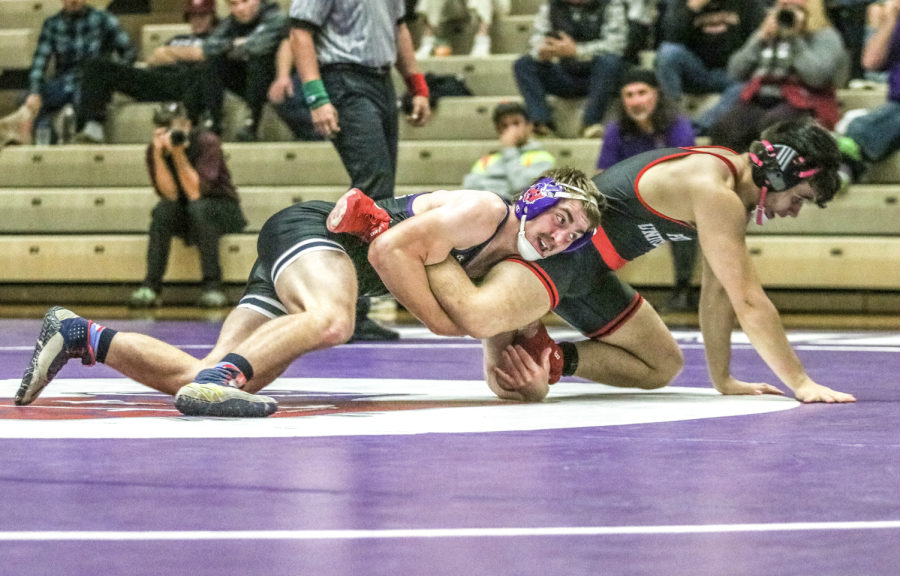 The Pacific men were forced to forfeit at the 157 and HWT weight classes as well.
As I have reiterated, this was the perfect introduction to wrestling not only to me, but also to all of the newcomers that were in the stands. I'm already counting down the days until the next match and take in the electric atmosphere again.
When is that day you may ask? December 11 at 4 p.m. against Southern Oregon University. I highly recommend that you join me, and find some time to cheer on the new Wildcat wrestlers here at Linfield.
You won't regret it.
Leave a Comment