Syncopated Ladies comes to Linfield University
Lights shine in your face on an elevated stage. Music begins to play as you and your teammates begin your routine: stomping, kicking and shuffling your feet. You make music with your toes and your heels, filling spaces and hitting beats. You follow the music, letting it lead you through, and when it fades out, you take a bow, letting the adrenaline settle in. It's exhilarating, expressive and entertaining.
This is the life of a tap dancer.
On October 4, Chloé Arnold's Syncopated Ladies hosted two free workshops in the Fred Meyer Lounge. Arnold and her team helped teach tap and Afrofunk, all while discussing the importance of maintaining your body's strength through working out and stretching. At the end of the workshop, participants got to have a discussion with the Syncopated Ladies. Linfield University senior Caitlin Meek attended the workshop.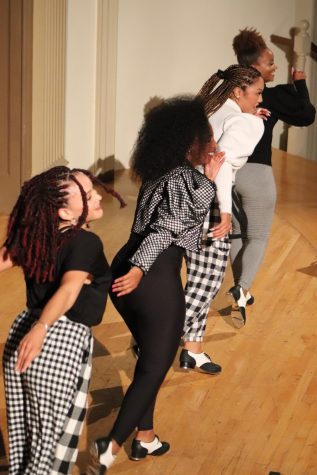 "Though I have done tap dancing for many years, the Syncopated Ladies dance workshop reminded me of the joy and spirit of tap dancing," Meek said, "I enjoyed how accessible the workshop was to bring new people into something I love so deeply."
Arnold is a big believer in following your dreams and achieving your goals. "I don't believe in practicality," Arnold said.
The Syncopated Ladies were created in 2003, bringing together their different skills to make dreams into reality. They made their own promotions, their own costumes, managed their own money and choreographed their own dances.
"We were doing this 10 years before we were making any money," said Arnold.
Following the workshops, their hard work and passion came to Linfield's own ICE Auditorium. The Syncopated Ladies performed 30 minutes of their normally 90-minute show and ended the night with a Q&A session led by Linfield's president Miles Davis.
The Syncopated Ladies work hard to help dreams and goals become a reality. They train every day to make sure they're doing their best. Arnold works hard to help grow the dancers around her as well. In 2014, Chloé and Maud Arnold founded the Chloé and Maud Foundation.
The Chloé and Maud Foundation said on its website, "We fight for justice by providing exceptional education opportunities, and creating healing art spaces and works that celebrate our culture, build self-esteem, and empower our voices, in the spirit of joy and possibility."
Tap is an empowering force, and the Syncopated Ladies brought it with them on the Linfield stop of the Sync Ladies Tour.