Art in the hillside: Linfield students visit East Creek Art to experience the anagama kiln
With sparkling skies, a babbling creek, and trees blanketed in moss, it isn't hard to recognize East Creek as a beautiful place for art and learning. This hidden gem of Willamina, Oregon, is home of the anagama wood-fired kiln. This unique kiln is built into a hillside, reaching high temperatures, billowing with smoke and spitting fire. It's unlike anything seen in a classroom.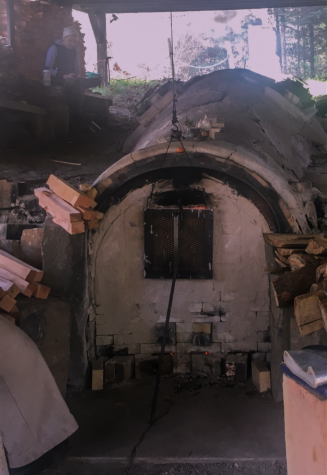 Joe Robinson, adjunct professor at Linfield University's Miller Fine Arts Center and ceramics artist, is the owner and operator of East Creek Art, home of the anagama kiln. Robinson has made visits to this art wonder a staple of his Linfield ceramics curriculum. Trips to East Creek are something many students look forward to, as well as something that anyone can enjoy.
Senior Chelsea Armstrong, an international relations major, is taking ceramics a second time because of the pure enjoyment she got while going through the course earlier in their college career. Armstrong is one of many who have an appreciation for the trips students are able to go on throughout the course. 
"I always look forward to going to East Creek, it reminds me of where I grew up," said Armstrong. "There's always so much to do and see. It's genuinely never a bad time."
Liza Esposito, a sophomore studio art major, challenged everyone at East Creek to take in the nature around them more fully. Esposito led a small group down to the creek, stopping periodically along the trail pointing out the flowers, birds, and other natural wonders that made her smile. She guided her classmates to a small mossy clearing with tall green trees whose branches divided the sky into sparkling beads of blue. The group discovered abandoned pots hidden under leaves, a fallen tree acting like a bridge to the other side of the creek and a growing appreciation for the forest.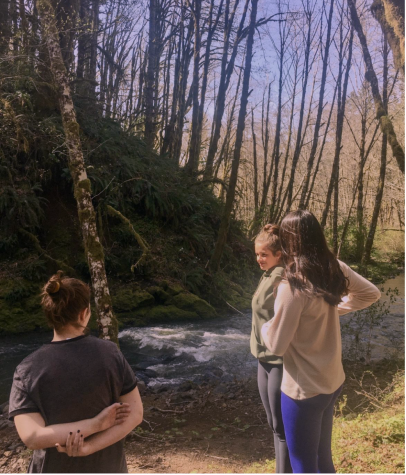 "East Creek is such a beautiful, relaxed place," Esposito said, basking in the sun and soaking up the relaxation offered to her by the cool breeze. "Being there is practically therapeutic." Esposito's appreciation for the experience goes further than the calmness of nature. "Another of my favorite things about East Creek are the friendly people who are passionate about what they do," she said. She is eager to take ceramics again in the future. The exposure to professional  artists in their element is a special experience for aspiring artists like Esposito.
The kiln itself is a wonder. Anagama roughly translates to "cave kiln," and has a history that goes back to China, and then Korea, and then Japan. To maintain the high temperatures, East Creek artists must continually feed wood into the kiln. The kiln makes a powerful impression. 
Savy Short, a freshman nursing major who attended the field trip said her favorite part about East Creek was the smell and heat she could sense from the kiln. 
Billie Melchoillie, a sophomore nursing major, traveled all the way from Portland to visit the property. 
"It was also really great to see the kilns in action," said Melchoillie. Like others, she was also impressed by the beauty of the land. "I love how remote it feels and how beautiful the drive is to get here. I went once early in the semester to check it out and we got a really great tour of the property. Joe took us down to the river and then we walked up the hill behind his house. It was a great experience to get a personal tour of the property and all of the cute little cabins that Joe has built over the years."
The many artists who are drawn to East Creek and its anagama kiln provide a sense of community. "My favorite thing about East Creek is the vibe here, there is just a certain atmosphere in places that have a tight community," Armstrong said. "You can tell East Creek is one of those places because it takes a village to make things happen here."