New director of wine education looks to advance wine studies program
Linfield University's location in the heart of the globally-recognized wine region of the Willamette Valley in Oregon was a big reason that Linfield's new director of wine education, Tim Matz, made the move from Napa Valley to take over the wine studies program.
"We have a great foundation here [at Linfield]," Matz said. "But there's a huge opportunity to do so much more. I've put together a strategic plan with a group of individuals, and we have a plan to expand and evolve the undergraduate curriculum to be more interdisciplinary and more comprehensive than it currently is."
Matz saw the job opening after his predecessor, Gregory Jones, resigned last summer. He was hired, and started the role in September 2021.
"I've always wanted to join the academic world in what I call the fourth quarter of my career," he said. "After having a 35-year career in the wine business, I decided it's time to get back to the things I've learned and share that with students on the practical side of the wine industry."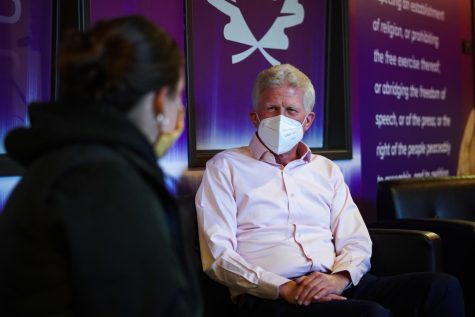 Matz brings with him an impressive resumé. His most recent role was as executive vice president and general manager of Zonin USA, a subsidiary of Italy's largest private winemaking company.
Now, in his second semester at Linfield, he's teaching a class about the business of wine using a textbook he helped to write, called: "Wine, a Global Business." Each week, they cover a different topic about the wine industry, from grape growth to marketing strategies to diversity, equity, and inclusion issues in the industry.
Matz most recently lived in Napa Valley for 20 years. Before moving there in 2001, he called many places home, including Ohio, Chicago, Houston, Louisville, and even a four-year stint in Dublin, Ireland.
It was by chance that Matz found himself in the wine industry.
"People say, 'Well, how did you get into the wine industry as a boy from Ohio?'" he said. "I didn't grow up near vineyards or grapes or anything."
After completing his Master of Business Administration degree, Matz went to the career center at his university to look for open jobs. He found one–at a wine and spirits company called Brown Forman.
"I applied for the job. Got the job. The rest is history," he said.
Part of his plans for the program include adding a hospitality section of courses for tasting room management, direct-to-consumer club development and more. Matz also says that he's launching a Master's of science and wine business leadership next September.
The online curriculum will also be expanded to include certification classes for anyone to take that aren't for college credit. This way, adults already in the industry can pursue certifications without committing to going back to school.
"We also have the Wine and Spirits Education Trust, which is a company out of the UK that offers all kinds of wine courses," Matz said. "We're one of only two entities in the state of Oregon certified to teach this, so we're going to expand that program."
Linfield has a wine club called The Oak & Vine Society, with membership fees going directly to supporting the wine program. Members receive benefits at local wineries, tours, and invitation to various events. According to Matz, there are currently 85 members. In five years, he hopes to bring that number to 1,000.
"All of this is in the interest of the students," Matz said. "The beauty about the academic world and universities is that, while we need to make a profit, it's not to make a profit to share with others or individuals: it's to give back to the students, whether it's through scholarships, programs, building new buildings, or whatever it is."
At Linfield, Matz is also working with The Pawdcast Network to produce a podcast called "Wine Chat Uncensored". Each episode, all hosted by Matz, will feature a different expert in the wine industry or someone related to Linfield. A few of the first guests include Page Knudsen, an owner of Knudsen Vineyards in Dundee, and Susan Blosser, the founder of Dundee's Sokol Blosser Winery.
There is currently no date set for the premiere of the podcast, but he anticipates the release may be later this year.
"My decision to come here has been the right one," he said. "I'm learning every day and I realize there's so much opportunity here to build something very special that I don't think has been achieved yet. We can become a globally recognized interdisciplinary wine program, one of the most unique ones in the world, and that's what we want to be known for in five or 10 years."