Men's basketball falls in NWC semifinal
Linfield men's basketball fell to Whitman College on Thursday evening 82-79 in a nailbiter semifinal game of Northwest Conference championships. The loss was the team's first at home all season.
The Wildcats were named regular season co-champions after a 99-85 win over Willamette University last Saturday. They share the title with Whitworth University and Pacific Lutheran University, but received first seed given their record against the two teams.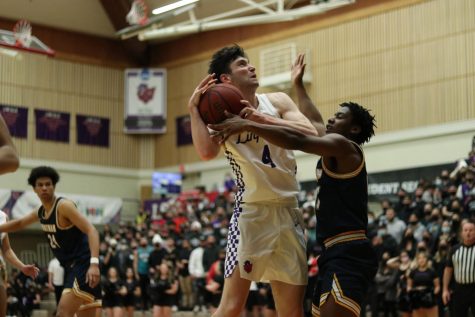 Whitworth faced PLU at home in Spokane on Thursday, besting the Lutes 80-72 to advance to the championship game on Saturday.
Senior Dempsey Roggenbuck sank a three-pointer to start off the scoring, but Whitman quickly answered with a three-pointer of their own. The Blues led Linfield for most of the first half, led by 15 points by sophomore guard Jai Deshpande.
Down by one with eight seconds remaining in the first half, sophomore Jackson Dupree forced a Whitman turnover. Roggenbuck then capitalized on foul shots, sinking two to send the Wildcats to the locker room ahead 43-42.
The nail biter continued into the second half, with the lead changing constantly. With 14 minutes remaining, Whitman's Xzavier Lino sunk a three-pointer to pull ahead 53-51 and then made two more from outside in the next minute.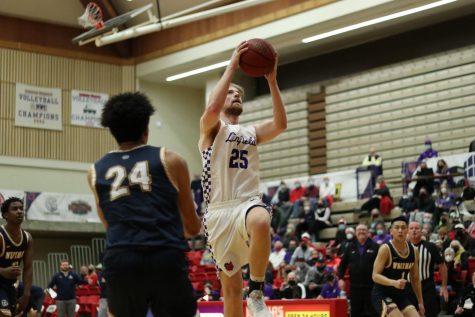 With a minute remaining, Dupree made a foul shot to tie the game 79-79. A Whitman three-pointer solidified the Blues lead, and the Wildcats were unable to answer.

This afternoon, Roggenbuck was named first team all-conference for the second year in a row. He's only the sixth Linfield men's basketball player in history to earn all-conference honors four times, according to Linfield's athletic department. The guard led the 'Cats on the evening with 22 points.

Senior teammates Max Lommen and Aaron Baune were also named to all-conference teams, earning second-team and honorable mention, respectively.

here for more photos