New art exhibit honors life and creativity of Linfield alum
Art exists beyond speech and time, and it extracts feelings and experiences that cannot be explained through words alone. The creation of art is a means to emote and be understood.
For Frank Kowing, one of Linfield's first graduates in studio arts, painting was a way to sift through his difficult experiences. Kowing's life was ravaged by disease and grief, he was estranged from his parents and lost two wives to illnesses.
This month, Linfield Gallery is hosting "Frank Kowing: Breathing the High-Altitude Ether of Discovery". The exhibit is open to the public until Mar. 18.
Kowing was born in 1944 on a farm in McMinnville, and grew up with a father that did not support his love for art. Yet, he relentlessly pursued his passion until he graduated from Linfield in 1966. Kowing spent much of his life traveling and spent time in New York, Washington D.C., and France. He continued to create during every step of his journey.
"Paint isn't sitting there, it is moving through the canvas," exhibit curator Thea Gahr said.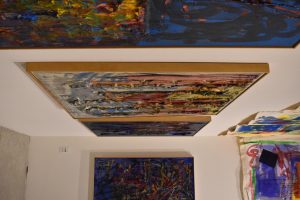 Kowing's life was an uphill battle, and he was in constant strife with forces beyond his control. He struggled with his health, relationships, and self-image. As a member of the Confederate Tribes of Grand Ronde, much of his work focuses on the local land, with paintings titled "North Cascades" and "Mt Hood".
Gahr believes that this gallery is an important moment in Linfield history. It sets the stage for discourse over our roles in the destruction and theft of this land.
"Linfield Gallery is located on the traditional territory of the Yamhill band of the Kalapuya. After the 1855 Kalapuya treaty, the Kalapuya people were forcibly removed and are now members of the Confederated Tribes of Grand Ronde," Ghar said. "I'd like to acknowledge these people as the stewards of this land since time immemorial, the suffering that they endured, as well as the continued restoration and healing needed."
Kowing passed away in Sept. 2016, but his art continues to be relevant to Linfield and the nation at large.
In his art, Kowing's inability to sit in his grief pokes through the campus. His art blinks at onlookers tempting them to look inwards. Though much of his art is abstract and distorted, Kowing's paintings are ingrained with hope. Though the summit appears so far away, it promises beauty to those who brave the cold. His work instills the very complexity of existence onto its viewers.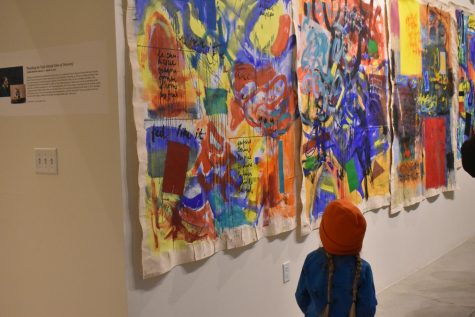 The smattering of light and text are both disorienting and eerily familiar. In his work, Kowing seems to instill the very act of feeling. As the eyes of the viewer move from one point to another, images fade and refocus. Every inch of the canvas demands attention as strokes bleed into one another.

In addition to his art, Kowing leaves behind a legacy for his loved ones to tell. At the gallery reception, Kowing's brother described the turbulence of Kowing's life. At the opening reception on Wednesday, it was announced that an autobiography by Kowing is currently being developed.

Though Kowing is primarily an abstract painter, he also has sculpted and sketched. Several of his pieces are now on display at Linfield.

here to view more photos