Campus immersed in charitable activities
With blood drives, donation centers and even a tree of giving decorating campus, Linfield is showing the community the meaning of the season.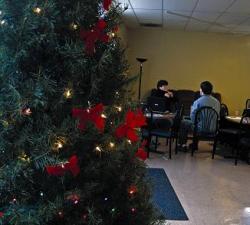 This year, multiple events are taking place in the name of the holiday spirit.
Theta Chi Fraternity is hosting its annual philanthropy event, 12 Days of Christmas, ASLC and the Linfield Employees Association are collecting gifts through the Tree of Giving in O'Riley's and the Red Cross will sponsor a blood drive. Also, the 2007 Sleep Out will raise awareness of homeless children in McMinnville.
Twelve Days of Christmas, coordinated by sophomore Devin Salinas, Theta Chi philanthropy chair, is one of the biggest events put together by students during the holiday season. Fraternity members take turns accepting donations in the Gift Mobile, located next to Walker Hall. The RV is open 24 hours a day, with at least two fraternity members manning it at all times.
"This is a great event," Salinas said. "It was the biggest reason why I wanted to be philanthropy chair in the first place. The best thing is that we're helping our local community, especially during the holiday season."
The event started Nov. 27 and will continue until Dec. 7. Each day has a different focus, such as toys or school supplies. However, they will accept all gifts at any time, regardless of the day's particular theme.
The last day of the drive, Dec. 7, will focus on toys. The fraternity will donate the collection to different groups such as the Salvation Army, Kids on the Block and Oregon Health & Science University.
"We tend to take things for granted," Salinas said. "Fortunately, this (event) helps remind us that there are people less fortunate. This is our way of giving back."
The Tree of Giving, an annual event, is also meant to collect gifts for underprivileged children. Students, faculty and staff pull a tag off the tree and buy at least one article of clothing along with one of the toys the child requests. The gifts are due by 4 p.m. Dec. 14. Gifts need to be turned in to the Linfield Bookstore, unwrapped and with the tag attached.
Both LEA and ASLC combined efforts to put on this project, LEA President Tami Harrell said. The tradition started in 1990 and serves as a way to get the entire community involved. There were 100 name tags on the tree this year. As of Dec. 6, only three remain.
"It's one of those things that (gives) back to the community," Nancy Marrs, chair of the outreach program for LEA, said.
Another event designed to help the community is the Plum Pudding project, headed by LEA. Marrs said departments on campus sign up to sponsor one or more McMinnville families.
"We've had incredible results," she said. "We started with 20 families. At one point, we were donating to over 50 families. However, we had to cut back, so now we do 40 families a year."
One year, when the drivers dropped off one of the plum pudding packages, the volunteers realized the family did not own an oven, Community Service Coordinator Jessica Wade said. Linfield faculty came together and gave that family an oven to cook their turkey.
"I was really impressed when I heard that story," she said. "I've been really impressed overall with how much the Linfield community does around this time of year."
Wade said the bookstore employees also deserve recognition. If there are any tags left on the Tree of Giving, they try to buy the remaining gifts.
"They play the role of Santa Claus," Wade said.
Students interested in helping with the packaging and delivering of gifts can meet in Walker Hall Dec. 21, at noon.
The American Red Cross Blood Mobile will be on campus for a blood drive Dec. 7 from 10 a.m. to 3 p.m. in the Rutschman Fieldhouse.
Phi Sigma Sigma Sorority is sponsoring the event, helping to check donors in and taking care of them after they donate blood. About 20 sorority members are signed up to donate.
"We like to get involved, and we want to give back to the community," sophomore Cori Simmons, the campus relations chair for Phi Sigma Sigma said. "Even the girls who don't like needles can help out with this one."
Donors can sign up online at www.givelife.org, sponsor code "Linfield." Walk-ins will be accepted, but they will have to wait until all other appointments are taken care of first.
The 2007 Sleep Out, an overnight event Dec. 14 at 6 p.m., is meant to help participants understand the real issue of being homeless and all the problems associated with it. During the sleep out, donations will be accepted to help families in need.
To participate, contact Jessica Denison, homeless outreach coordinator of the Yamhill County Prevention Program at 503-434-7378 or .
Leave a Comment