Linfield student opens online boutique, emphasizes inclusivity
Sometimes finding your passion means spending the weekend at a fashion convention in Las Vegas. At least this was the case for Linfield University junior, Josie Ciaciuch, who started her online clothing boutique, Precious Collective, in August.
The business name comes from Ciaciuch's grandfather.
"He used to call all of his grandkids his precious treasures, specifically his granddaughters," said Ciaciuch. "I didn't want to necessarily say precious treasures, because that sounds more antique-y, maybe for going to an antique shop or thrift shop. So I decided to do Precious Collective Boutique. It's a little different, but still integrates that name in some way."
Ciaciuch has one big goal when it comes to her boutique: emphasizing the idea that anyone, no matter their size, should be able to find cute, affordable, and high-quality clothing.
Growing up, Ciaciuch saw the struggles her sister faced when trying to find plus-size clothes that were both cute and good quality. Compared to the options other teens and young adults have, plus-size girls have only a handful of stores to shop at. Even the stores that do have a plus-size or curvy line sell clothes that will go out of style in a month.
"I wanted to find good quality clothing that plus-size girls wanted to go out and wear, whether it's for a night out or casually," she said.
Ciaciuch first became involved in the fashion industry when she started a thrifting business over a year ago. She would resell things through Instagram from her own closet, as well as clothing she found in thrift stores. This business was very successful, as she was selling out with every clothing drop. However, Ciaciuch realized this wasn't exactly what she wanted to be doing.
"I loved it for the time being, but after about a year I was really burnt out. Mainly because it was a lot of energy. . . and you are communicating one-on-one with your customers. I was taking pictures individually, posting them, writing captions, finding and sourcing, and shipping my own product, which took a lot of time," said Ciaciuch.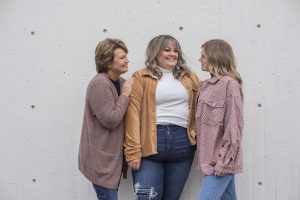 This is when she formed the idea of starting her own boutique, which put her thrifting business on the backburner.
"I started the idea of the business in August [of 2021]," said Ciaciuach. "I came up with the name in late July, and went to my first fashion convention in late August."
This first fashion convention, called Magic, was an overwhelming experience for Ciaciuch.
"You walk in and it's just this huge convention room full of little vendor stands, it's crazy," Ciaciuch said. "These stands have racks with one of each piece from each of the seasons that they have created. It was just so exciting to be mingling with people. Which ended up being one of the reasons I wanted to be [part of] the community, just seeing everyone so excited."
Taking the advice of more experienced convention goers and vendors, Ciaciuch did not purchase anything on her first day and took time to take everything in. Later that evening, her and her sister evaluated everything and decided that this was something Ciaciuch wanted to do.
"I remember calling [my dad] and telling him, 'Dad this is what I want to do. I found my passion.' I was emotional and he was crying on the other end. He was so excited and he was so happy," she said. "I finally found that one thing that makes me smile and makes me super excited and passionate."
Ciaciuch is currently earning her undergraduate degree in psychology from Linfield, but has already decided that she would rather continue to own and operate Precious Collective Boutique in the future instead of pursuing something psychology related. Her big goal after graduation is to open a brick and mortar store.
Except for the occasional pop-up shop, her business is completely online based and operates from the confines of Ciaciuch's bedroom. All of the clothing comes to her in neatly wrapped packages. She then sorts these packages accordingly using racks in her closet, and shelves and bins under her bed.
To fill an order, Ciaciuch packages everything up, prints out a packing slip, puts a label on it, and gets it ready to drop off at the post office, all from the comfort of her bedroom.
"[It's] not too stressful," she said. "But the hardest part is separating work and relaxation time because I run things from my room and sometimes it is hard to go to bed when there are orders to fill."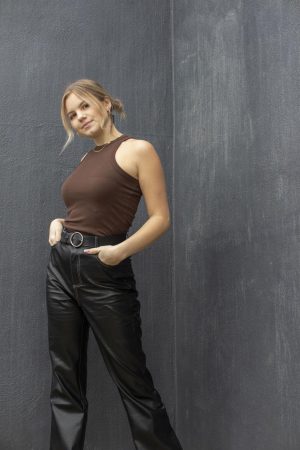 Lucky for Ciaciuch, she has lots of help and support from her family and friends. Friend, roommate, and fellow Linfield student Emma Inge is Ciaciuch's photographer and graphic designer. Inge does all of the business's photography, as well as the graphics for Instagram and the website's homepage. Her dad is a business owner himself and helps Ciaciuch when it comes to finances.
In addition, she has many friends and family who model for her, including her mom and sister. She loves having them model clothing because through them she gets to represent different sizes and ages, solidifying the idea that Precious Collective Boutique has clothing for everyone.
Ciaciuch urges others thinking about starting their own businesses to just "go for it."
"If it's a passion for you, do it," she said. "Don't let anyone stop you. If you are excited about it and no one can tell you differently, if it's your goal, if it's your dream, you shouldn't let anyone else dictate that."
View Comments (3)