Linfield cheer to compete in first competition in school history
Linfield's cheer and stunt team will compete at Universal Cheerleaders Association and Universal Dance Association College Cheerleading and Dance Team Nationals in Orlando in January, the team's first cheer competition in Linfield history. The competition is one of the highest stages in competitive cheer, pulling teams from around the nation to compete at the ESPN Wide World of Sports Complex in Walt Disney World.

"The previous cheer coaches did a really good job of getting cheer established within the athletics department, and really building them up as athletes," Linfield cheer coach Carissa Collins said. "So, this is kind of a natural next step for the cheer team, to move from just the sideline team to start competing with that level of athleticism."
Collins was a cheerleader at the University of St. Mary, an NAIA school in Kansas. During her time there, she competed in UCA Nationals twice, garnering a top-ten finish in the event in 2019.
"Competing at this competition was definitely the highlight of my own college career," she said. "To get to bring that to Linfield and have these girls experience it, it's really exciting."
This is Collins' first true year as head coach at Linfield. Last year, she shared the role with former coach Jade Kuehn, but COVID-19 prevented the team from performing during that season.
Collins grew up in McMinnville and cheered at McMinnville High School, which contributed to her decision to coach at Linfield.
"I didn't go to Linfield, but there's still that kind of sense of hometown pride," she said. "So, coaching here is still super cool for me."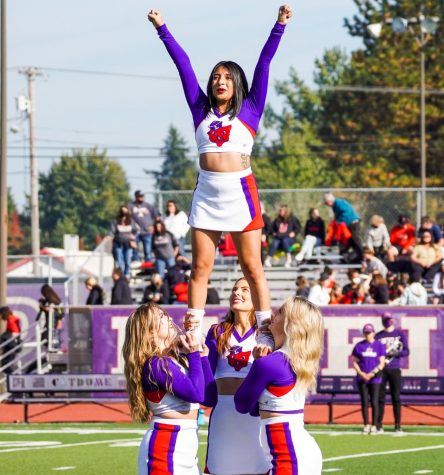 Now, she's bringing the team into their first competition season in Linfield history.
"We're going to be with the big dogs," senior cheerleader Kira Sneddon said. "We'll be warming up with championship-level teams. It's going to be really cool to have the experience in-person. I've watched the event on TV for a long time."
The event has family ties for Sneddon. Her father, who works with the Wildcats to help with tumbling training, was a cheerleader for Oregon State University and competed in the nationals event in Orlando during his collegiate career.
UCA Nationals consists of two divisions: game day and traditional. The traditional division is when teams do a two minute and 30 second routine, but the Wildcats will only be competing in the game day division.
This division brings in elements from classic sideline cheering, such as the school fight song, sideline chants, and timeout routines. The team will complete one of each, but the order of events and intent of the cheer (i.e. offense or defense) will be decided by an announcer during the performance.
"Game day is more about trying to get back to the heart of cheerleading," Collins said. "It's about energy and execution, so these girls coming from a Linfield sports environment is definitely going to be to their benefit. Overall, I would just say our team's passion and dedication is what makes this routine work so well."
They'll compete against other coed teams from small universities and colleges from around the country.
The team will arrive to Orlando in the evening on Thursday, Jan. 13, and go straight to a practice at the complex. The competition will go all day Friday, with the finals in the evening. Saturday and Sunday will be spent exploring the Disney parks and watching other teams compete to get ready for the next year of competition.
"I'm hyped," said Sneddon. "We'll have a good shot at making it to finals."