Pets on campus
Linfield junior, Shayla Wacker, has lived in Jane Failing for three years. She's a secondary education and literature double major, working as a Resident Advisor. What makes her on campus life different? Her ten-pound Chihuahua mix named Olive. 
"I have a nice little snuggly dog who just likes to sit with me. I can play with her and pet her," Wacker said. Wacker is one of the many students enjoying the pet-friendly dorms at Linfield. 
It's been three years since Linfield decided to allow pets to live on campus. The program started in fall 2019 in the Jane Failing dorm and expanded in fall 2021 to the Blaine apartments. The pet policy has been so successful that Linfield has decided to expand the policy to the on campus apartments as well. Students say pets are great to have on campus, especially as they can be a great motivator to be more responsible in taking care of the pet and themselves.  
As expected, having a pet on campus comes at a cost. Students in Jane are required to do "pet checks" once a month with their RA. 
The vast majority of people who live in Jane are pet owners and don't have a roommate. It's helpful for some students to have a pet that they can account for, especially with the difficulties of college that can make it hard to just get out of bed and take care of yourself. 
Wacker's roommate dropped out before school even started. She was completely by herself in a double room for an entire semester. Over Thanksgiving break of her freshman year, Wacker went to a shelter in her hometown, adopted Olive, and brought her back to campus in January. 
"When I first applied to Linfield, I saw they had a pet-friendly dorm. I was hoping to get a roommate who had a dog. I got assigned a roommate with a dog and then she dropped out," Wacker said.
Wacker's family dog passed away during her senior year of high school. She missed having a dog around, which led her to wanting a pet to accompany her to college. 
"That seemed like an easier pathway for me. She does kind of serve the purpose of an emotional support animal. I'm a pretty anxious person. It's really wonderful to have her," Wacker said.
Students who don't live in Jane can still bring an animal to school in other ways. Those animals are called ESAs and they can live in other non pet friendly dorms and apartments on campus.  
The Jane dorm currently houses a bearded dragon, as well as birds and bunnies. RAs try to include the pets in events that they have in that building as much as possible.
"During my freshman year, they did an event where they did a charity pet wash. You could donate food, pet supplies or money and they would wash your dog for you," Wacker said.
Daniel Monge, a sophomore, was placed in Jane his first semester. 
"I didn't know that Linfield did that, actually. I got put here randomly last year as a freshman and then I found out it's pet-friendly," said Monge. 
In the fall, Monge wanted to bring his cat with him to campus, but his roommate wasn't on board with the idea. The roommate ended up dropping out by spring semester, allowing Monge to bring his six year old orange tabby cat, Carmelo, back to campus with him. 
"After a long day, a cat waiting for you and giving you love is really nice," said Monge. 
What would have been a lonely quarantine time turned out to be a bonding time between Nikki Blanckaert and her 7 month old cat Saoirse.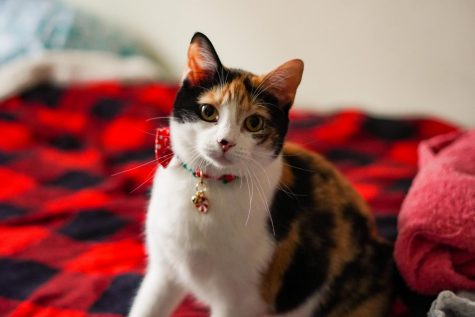 "She is an emotional support animal. Last year I struggled mentally and I missed our other cat that we had at home. Having [Saoirse] gives me a reason to still live or do aspects of basic self-care, because I have to do it for her," said Blanckaert. 
Cheyenne Johnson, a junior who had a cat named Dino for only a couple of months before being in her apartment. Dino helps Johnson keep herself in check, organized, and knowing that she has to take care of another living being. Dino is a domestic shorthair cat who is six months old. His fur is grey. Dino is an ESA. 
"I really struggled with anxiety and I knew I wanted to get an emotional support animal. I had to really convince my parents to let me have one, and then they eventually agreed," said Johnson.
Johnson switched roommates three different times before finally being placed with someone permanent. Johnson found out that her new roommate also struggles with anxiety and also has a cat. 
"He's an ESA and they probably paired us together knowing that we would both be accepting of each other's animals because we each have our own," she said.
More schools are opening up to the idea of bringing pets on campus. "While there's always been student interest in bringing pets to campus, it's grown in recent years. At least three dozen institutions have established pet-friendly dorms, according to USA Today. Some have observed a post-pandemic uptick in pets on campus," said Inside Higher Ed. 
Some schools have limited the type of pets students can bring to school. The University of Berkeley in California and Washington State University only allow fish on campus. Middlebury College allows fish and small, caged animals, California Institute of Technology allows students to have a cat and Duke University allows cats and fish at school. Students who have pets larger than 40 pounds have a disadvantage.  
Similar to Linfield, The Clarion University of Pennsylvania allows a pet, including cats, dogs under 40 pounds when fully grown, birds, ferrets, chinchillas, fish, rats, hamsters, gerbils, guinea pigs, amphibians, and small reptiles. 
To apply for a pet on campus there is an email sent to housing or Kathleen Jensen. They link a Google Form for having a pet on campus. Email [email protected] for more information about how to apply for pet-friendly housing or to learn about our pet policy. 
Regular pets can be in Jane or in the Blaine apartments. They'll send a follow-up email with a vet, a checkup form that you have to fill out that shows the pet has had its vaccines.
Pets have to be at least six months old. There is a $250 deposit for the cleaning. There is a form to fill out, a picture to submit, a description, emergency contact information, and then you're approved to have an animal on campus.
Leashes and crates are required for pets who need them for outside and containment. Pets are welcome and encouraged to be in the lounges. Other policies include that ESAs are not allowed to go outside of their person's room, pets are not allowed in the bathrooms, and all animals need to be under 40 pounds and medicated for fleas.
"If you have the financial capacity and responsibility to be able to take care of the pet, and if the benefits outweigh the risks, then I would recommend it," Johnson said.