Study abroad amidst a pandemic: Dan Binder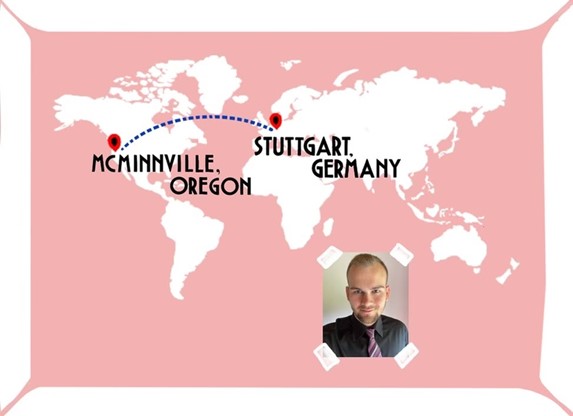 Throughout the world, there's thousands of people in school — grade school, college, grad school — all living the shared student experience. Many students don't realize how similar and different other students' experiences are.
Study abroad trips give that chance to learn about other students' experiences. For Dan Binder, a student studying abroad at Linfield from Germany for the semester, this claim is true.
Dan is from Stuttgart, an industrial city located in Southwest Germany with around 600,000 people. There are some big car brands located there, such as Mercedes and Porsche, so there are a lot of jobs.
Binder is a business major, who came to Linfield through a single semester exchange program at his home school, so he will be at Linfield until Christmas break, and do spring semester back in Germany at his home university.
"All my grades here will be accepted at my home university." Binder said about coming to Linfield. "That was one of the main factors to go here because I don't have to ask every professor if they will accept it from this University."
Binder's home school, Nuertingen Geislingen University, is a school of Applied Sciences in the Stuttgart region of Germany.
Binder is getting his Bachelors studying business at Nuertingen Geislingen, known as HfWU in Germany.
"We count by semesters, so I only have 3 ½ years, 7 semesters in total." Binder said that he plans to graduate in January 2024. 
Binder's final semester will be a practical semester, because he attends a University of Applied Sciences. A University in Germany would have three years on average.
Binder chose to take a semester abroad because he wanted to gain more experience and spend time in an immersive language program.
At Linfield this semester, Binder is focusing on his major and taking classes relating to it. He finds the content at Linfield and HfWU similar.
"I got financial management, organizational behavior, statistics and intercultural communications." Binder lists off his classes. "I enjoy all of them." 
Binder had different options for where he could pick to study abroad, and he landed on Linfield because of the snow-free weather and direct transfer of credits to his home University.
"I really enjoy it here. It's beautiful here. Of course, it's a little bit complicated to get into the cities really. And it doesn't make sense to purchase a car for 3 ½ months in total, so it is a little bit of an issue."
Binder started English from a young age. In Germany it is taught starting in primary school. Even so, Binder found that taking classes in English was a bit of a surprise.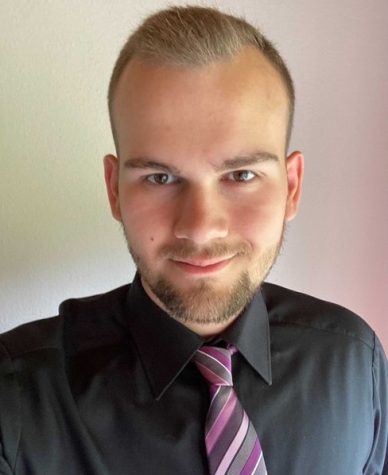 "At the beginning the language was a big difference. There are times in financial management when there are words I haven't heard before." Binder said, "It's the few specialized words for the field that get complicated."
"Germany's a little bit more introverted. So you won't have everybody asking how you are when you are just passing when walking." Binder said, "Maybe if you really know them, but not as much as here."
Binder's home university was online last year, as were most schools across the globe for the 2020 school year. Like most university students this fall semester, he is back to in-person classes.
Binder shared enlightening information on the difference in education across countries. German colleges follow a similar education structure that is widely different from the one at Linfield and other American Universities. 
"So you finish after 12th grade in your highschool. For us, you graduate after 12th class." Binder noted the difference in language but the similarity in numbers in schooling.
Binder spoke on the differences in  class structure as well. "Because we usually have one big exam at the end of the semester. It's only one and it mostly counts 100 percent of the whole class, that's a big difference." 
According to Binder, you can only take one class three times, and if you fail it all three times, then you have a problem. 
"When you haven't passed the third time you have failed that class you can't take another major that includes that class in Germany." He said.
Attendance is also less essential, Binder shared. " It's not a big thing if you're not there [in class] as long as you pass the exam." 
Binder shared that the system of classes at his home university has its advantages and disadvantages. There is less homework, but extreme pressure to pass a single test.
Another significant difference Binder noted is the cost of attending University. 
"I usually take between 5 and 7 classes and I paid around 180 euros [200 dollars] per semester." Binder said.. For students in America, this price may seem unbelievable due to the high amount of bills one has to pay for school.  
Binder also experienced his first time living on a college campus at Linfield. "Since Germany is smaller with a higher population the distances are not that big. So, I go from home to school then back home [everyday]." Binder said. 
Binder appreciates the differences in both education methods. He is glad to have tried an education style different than he's used to.
Binder wrapped up with the most important takeaway from being abroad. "The biggest part of studying abroad, for me, is the individual experience you get abroad that's just yours."