Help! I am a Broke College Student That's Sick of Ramen
Welcome to the first rendition of HIAABCSTSOR–a cooking blog of sorts for college students, by college students. This series is inspired by my own dilemma: a college student who cares about her health but also has to be money-smart. All while also trying out being an adult for the first time. Join us on our quest for good, nutritious, and simple food that hopefully won't break the bank . We don't know much, we're not real adults here.
Recipe 1
Linda's Pita,Veggies, and Sausage..Thing
Linda is my mom, and she has made me this meal for as long as I can remember. We don't have a good name for it. This simple dish can be easily customized to fit your dietary needs and desires. I'll try to mark everything that can be swapped out (which is basically everything tbh). It's relatively quick to prepare, and easy to make LOTS of for leftovers throughout the week (a.k.a. meal planning). I go for a ratio of about half to two-thirds vegetables and half to one-thirds meat. Measurements are basically anybody's guess–do what feels right. Sorry in advance.
Ingredients and tools needed:
Staples (stuff you probably have or wouldn't hurt to stock up on)
Frying pan (big as possible probably)

Lid for frying pan; baking sheet or plate placed over top works too

Olive oil or alternative

Large spoon/spatula for sauteing

Sharp knife

Cutting board

Minced garlic (either fresh, refrigerated in those little jars, or freeze-dried)

Favorite spices (I personally use Tony Chachere's Original seasoning mix, it covers all your bases salt-wise and spice-wise). You could alternatively use: chili powder, cayenne pepper, black pepper, salt, garlic powder, and/or cumin. I go for the spicy/savory ones. Oregano, thyme, and parsley could also be very good. 

Sriracha or another yummy sauce. Try out a couple and see which is your fave

Plate (to serve)

Plastic containers to store stuff after!
Stuff to buy:
Greek pita/flatbreads

I got the brand "Papa Pita" in whole wheat for about $3.00. It comes in a pack of 6, so the total cost-per-meal is close to $0.50. These can be used for other meals too later on, such as PB&J's or egg-scramble things. 

Onion

I get yellow onions for less than 50 cents apiece. White or sweet onions will work too. You probably won't use the whole thing, so the price-per-meal is about a dime or a quarter really.
Sausage or alternative (fully cooked!)

I personally don't eat much meat, but I do eat chicken to make sure I am getting the right amount of protein. I bought little Italian-style chicken sausages for $3.98 and used two of them but choose what is right for you or skip altogether. Pork Kielbasa sausage (what my mom prefers) would be delicious in this situation. Firm tofu would also be perfect. This is likely the spendiest part of the meal, so choose wisely!
Cooking vegetables

Okay, this is the best part in my opinion. Today, I used 4 big mushrooms (the bulk ones, I think I spent less than a dollar on them), a yellow and a red bell pepper ($0.88 cents each when I got them). Yellow summer squash and zucchini are both very tasty in this dish. In the late summer, they are normally about $1 each.
Mozzarella cheese (shredded)

Fine to skip if you are dairy-free or just don't like cheese. I have not tried it with any other cheeses, though it is in my personal opinion that mozzarella is the best. I like the creamy taste with the spics I use. I believe a small bag is just over $2 at most stores in the McMinnville area, though you will likely use less than a quarter's worth per meal.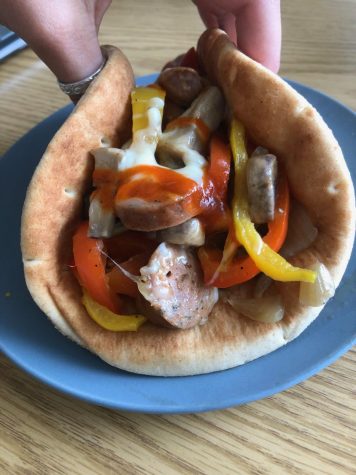 Time to cook! 
Turn the stove to medium or medium-high, place a frying pan on it. Pour a little less than a tablespoon of oil on the pan, allow it to heat up a little bit.

Chop onion and mushrooms (if applicable) into large-marble sized pieces. I used about a quarter of a large onion and 4 large button mushrooms.

Pan should be hot by now! Add onions and mushrooms and let them saute, stirring occasionally. Add a small amount (teaspoon or so) of minced garlic to the pan, stir in.

While onions and mushrooms are sauteing, chop other vegetables into bite-size pieces. 

Check onions and mushrooms. They should be sweating, but not starting to carmelize. This is normally when they get very fragrant. Add other vegetables and stir. Cover pan (so it can steam itself and cook faster).

Chop sausage/alternative into bite-size pieces. I personally do medallions that are about a quarter to half inch thick. Again, I prefer this to be vegetable-heavy so I can get my veggie servings in without making a side.

When done chopping sausage, check the doneness of the newly-added vegetables. Once they are about halfway cooked (for example, my bell peppers were still a little stiff but definitely not raw–does that make sense?), add spice(s) to taste.

Add sausage and cover pan again until sausage is heated through. This will be about 5-10 minutes and during this time your vegetables should finish cooking. I just stand there and wait, checking/stirring occasionally (impatiently). It won't hurt your sausages to let them brown up a bit if your veggies need longer to cook, though covering them like we have been should do the trick.

Before serving, heat a flatbread in the microwave for 30 seconds on a plate. You will want to heat it up or else it will break once you stuff it.

Dollap a scoop of your freshly cooked veggie/sausage medley onto your warm flatbread. Think of it like a soft taco or gyro–enough to be filled but not so much that it will explode.

Sprinkle some cheese (which should melt, yum!) and add your sauce on top.

The rest of the sausage and veggies can be put into portions and stored for several days in the fridge. Reheat in the microwave, plop onto a warm pita, and put toppings on for a less-than-5-minute weekday meal.