Tenured professor's dismissal generates outrage, President Davis responds
Linfield University has terminated Daniel Pollack-Pelzner from his position as a tenured English professor. In an email sent out to the Linfield community on Tuesday, university provost Susan Agre-Kippenhan said the dismissal was "for serious breaches of the individual's duty to the institution." Pollack-Pelzner declined to comment for this article.
Pollack-Pelzner has been vocal against Linfield leadership over the past year. In late March, Pollack-Pelzner, who is Jewish, posted a series of tweets accusing university President Miles K. Davis of making anti-Semitic comments on numerous occasions. According to Pollack-Pelzner, some of the alleged comments came during the professor's time as a faculty trustee when he reported instances of sexual misconduct by Board of Trustees members.
The Twitter thread garnered the attention of groups such as the Anti-Defamation League and the Oregon Board of Rabbis. Both have called on Davis to resign.
Social media posts since Tuesday have called Pollack-Pelzner's dismissal a "retaliation" for his criticism and allegations.
Davis maintained that Pollack-Pelzner's termination was not retaliation for criticism. 
"If you look on social media, there are a number of faculty, primarily in the College of Arts and Sciences, who are very critical of me and everything I've done since I've been here," Davis said. "There's been no action taken against anybody, so you have to also ask the question, what are the things that would make this different?"
According to Scott Nelson, the university's chief marketing officer, in an emailed statement to The Linfield Review, Pollack-Pelzner "was terminated for cause."
"The actions were becoming so egregious that it was decided that it was time," said Davis, of Pollack-Pelzner's firing. "When you get to a point where you are not following policies, insubordination, revealing confidential information, jeopardizing cases—those things are basis for dismissal."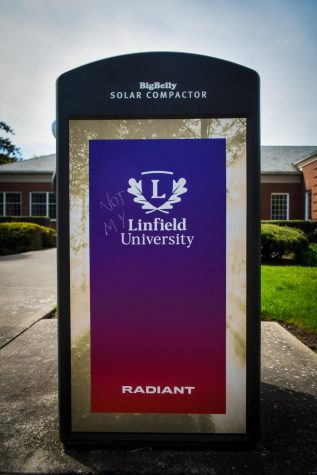 One of the concerns raised by groups such as the Foundation for Individual Rights in Education (FIRE), a nonprofit organization that works to defend the civil liberties of students and faculty members in higher education, was that Pollack-Pelzner, as a tenured professor, was dismissed without proper due process.
"The egregious nature of terminating a faculty critic without process cannot be overstated, nor can the chilling effect on student and faculty expression that will follow Linfield's reckless conduct," wrote Adam Steinbaugh, director of the Individual Rights Defense Program for FIRE, in an April 28 letter to Davis.
Linfield's faculty handbook states that "dismissal of a faculty member" with tenure will be preceded by a statement of charges, the right to appear before a faculty hearing committee, and notice of charges at least 20 days before the hearing, where they will have a right to counsel.
However, Davis said university bylaws supersede the handbook, and since Pollack-Pelzner was not terminated for reasons related to job performance, typical due process did not apply.
"The faculty handbook never anticipated a faculty member being fired for cause," Davis said. "As we changed from a college to a university, the old faculty handbook that is being referenced became woefully outdated and has nothing to do with the institution as it is presently structured. So that claim that it wasn't following the faculty handbook is like claiming that we didn't follow something that wasn't designed to address."
Steinbaugh was skeptical of this reasoning. "I would be very surprised, if in converting from a college to a university, the institution decided that they were going to get rid of the most fundamental aspect of tenure," Steinbaugh said in a phone call with The Linfield Review.
This situation falls on the heels of previous scandals at Linfield in recent years. In 2020, the faculty assembly passed a vote of no confidence for Board of Trustees Chairman David Baca after the alleged mishandling of sexual misconduct among board members. On April 19, the faculty passed a vote of no confidence in Davis and Baca, calling on both to resign.
Among the accusations against Davis are comments about "measuring the size of Jewish noses" and how Pollack-Pelzner was "overreacting" to swastika symbols found around campus. Pollack-Pelzner also claimed that Davis told him that "people like [him]" are destroying Linfield from within and "could only show loyalty by accepting the teachings of Jesus Christ and the New Testament."
Davis has referred to the allegations by Pollack-Pelzner as a "smear campaign" against him and the university. In an interview with The Linfield Review, Davis denied the allegations. "It's one thing to criticize, it's another thing to defame," Davis said.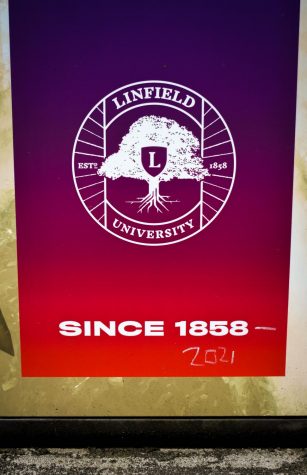 Davis said that the allegations regarding "measuring Jewish noses" originated from a one-on-one conversation that he and Pollack-Pelzner had when the professor invited him to teach in a Shakespeare course. Davis claimed that as the two looked at posters on the professor's wall, it was Pollack-Pelzner that first mentioned the characteristics of Semitic people. Davis said he then made reference to Semitic people sharing similar physical characteristics, but never discussed "measuring Jewish noses."
Regarding the alleged comments that Davis made toward Pollack-Pelzner about Jesus Christ and the New Testament, Davis said that he is a Muslim, which he believes disproves that accusation. "The idea that I was trying to apostatize him is false," Davis said. "It demonstrates the falsity of the narrative." 
Since both of the alleged comments were said in one-on-one conversations in private settings, an independent investigator found that the remarks could not be substantiated, according to Davis.
Davis has also been accused of making insensitive remarks about Jewish people and the Holocaust by psychology Professors Jennifer Linder and Tanya Tompkins during a 2018 department meeting.
Pollack-Pelzner's dismissal has generated outrage and has since been reported on by The New York Times.
In an Instagram poll put out by The Linfield Review, many students have said that they feel like there isn't enough information on either side. Others expressed support for Pollack-Pelzner.
Students, alumni, parents, and faculty have raised alarm at Pollack-Pelzner's dismissal. "Right off the bat I felt shock, sadness, and anger," said junior Chelsea Armstrong. "I just wanted to angry-cry." 
"I'm embarrassed to be an alum," tweeted one former student, who goes only by Becca on Twitter.
Sayings such as "Not my Linfield," "Do better," and "An extraordinary step in the wrong direction" have shown up in chalk on sidewalks on the Linfield campus as a form of protest by students and other community members. A video posted by Oregonian reporter, Maxine Bernstein, on Twitter shows Linfield Public Safety officers washing sidewalks with a hose in front of the on-campus Starbucks.
Armstrong told The Linfield Review she was very upset that the students' chalk messages were erased. "It's f–king chalk, the rain will wash it off. We live in Oregon," she said, directed at the school. "Let us speak for five f–king seconds since you won't listen to us in any other way, shape, or form."
The student policy guide says that "[u]se of sidewalk chalk must be pre-approved by the Student Activities Office in McMinnville and must also identify the sponsoring organization" and lists a $25 fine per day until it is removed. The guide was last updated in January of 2021.
Senior Hannah Curry tweeted about the situation, writing, "I want to recommend Linfield to incoming students. But something needs to change."
A petition is currently being circulated on social media that states "We stand with Daniel Pollack-Pelzner and urge the American Association of University Professors to immediately commence a full investigation of this matter and its surrounding issues." As of Saturday evening, it has been signed by over 2,000 professors worldwide.
"I know what people may think but I'm going to state unequivocally, he was not fired because of his criticism of me or the Board of Trustees," said Davis. "Criticism is welcome."