A thank you to TLR seniors: Nicole Sterba
When Nicole Sterba decided to attend Linfield, she did so knowing that the student body was smaller than at her high school in Beaverton, Oregon. 
But the school's small, tight-knit community was exactly what she was looking for. 
"I liked that aspect of it," Sterba said. "I was excited to have that close, personal relationship with the professors. I really felt like I belonged somewhere with faculty that really cared about me."
During her four years in McMinnville, she consistently sought out and cherished that community feel. At the beginning of her senior year in fall 2020, the anthropology major took a leap of faith and took on the role of life and culture editor for The Linfield Review. 
"I wanted to hone in my writing skills, but also be more a part of the Linfield community," she said. "The Review has changed my whole outlook on Linfield. There's a lot I didn't know about the student body and the school as a whole. It opened new doors for me." 
Her limited writing experience came solely from some work with her highschool newspaper and school assignments, which initially intimidated the new editor. Eventually, however, she came to realize that there were others on the paper's staff that were in the same boat as her.
Her fellow co-workers and friends had only kind words to say. 
"Nicole has done amazing work this year and the evolution of her writing has been incredible to witness," features editor Charlotte Abramson said. "She may have started with zero experience, but I'm convinced she's always been a journalist at heart. I already know she's going to do amazing things, whichever path she decides to take."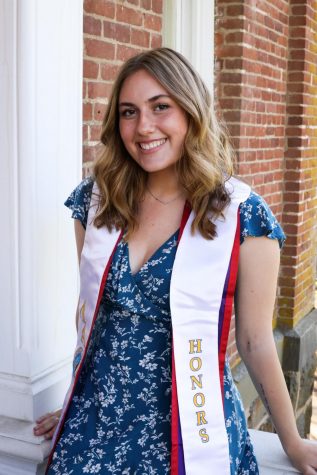 "Nicole was a great addition to the team this year," news editor Ethan Myers said. "She always brought unique and creative story ideas to the table and took the life and culture section to the next level."
She encourages others to take the brave step to join The Review, because the writers are supported by other staff members with more experience from the journalism and media studies major.
"If you are interested, even in the slightest, you should just go for it," she said. "It's such a fun community to be apart of and a great learning experience. I got to learn so much, meet new people and become a voice for the university." 
"This is a woman who really rose to the occasion," TLR's 2020-2021 editor-in-chief Alexandra Feller said. "With no previous reporting experience, Nicole applied to be a TLR staff writer. I asked her to be the Editor of the Life and Culture section, and without any journalistic exposure, she took it. Nicole has done an incredible job of running the Life and Culture section of the paper."
"I genuinely do not think I could have run TLR this year without such a responsive and exciting staff. They supported me as much as I did them, and Nicole was a huge part of that," Feller said. "She is the type of friend and co-worker who will be there for you anytime of the day. I am constantly impressed by her writing skills and kind hearted attitude."
Sterba will graduate Sunday during Linfield's "Carmencement" ceremony, a socially distanced drive-through commencement. After graduation, she plans to attend National University of Ireland in Galway to obtain her master's degree in english literature.
She studied abroad at the university previously and loved her experience learning with professors from around the world. Sterba is also passionate about music and formerly participated in Linfield's choir, so the active music scene in Galway is a huge perk. 
"It's an incredible place," she said. "I really liked it and always wanted to go back, so that's what I'm doing."
In the future, Sterba aspires to a career in teaching. She has yet to determine which age group she desires to teach, but hopes her experience obtaining her masters will help her decide. 
"Nicole puts so much vitality into her writing, I'm excited to see where she takes her passion after she's done," managing editor Anna Frazier said. "I know she'll do great things."
Thank you, TLR seniors! Check in all weekend for our senior series honoring the awesome TLR editors graduating on May 2.