A thank you to TLR seniors: Alexandra Feller
Behind every newspaper organization is a mastermind. A person whose unstoppable abilities of leadership and writing help them take charge of any situation. For The Linfield Review, that person is Alexandra Feller. 
Known as "Alilou" to friends and family, Feller is the current editor-in-chief for Linfield's student newspaper. Throughout this past year, Feller has pulled together an efficient, full and hardworking staff for the paper. She also expanded the social media presence of The Review, creating an entirely new social media department of the organization and rethinking ways of interacting with audiences.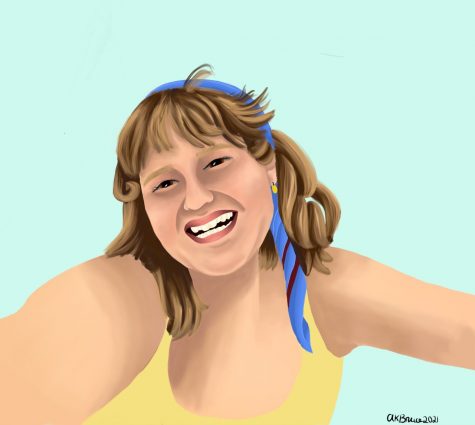 Feller came to Linfield University, then known as Linfield College, in the fall of 2018. She moved from a Viscilia, a small town in the Central Valley of California. 
"Choosing colleges was kind of difficult for me," Feller said about her choice to attend Linfield. "I knew I wanted to go somewhere small and somewhere with a really active student journalism program." 
"I toured Linfield and enjoyed the environment on campus and got to talk with professors from the JAMS department," Feller said. "That sealed the deal because I knew I wanted to major in journalism since I did yearbook and newspaper in high school."  
The surrounding environment also had a certain appeal to Feller. "Also, I really wanted to get out of California and to see some new environments and I liked the greenery in Oregon. I felt like there were a lot more environment opportunities here."
Feller acted quickly to get involved with the Review.
"I committed to Linfield, and the next day I sent an email to the then current editor-in-chief of the Linfield Review and asked to work for the Review," Feller remembered fondly. 
Sticking to the promise made in the email, Feller worked as a staff writer in the fall of her first semester at Linfield. "Then, I became features editor for the second semester of freshman year," Feller said.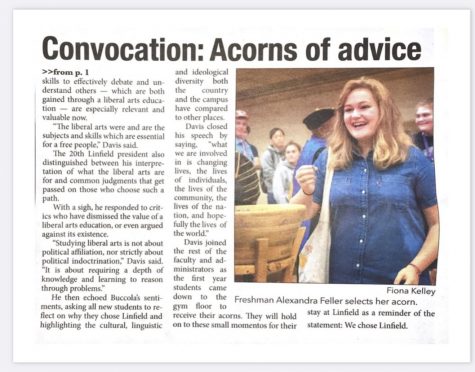 At the end of her sophomore year, Feller applied to be the editor-in-chief of the Review. "When I was a freshman I was really good friends with the current editor-in-chief and I really enjoyed the student community there and identified with," Feller said. "That sense of community was something I hoped to recreate one day."
She finds the job important because she hopes to create a space for people who are trying to find their place.
"Part of the job is about getting the news out, but another large part of it is really just facilitating community," Feller said. 
Feller moved quickly through classes and credits and will be graduating at the end of the 2021 spring semester, this year being a joint junior-senior year. Though melancholy about leaving the school and the Linfield Review, Feller has a bright future to look forward to. 
This summer, Feller will be interning as a writer at the Herald and News in Klamath Falls, Oregon. She was offered this position through the nationally-recognized Snowden Internship program. 
After her stint at the Herald and News is over, Feller plans on spending her life in journalism.
"I love listening to people and their stories and learning about their lives," Feller said. 
Feller hopes to get a journalism job somewhere in Oregon, specifically in a rural area. "I love reporting in smaller communities because they have such an interesting tight-knit community," Feller shared.
But she'll always look back fondly on her time with the Review no matter where she goes. "My relationship with the Linfield Review has been quite romantic," she said.
Feller will leave a lasting impact and reputation at the Linfield Review. She hired the largest staff the Review has ever had, at around 40 employees. The group is diverse with writers, editors, photographers, cartoonists and a social media team that Feller created herself. 
"Without Alexandra's support, I would've never discovered that journalism is something I can do too," Anna Frazier, the Review's current copy editor, said about Feller and how she's helped her in her career path. "She is the reason I am who I am today."
Ethan Myers, the news editor, said, "Throughout the year we've become very close friends. She is genuine and humble in everything she does, and her deep commitment to honest and thorough journalism is both one-of-a-kind and inspiring." 
"As for her work at the Review, she has completely transformed the online-only format and taken it to the next level," Meyers continued. "Thanks to the number of people she recruited this year as well as the new system that she implemented, the Review is set up for so much success in the future. There is no student journalist I would rather work alongside, and she has such a bright future in journalism. I'm grateful to call her a friend and a coworker."
"Alexandra is dedicated to her role, and it shows in the paper's performance this year," Maddie Loverich said, the current sports editor. "We've grown our readership, our staff and altogether put out a lot of great content during a school year that presented a lot of outside challenges."
Annemarie Mullet, a cartoonist, graphic designer and staff writer for the Linfield Review reflects on Alexandra being the reason she ended up at The Review.
"Alexandra roped me into the community of the Linfield Review. Her recruiting was relentless," Mullet joked. 
"I never knew I'd have an interest in journalism or working for the school newspaper," Mullet continued. "Alexandra helped me learn so much about journalism and the environment within the journalism community. She taught me about good writing, integrity, and always reporting facts."
"Beside what she's done for the review, Alexandra changed my freshman year," she said. "Coming into college as a freshman with no experience amidst a global pandemic was not easy, and was very bad for my mental health. Alexandra helped me through navigating my first-year of college. She taught me about being an adult and living."
"Alexandra Feller is a true blessing to the world and I'm so excited to see how many lives she's going to change with what comes next," Mullet concluded.
"The Linfield Review will never not be a part of my life," Feller said. "That paper and that community is always going to be there for me. I will be the alumni reading the Review and being active within the community. If I'm a journalist nearby, I'd still want to help students. It's not just a job, it's something that I hope will last long past me being an editor."
Without a doubt, Alexandra Feller has helped transform the Linfield Review for the better through her time as editor-in-chief. She will be missed by the community greatly, but the staff is excited to see where she goes next. 
Thank you, TLR seniors! Check in all weekend for our senior series honoring the awesome TLR editors graduating on May 2.