Women's basketball falls to Bushnell
Linfield women's basketball played host for the Bushnell Beacons out of the Cascade Collegiate Conference in a non-conference game in Ted Wilson Gymnasium Tuesday evening. Following a second quarter in which they scored 31 points, the visiting Beacons defeated the Wildcats 76-60.
After the 'Cats jumped to a quick 8-2 lead on a three-pointer by junior Maggie Smith with 7:45 left in the first quarter, the Beacons closed the quarter on a 17-6 run to lead 19-14 after one.
The second quarter started with back-to-back layups from each team until the 8:31 minute mark, with Bushnell leading 27-18. 
Then, the floodgates burst open and the Beacons went on an uninterrupted 18-point run in only four minutes.
Down 50-25 stepping onto the court for the second half, the 'Cats clawed their way back into the game, outscoring the Beacons by nine in the second half and cutting their lead to 10 numerous times.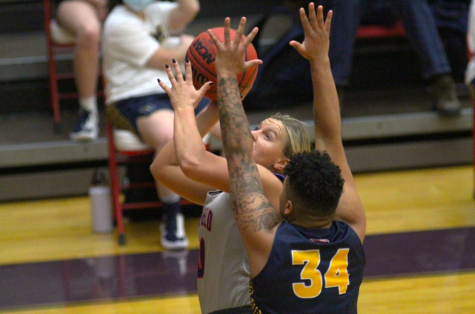 The Beacons capitalized on turnovers and second-chance points. While only four turnovers separated the two teams, the Beacons turned 20 Linfield turnovers into 32 points. 
Behind nine offensive rebounds and 36 altogether, Bushnell had 16 second-chance points. Linfield had 24 total rebounds and five offensive boards resulting in only two second chance points.
Leading the way for Linfield was sophomore Delaney Ragan with 15 points. Ragan was the only Wildcat to score in double figures. 
Four Beacons scored in double digits, with senior Morgan Mckinney leading the team at 14 points. 
Next up, the Wildcats will travel to Salem to play the Corban Warriors, another Cascade Collegiate Conference opponent, at 7 p.m. on April 15.