Women's tennis undefeated after Wednesday win
Linfield women's tennis bested University of Puget Sound 8-1 on a sunny afternoon matchup Wednesday. The victory was the team's sixth consecutive Northwest Conference win, placing them atop the league at 6-0. 
Sophomore Lexie Matsunaga attributed the win to the team's focus and support from the sidelines during tight matches.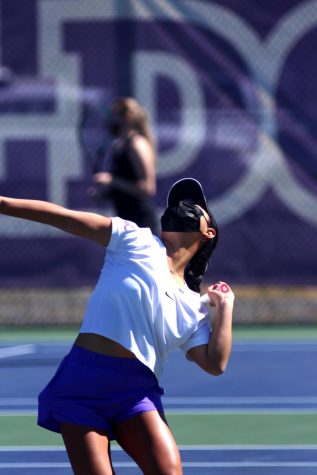 "Wednesday's win was a really nice showing of everyone's ability to stay super focused and zoned in since we had a busy weekend and this match fell on a school day too," she said. 
Matsunaga also wants to take advantage of the momentum that comes with their currently undefeated conference schedule. 
"The conference is tough and every team is competitive, so this goes to show how deep this team is and how much work we're willing to put in on and off the court to go (hopefully) undefeated," she said. 
In a tightly contested game on the first doubles court, Matsunaga and junior Tessa Kern battled with UPS's Andie Machida and Lia Van Steeter to win 8-5. The duo had a slim lead of 6-5, but took the final two games to get the win. 
On the second and third doubles court, both Wildcat teams shut out opponents 8-0. 
In the number one singles spot and the final match to finish, Puget Sound's Andie Machida bested junior Taryn Fujimori 6-1, 6-1. This was UPS's sole scoring match of the day. 
The Wildcats swept the remaining five singles matches. On the second court, Matsunaga again defeated doubles opponent Van Steeter 6-1, 6-2. In the fourth and fifth spot, both sophomore Allena Wong and junior Maggie Fiocchi didn't drop a single game to win 6-0, 6-0.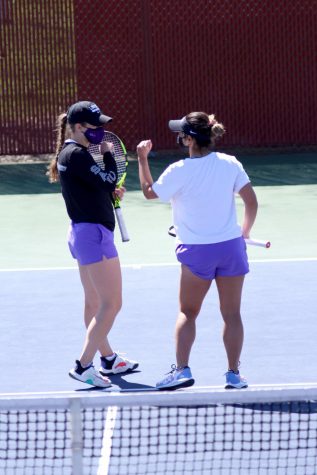 The Wildcats handed UPS their sixth consecutive loss of the season, positioning them last in the conference with an 0-6 record. 
With only two matches remaining in the coming weeks before the NWC championships on May 8 and 9, Fujimori says fans can expect the momentum to continue. 
"As conference gets closer, you can just expect our team to keep working hard on the court and in the gym," Fujimori said. "Our mindset is that nothing changes and we meet each match with the same enthusiasm and energy."
On April 12, Fujimori was named Women's Tennis Student-Athlete of the Week after going 4-0 against Lewis and Clark University in two games over the previous weekend. 
Coming up, the Wildcats will face the fourth-ranked Pacific University in Forest Grove, Ore. on Saturday. The Boxers are currently 3-2.