Is it Magic?
When I arrived at Linfield University this January, I had to haul my luggage up to the third floor of Elkinton Hall. This was no small effort, as I had made a last-minute decision to pack about a gallon's worth of homemade applesauce before dashing off to the airport. Bad idea. After a long day of travel, it took me a moment to take in my surroundings. I stopped and stared. I was not in a typical dorm. I wasn't at Linfield University. I was at Hogwarts School of Witchcraft and Wizardry. 
In just a couple of weeks, my dorm hall had been transformed, painstakingly, into a Harry Potter paradise. It was—and still is—unbelievable. Delicate keys with translucent wings float beside the laundry room. A constellation of stars twinkle in a recently-converted reading corner, complete with flickering LED candles. An impressive selection of Harry Potter-themed books line a windowsill. My personal favorite: The Encyclopedia of Toadstools.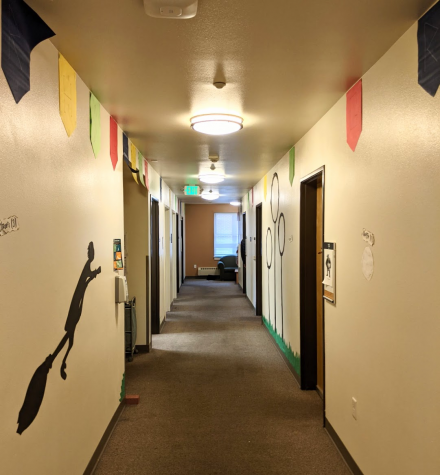 Who was behind this? How is this possible? Is it magic? RA' s Katie Martinez, Molly Shields, and Devin Thacker are the wizards responsible. The trio decided to extend the Hogwarts theme to all of Elkinton Hall. Shields introduced the idea at a Co-RA meeting right before winter break.
The junior exercise science major reread the Harry Potter series as a way to keep busy during a long, isolated winter break. "My mom's a health care worker and my parents are both high risk. We really couldn't see anyone," she explained. "I just needed something to do."
Shields shared her personal connection with the books, "I was kind of born into it," she said. Shield's three siblings are hard-core Potterheads. "My brother, when he was really little and couldn't even read, wanted to get into them. And so, my mom read him the first few books," she said, laughing.
In the first grade, third floor RA Katie Martinez was introduced to Harry Potter. "I fell in love with Hermione Granger," she said. Inspired by Granger's gumption, Martinez worked harder in school, "She was a kid like me and could do those amazing things."
Both Martinez and Shields drew parallels between Harry Potter and the lives of university students. Similar to the young witches and wizards in JK Rowling's popular series, students are "Studying, overcoming challenges with friends, learning, exploring and learning new things about ourselves" Martinez said. During a pandemic, "finding your place" has an added layer of difficulty, she noted.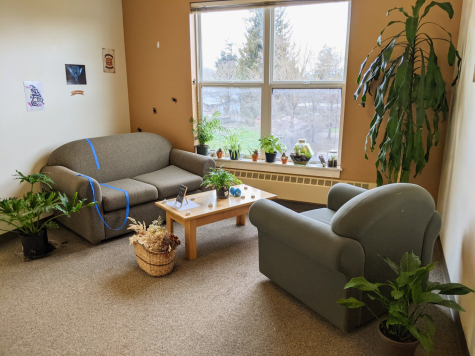 Martinez works at Incahoots, a local plant and gift store. By spreading her plant collection throughout the hall, Martinez has created a botanical atmosphere unique to Elkinton Hall. 
Dozens of phone calls and study sessions take place in these special corners. "I have a belief that plants and nature are a really important element in a space," Martinez said. "There's magic in that."
For Martinez, taking on this theme has had some ethical implications in relation to controversial comments that JK Rowling has made on Twitter. The decision to hand-make the decorations instead of purchasing Harry Potter merchandise was fueled by this concern and available financial resources.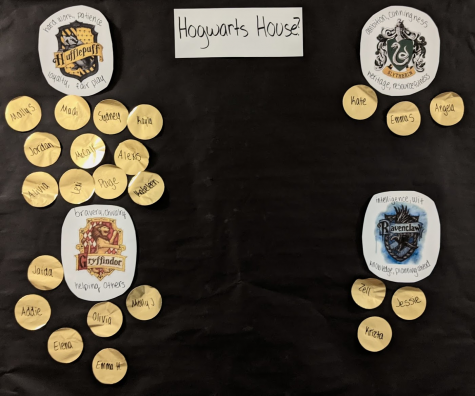 "I don't want to sacrifice my personal love and journey that is connected to Harry Potter," she said. The dozens of glittery "potions" lining the laundry room counter demonstrate Martinez's dedication to this conviction. "I wish I could have done more," she admitted.
The efforts of the Elkinton RA's have not gone unnoticed.
"At least four times a week I walk into the hall and think 'What the heck. Where am I?" said sophomore, first floor resident Jordan Simmons. He is not alone. His floor screams Hogwarts with its vibrant banners and quidditch silhouettes. 
"You see, Devin Thacker is an art student and one of our finest," said Simmons. "When we see everyday normal things, he sees a canvas, and he saw that canvas in our hallway."
A sense of camaraderie has blossomed in response to Elkinton Hall's extraordinary execution of a theme. The carefully-curated space has built a community in this sophomore residence, allowing students to connect with their peer's creativity. 
The general sentiment for Elkinton RA's hard work was summed up by sophomore Kora House, "It's less like a dorm, more like a home."