Head coach brings new perspective to Linfield baseball 
Tucked behind the visitor's dugout at Roy Helser field sits Dan Spencer's office. Inside, the decor is kept to the essentials. Wood bats are stacked in the corner and a couple shelves against the wall display a few picture frames and trophies. 
Front and center, there's a picture of a team decked in bright orange storming the field, celebrating a win. Spencer coached at Oregon State University for 11 years, most notably during the Beavers' back-to-back national championship wins in 2006 and 2007. After the second, he was named National Pitching Coach of the Year by Collegiate Baseball Magazine. 
When asked what it took to get this particular team onto the biggest stage in college baseball, his immediate answer was simple and humble. "Great players," he said.
He proudly points at the picture, explaining that it wasn't one of the national championship teams. 
"That's the 2005 team actually," he said. "That was the Super Regional win to go to the next round, we didn't win it this year." That year, the Beavers reached the College World Series but were knocked out of the double elimination tournament by Baylor. 
One might expect that the chosen picture on display in his office from Spencer's Oregon State days would show the team holding up the big trophy, but that's not his style. He's less about accolades and awards and more about hard work. 
Spencer is no stranger to winning on the national stage. His first head coaching job in 1992 was with Ryder Construction, a youth summer baseball team in Vancouver, Wash. that he played for as a teenager in the Babe Ruth League. That team won the national championship. 
But he said that was just as exciting as the Beavers' championship run. 
"Those things, when you're going through them, they don't feel any different," he said. "Even though there was, you know, 30,000 people [in Omaha] and maybe only a thousand back in the Babe Ruth tournament in 1992 in Jamestown, NY."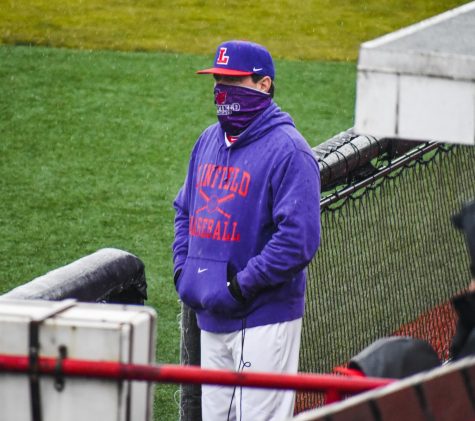 The Vancouver, Wash. native was hired at Linfield in 2019, the first non-Linfield graduate to lead the baseball program since 1949. Breaking with that tradition, however, didn't seem to affect Spencer or the program. 
"I think we embrace it," he said. "We embrace the fact that we've won national championships here. We embrace the fact that legendary coaches have coached and great players have played here. We embrace those things and we expect those things." 
Spencer coached for 22 years at the Division-I level, most recently as associate head coach for Washington State University. Before that, Spencer held other D-I coaching jobs at the University of New Mexico, Texas Tech University and of course, Oregon State. 
In the 80s, Spencer played in a summer league with former Wildcat baseball greats, such as Scott Brosius, Matt Fishback and Randy Rutschman, son of Linfield football and baseball coaching legend Ad Rutschman. It was then that Spencer became acquainted with Linfield's tradition of success and quality of player the program attracted. 
When he saw the opening at Linfield, he immediately called former Linfield baseball coach Scott Carnahan to ask if the opportunity was actually open for new applicants. When the answer was yes, Spencer knew the move to McMinnville would be the right one.
"There's something about the baseball team," Spencer said. "You know, Coach Rutschman trying to squeeze a dollar out of a nickel, the blue-collar tradition. They've got a working steel mill in town and I think some of those attributes are still exemplified in the baseball team. The campus has changed with the times, becoming more diverse and progressive, but the steel worker mentality is still around."
Spencer had an opportunity to continue coaching at the D-I level for WSU, but found himself disenchanted with the changing recruiting process. D-I recruiting is forever starting earlier, when athletes are 14 or 15. Spencer doesn't agree with that method, and instead prefers to recruit older players.
"Closer to graduating, older, closer to the body type, closer to the guy you're going to get when he comes to college," he said, laughing. "More mature, if you can even say that about a 17-year-old boy." 
According to Spencer, the recruiting process is cleaner without the influence of athletic scholarship money, which is prohibited in Division-III. Instead, scholarship money is awarded based on academic performance or financial need. 
"You're gonna get whatever you get academically with brainpower, whatever that financial aid package is," he said. "It takes out a lot of the nonsense out of it, the business part. Don't be fooled, D-I is a business."
His first season as head coach with the Wildcats was unexpectedly cut short by the COVID-19 pandemic, but the team went 7-9 overall during their limited schedule. The year prior, under the former head coach, the team went 7-33 during the entire 2019 season. 
Now, going into his second year and first full season, he's excited to continue improving the future of Linfield baseball. 
The coaching staff brought in 31 new players for the 2021 season, meaning the team is majority first or second year players. Fans can expect an almost entirely freshman pitching staff, according to Spencer. 
"I think we're going to be a fun club to watch. I think that they'll always play hard and never play to the score, just play to the game," Spencer said. "The best is coming for Linfield baseball."
Junior Jacob Campos is one of the upperclassmen who went through the coaching transition when Spencer was hired. 
"Coach Spence came in and it was obvious he wasn't playing games, it was time to get serious," Campos said. "He's what Linfield really needed. He can joke around with us, but as soon as you're between those white lines, it's game time." 
A career as a college baseball coach wasn't always in the plans. Spencer majored in history with the intent of being a teacher and coaching high school sports, but quickly realized that wasn't the right path for him. 
"I was sitting in a class doing the teacher thing, evaluating a real teacher, and I was like, golly, I'm not sure if I could be a high school teacher," he said. During this time, he coached the high school's JV team and less than two years out of school, he was already coaching his first college team at Green River Community College. 
"I was young and I was stupid," he laughed. 
Through the years, Spencer coached a number of players that have gone on to play in the pros. "I'm fortunate," he said. "If you do recruiting right, you coach good players and some of them are gonna get drafted. That's good recruiting more than it is good coaching."
McMinnville native Joe Paterson played for Spencer at Oregon State during their back-to-back national championship runs and went on to pitch for the Arizona Diamondbacks. When Spencer was hired at Linfield, he immediately asked Paterson to join as the pitching coach.
"He was one of the biggest, if not the biggest, influences in my career and taking it to the next step from being a college baseball player to a professional baseball player," Paterson said. "Being able to work alongside someone who was such a big influence in my career is just a neat opportunity."
The admiration and respect go both ways. Spencer loves seeing what his former players are doing now.
"You're proud of all of them like they're your own kids," Spencer said. "As a college coach, you're as proud of the guy who played in the big leagues as the guy who's now a doctor running a practice or a foreman at the steel mill or the owner of a company and he's got a family. They were good players and now they're good other things." 
Spencer prides himself on keeping in touch with those past players, whether that means talking baseball or just having a conversation about life. 
"You just always want to be available when they need you," he said.