Eve Brindis, Making Leaps for the Dance Program
It's almost dusk the night before the Spring 2018 dance showcase. While everyone should be getting proper rest, the lights stay on the stage —  flickering, moving, and changing colors. 
It isn't a ghost nor a technical malfunction, it's dance instructor Eve Brindis and light designer Brandon Lowe, learning how to properly light the ridiculously large organ that sits awkwardly on the stage in the Richard and Lucille Ice Auditorium at Linfield University.
This special moment is her favorite because she challenged herself to learn a new skill and is one of the first memories she has with her now husband. It's also indicative of her past four years as the Adjunct Professor of Dance — going above and beyond the expected and investing her all in order to create a dance program that ignites and includes everyone. 
"Eve does an amazing job at providing inclusivity because the dance program brings something different than other Linfield programs," said senior accounting major Katie Rice. "The program is open to all levels of skill and she never shies anyone away from joining dance." 
The Linfield website describes the dance program as a safe space for dancers to convey purpose and expression through choreography, movement and creativity. The program, separate from the dance team, functions under the music department and provides extracurricular classes in ballet, tap, jazz and modern dance. Students can also join the dance ensemble class where they assist, choreograph, and direct pieces in each semester's dance showcase. 
Brindis has always been a dancer, but being a dance professor wasn't something she had ever envisioned.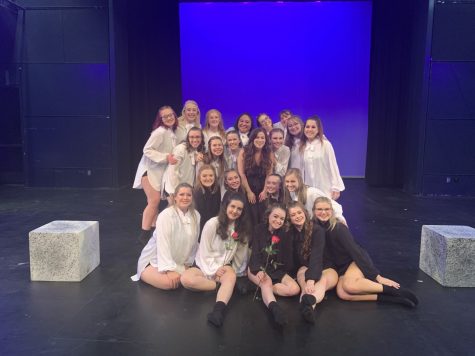 She began dancing at 3 years old and trained at her local studio in the small town of Lake Havasu, Ariz., an isolated and uninspired dryland. She assisted in classes at 14 years old, and helped choreograph local plays toward the end of her high school career until she left for college in 2012.
Despite her intimate relationship with dance, she chose to attend Linfield to escape it. She thought she needed to force herself to find something different, but she quickly realized that she couldn't live without dance. This caused her to question herself and contemplate transferring schools. 
Although she could've left to pursue other avenues, she stayed because she found herself at home with Linfield's small, yet talented dance program. There, she got back to her roots and even ventured outside of the multi-purpose room to discover the diverse dance scene in Portland, Ore. 
"I know that looking back, it led me here for a reason," Brindis said. "I truly believe that it did."
After graduation, she taught dance everywhere she could: in Arizona and eventually in Portland doing contract work with private and public schools and even some adult dance lessons. 
While building her teaching portfolio, she got a surprise call from former Linfield music department head and mentor, Faun Tiedge. There were only two questions: Do you live in Oregon and are you interested in taking over the dance program? Brindis's answer was an immediate, "Yes!" 
It's been almost four years since she's taken on the professor role and turned the dance program on its head. Initially, she taught only two classes and hosted one program performance. Now, she teaches four classes a semester on average, not including applied lessons, and directs two showcases a year.
Although she's one of the youngest faculty at the university at the age of 26, she doesn't see that as an obstacle, but as a strength to better connect with her students.
"You are a student forever and I think being open to that mindset is key. I know there's so much for me to learn and there will always be so much for me to learn," Brindis said. "That makes it easy for me to also always be a student and be excited to go back to my students and share what I know." 
Being a forever student, to her, means maintaining an open mind, not being afraid to ask questions and to learn from older dancers and creatives when she can.
"She stays at the same level as me so we build together," said sophomore nursing major Autumn Gomoll. "She's also in-tune with what's new in the dance environment which is really important."
When she's not at Linfield teaching, she's working on her craft by taking online classes when she can and practicing in her home studio built by her husband. Pre-pandemic, she would take ballet classes twice a week in the Portland area, getting inspiration to incorporate into new pieces and classes.
As someone in the arts who's never had a job outside of dance, she does face burnout and mentions how hard it is to teach, learn, and perform especially in the four walls of Zoom.
To break through the difficulties of dance fatigue, she enjoys baking and listening to music unrelated to anything she's choreographing. Luckily, she comes from a family of artists who continually encourage and motivate her.
Her dad was a composer, musician and now a teacher for an audio visual program in Lake Havasu. One of her brothers is also a musician and graphic designer, and the other is a songwriter and producer who is married to professional freelance choreographer, Tori Brindis. 
In 2015 during Christmas break, Tori and Eve spontaneously choreographed a whole piece for the high school where her dad teaches. From that moment, they became close friends who constantly text each other dance videos and brainstorm choreography.  
"I'm really proud of her," Tori said in regards to Brindis's growth. "She's brought in a lot of students who wouldn't have otherwise had the opportunity to do dance and opens the doors for everybody. I feel like that's the reason she's been able to create solid relationships with students."
The interpersonal relationships Brindis has built with dancers allows them to flourish in a welcoming environment where they're able to shake the stresses of the day and focus on dance.
Although a small program, Brindis emphasizes that you get out of it what you put in. It's only an extracurricular at the moment, but it's gained momentum because of students like Gomoll.
"Eve has made me realize how much I've grown in the past year. Not just dance, but school, mental and everything," Gomoll said. "That reinforcement that I've grown in different ways wouldn't have made me as confident as I am today without Eve's support."
She has participated in three dance showcases and takes applied lessons. For many students like Gomoll, dance is more than just a hobby, but a way to gain experience in the creative field.
Rice, who's participated in the program all four years, has seen the program move from the clumsy stage in Ice Auditorium where they built sets themselves, to Ford auditorium where they collaborate with the Theater Department. 
"The program wouldn't be where it is today without us dancers pushing hard and Eve sticking with us this whole entire time," Rice said. "She's pushed us as individuals and dancers throughout the years and encouraged us all to be the best we could be."
At the end of the day, Brindis puts her own time and energy into the program because of students like Gomoll and Rice.
"As long as we have students coming in who are excited about dance, the program will stay and grow. It's all about them," Brindis said. "I'll be excited forever, but it needs students to thrive."