Men's and women's golf finishes third in opening weekend tournaments
Linfield men's and women's golf both placed third in their respective tournaments this weekend, teeing off for the first time since last March. The men competed in the George Fox Invitational at Chehalem Glenn Golf Course and the women competed in the Boxer Invite at Quinn Valley Golf Course.
Men's golf 
Men's golf finished in third place at the George Fox Invitational with a total score of 635, 19 shots behind George Fox University and 69 shots ahead of last place, Pacific University.
The Wildcats were led by freshman Riley Lynch, who finished tied for seventh place and shot a 155 over the weekend. Lynch shot a 77 on Saturday and followed with a 78 on Sunday.
Fellow freshman Bryce Hatcher improved on his day one score of 81 by five strokes to finish with a total score of 157, earning him tenth place.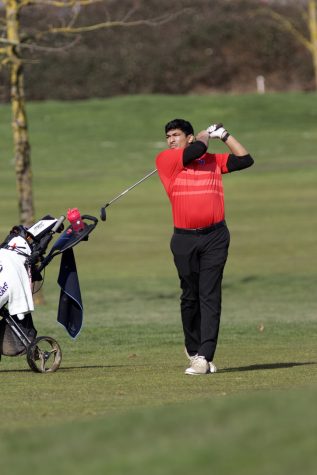 Finishing with a total score of 158, freshman Trevor Price shot 7-over on both days to finish tied for 11th place.
Sophomore Tobin Arden shot a 9-over 81 on Saturday but fell into a tie for 16th after a Sunday score of 84, giving him a total score of 165
Rounding out the scoring for the men, freshman Chris Cayford shot an 81 on day one and followed it with an 88 on Sunday, earning himself a tie for 18th and a total score of 169.
Up next, the men will travel to Quail Valley Golf Course for the Pacific Invitational on March 13-14.
Women's golf
Linfield women's golf finished third among six teams in the Pacific Invitational this weekend, ending with a total score of 801. 
Sophomore Alexandra Sandfort led the way for the 'Cats, finishing in tenth place. Sandfort shot an 86 on Saturday and 89 on Sunday, giving her a total score of 175.
Junior Reagan Barr shot a total score of 187 to earn 15th place.
After shooting a 117 on Saturday, freshman Frances Remmick improved her play by 16 strokes on Sunday to earn 25th place.
Freshman Cailin Hillman finished three shots behind Remmich to earn 26th place and freshman Rylee Schneider finished in 29th place with a total score of 270.
The women will host the upcoming Linfield Invitational at Michelbook Country Club on March 20-21.