Finding movement in a pocket student lounge
"Cities call them pocket parks," she said. "The idea that a park doesn't have to be this huge thing with a ton of resources. It can be this small thing that is just nestled into a community or a neighborhood and serves that particular corner of the city."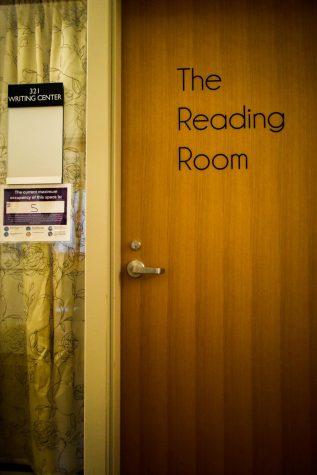 Rachel Norman, an English professor at Linfield, hopes the new Reading Room on the third floor of TJ Day will function as a "pocket student lounge."
The rectangular room, chunked out by three white pillars in the middle, sat empty for about a year and a half, according to Norman. But over the 2020-2021 winter break, she decided it was time for some redecorating. 
"during the pandemic, students were searching for more spaces where they could be outside of their dorm rooms, but still be safe following covid protocols," Norman said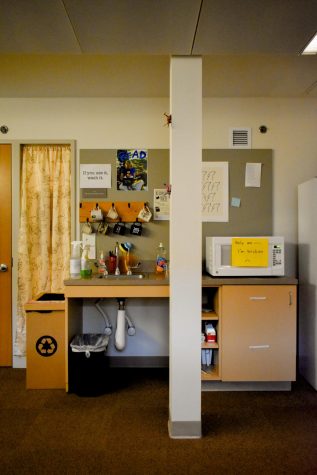 The Reading Room used to be the home of The Linfield Writing Center, but the program eventually out-grew the space and was moved into the library.
Before it was decorated, Norman described the room as blocky with unwelcoming white walls. "I feel very strongly that how a space feels is very important," she said.  "No one wants to hangout in a space that is full of a bunch of white bare walls."
Norman manifested an organic space that is welcoming to students looking for an alternative to their dorm rooms.
"My guiding principle was: do I like it?" she said.
Now, posters of plants, poems, and art work cover the walls.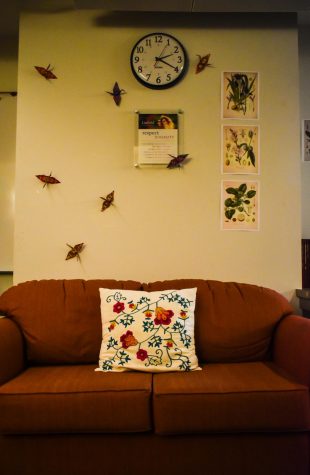 "We feel restricted with our physical movements during lockdown. To have a welcoming space could be freeing for students," Norman said.
The white pillars in the room–a result of the TJ Day remodel in 2011–have always been hard to work with. Norman's solution was to give them movement and color by taping paper cranes onto them. With origami paper cranes flying down, the three pillars are less obtrusive.
Luckily the cranes coincided with the theme of Norman's favorite short story, "Paper Menagerie," a sci-fi story incorporating Asian-American experiences with magical realism and paper origami. The cranes are taped around the poem in a way that suggests flight and movement.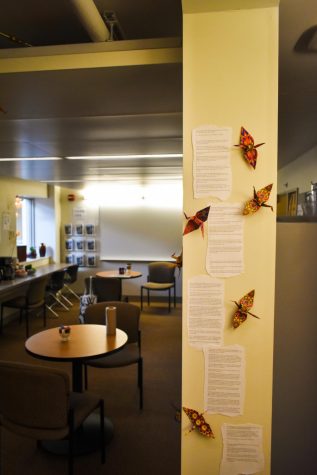 Norman teaches "Paper Menagerie," by Ken Liu in some of her classes, "Every time, the students have an incredible reaction and feel a strong connection," she said.
Since this is a student-centered space, Norman said she was pleased to incorporate literature that students find engaging and enjoyable. She wanted to avoid using stuffy and outdated "English" posters.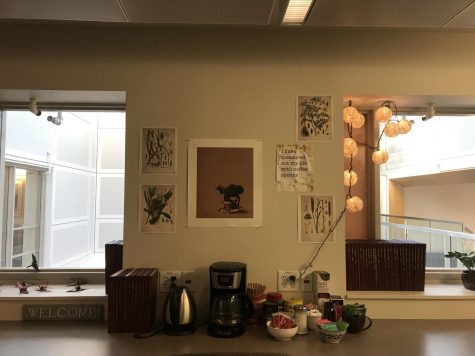 The space does not have windows that look outside the building, so Norman included botanical components in the room to make it feel more organic. In a windowsill, a ZZ plant sits in a pot that Norman threw herself.
Norman, a Linfield alumna, said, "Something that I was missing when I was a student was a place for English majors to hangout."
There are general study areas on campus, but she thinks students might feel a void around niche spaces where students can be in proximity with people in their major. "This is a cozy little space that gives students a space in TJ Day to hangout in," she said.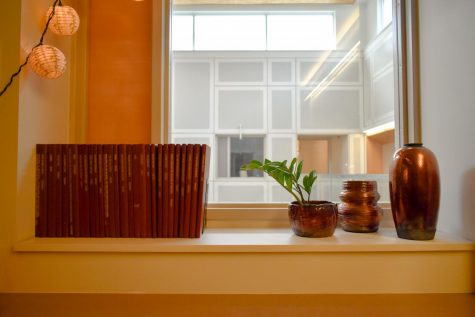 Since the third floor of TJ Day hall is dominated by professors' offices, Norman hopes that a warm and welcoming student space will encourage interaction between students and faculty.
"One of the things that I love about Linfield is that there is so much student and faculty interaction," she said.
Face to face moments with her students are something that Norman loves, and has been missing during the pandemic. 
"My sincere hope is that students use it, and that they love it," Norman said.