Treat Tricks with Beatrice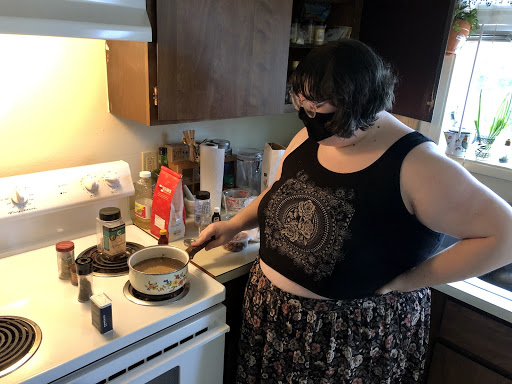 The only thing that could top the infamous pumpkin spice latte? Homemade syrups.
"Making syrups is just kind of fun for me, I like it a lot," says Beatrice DeGraw, a Linfield University Junior. 
DeGraw first started making syrups about 4 to 5 years ago. Each batch varies slightly since she doesn't follow an exact recipe and tends to eyeball the measurements. The lack of strict measuring adds personality to each syrup and showcases the charm of her growing business.
Since she first started, her product line has grown from just syrups to tea concentrates, pumpkin butter, and even bread. Her most popular syrup is the lavender flavor, but as the seasons change so do the flavors she creates. 
After giving me the rundown on how she got into making syrups, DeGraw headed into the kitchen to show me how she makes her popular lavender syrup and shared a few other delicious recipes.

Lavender Syrup:
Fill a pot with 2 cups of water (some water will evaporate throughout the process, and that's okay because it ultimately thickens up the end product). Pour approximately 1.5-2 tablespoons of lavender leaves into the water. Add sugar to match the water at a 1:1 ratio. For extra flavor, mix in a couple of drops of vanilla extract and for the final touch, a pinch of sea salt.
After adding in all the ingredients, she switches on the stove to bring the mixture to a boil. Once it boils, she allows the syrup to simmer for about an hour and then cool at room temperature. Within this time, the syrup will thicken and be ready to top any number of drinks. DeGraw personally loves mixing this syrup in her coffee and even plain seltzer water.
Chai Tea Concentrate:
Starting again with 2 cups of water, DeGraw adds about 1 cup of sugar. She mixes in English Breakfast black tea with whole cinnamon sticks, peppercorns, cloves, cardamom, a dash of vanilla extract, and ginger to achieve her signature flavor. DeGraw added: "I usually use fresh ginger because it has a nice sharp flavor."
The concentrate can be added directly to the glass once it's been boiled, steeped, and strained. DeGraw preferably splits the concentrate with either one part water for a tea flavor or one part milk to make a chai latte. This concentrate can also be used to dupe numerous Starbuck drinks.
Pumpkin Butter:
To fill a 16 oz mason jar, DeGraw uses 2 cans of pumpkin, 1 can of water, sugar to taste, and numerous spices. For seasoning, she mixes cinnamon, nutmeg, ginger, and cloves. To enhance the taste, DeGraw adds extra cloves and cinnamon before finishing with a dash of both salt and vanilla. After boiling, allow the mixture to simmer until it caramelizes. The final step is to run the mixture through a fine-mesh sieve to strain out any chunks. 
Pumpkin butter resembles a jam consistency and makes for a perfect muffin or toast spread. DeGraw also likes to add her butter to coffee stating the flavor mimics that of a pumpkin spice latte. 
The beauty of DeGraw's recipes lies in their simplicity, "I use few ingredients so I know exactly what's going in. There's nothing artificial and I really like knowing that," DeGraw said. 
She ultimately wants to develop her knack for making drinks and treat toppers into a part-time gig. Her goal is to continue selling her creations to family, friends, and maybe eventually at a farmer's market.