Student Affairs leader imparts words of wisdom on her last day at Linfield
"In a sentence, Sarah is on top of it," Camille Lubach said about her time working with Linfield Student Activities guru, Sarah Fuller, who said goodbye to colleagues and students on Friday.
Fuller is leaving her position to work as an executive assistant at Moss Adams, an accounting firm in Portland. She described her last day as melancholy, "I really do love my job, and I love the students," Fuller said.
Even though Fuller graduated from Willamette University, Linfield is her home. She met her partner during the first freshman orientation week in her new position, "We realized that we were neighbors and then became best friends. Now, six years later we're still together," she said. 
The power of a small college has made an impact on her, "I hope whoever comes after me really buys into that aspect of Linfield, because it is really special," she said.
Fuller is just as special to Linfield as it is to her. Her uncanny ability to express herself, and how she's feeling, is something that students look up to and try to replicate.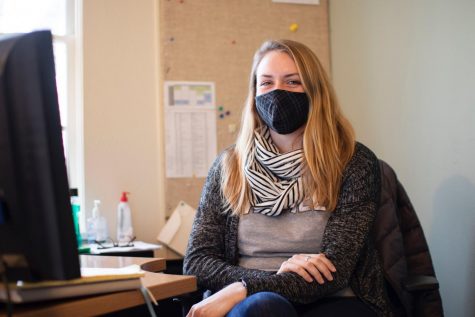 "Sarah Fuller changed my whole experience at Linfield within the span of a year. Not only did she teach me more about myself, but she also pushed me to be a better student, leader, and person," Caitlyn Connely said. Connely, a junior, works with Fuller in her position as ASLU treasurer as well as in sorority life.
Fuller describes herself as a "people person"  because she loves talking to people. "That is why my job is so great. Because all I do is talk to people," she said.
She also believes in her student leaders. "I know you guys are fully capable," she said. "We're not here to boss you around, we're here to support you."
Sean Webster, the president of ASLU, is also appreciative of Fuller's leadership style. "She challenges others around her to think critically and encourages everyone in such an incredible manner," he said.
Fuller's raw emotion while talking about how the pandemic affected her was sincere, "the pandemic, as it did many people, made me question what I wanted in life, and where I want to go," she said. She stepped into the new year knowing that she wanted something different, and so she decided to go for it. 
Fuller recognizes that most, if not all, college students are learning who they are and trying to navigate a completely new stage of their life, "I think it is so sad when people tell you this is going to be the best four years of your life," Fuller said, "because that puts an awful lot of pressure."
Despite the intense pressures from society to make these four years count, she encourages students to "care less about how people perceive them and be honest with themselves and others about what they want."
The next time college is getting you down, or you received an aggressive text from your mom, follow Fuller's advice and "give yourself grace, adults are always making things up as we go along. Take solace knowing that if you're doing your best, and you can sleep with yourself at night, that is attainable perfection." 
Fuller will still be in the area, and said students can email her at [email protected].