Stepping into something new: The Linfield dance team's new uniforms
Whether they're pumping us up on move-in day or performing fabulous halftime shows, the Linfield University dance team always looks spectacular. This January, it was time for a well-deserved upgrade for their uniforms. Linfield's iconic purple and cardinal are now brought to life through more detailed uniforms along with more variety for the team to choose from.
The dance team hopes that these new uniforms will bring them more recognition and attention with a more official look.  
"We've been fighting for this recognition for a long time, and have made progress by switching from a club to a team in 2019," Kendall Harrison said. Harrison is a senior on the dance team and manages their social media.
"I think these uniforms embody more than just a new look, but a verification that we are being taken seriously and something valuable to watch," Harrison said.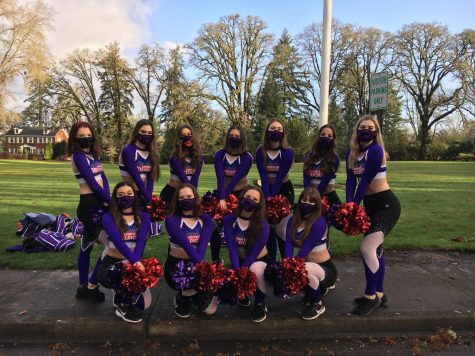 "We are the first dance team in Oregon to be outfitted in Rebel Athletics gear," Harrison said. Rebel Athletics is a company that manufactures dance and cheer uniforms. They are also known for outfitting the Navarro cheer team, as seen in the Netflix original Cheer.
Seniors Leah and Elizabeth Thompson, like the other members, love the new uniforms,"We feel like people will look at us and know that we are the Linfield Dance Team," Thompson said. The Thompson twins are currently co-captains. 
The team got two new practice uniforms that they can mix and match, along with new backpacks.
"The backpacks are our favorites," Thompson said. "They have so many pockets and compartmentalized spaces inside for us to put our poms, our team shoes, and any snacks or extra clothing we may need."
Compared to the old uniforms, their new garb steals the show. From the bright Linfield logo to the jewels that sparkle in the sun, these uniforms bring a twist to the team's routines. 
New shorts, leggings, and tops–with accessories–allow them to mix and match.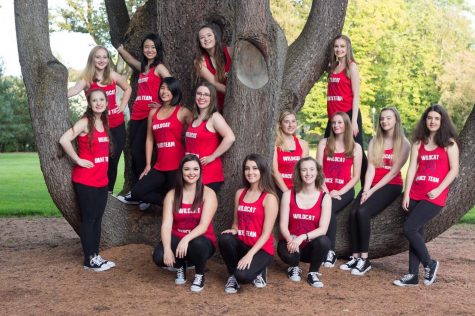 "I would say the biggest difference is that our last uniform had sleeves and the new uniforms don't," Thompson said.
The team's uniforms have changed throughout the years, sticking to the same long sleeve style for performances. But, the detachable sleeves provide a nuanced option for the team.
Harrison runs the team's Instagram and TikTok accounts, where they post updates and dances about the team frequently. Harrison encourages readers to keep up with dance team content.