Young swimmer back at it after promising rookie season
It was obvious early in Edan Donaldson's career that he had a natural affinity for water. He blew through swimming lessons at the age of eight. 
Young Donaldson had two options to pursue his swim career: take lifeguarding lessons (a little unrealistic for a child) or join the local club swim team.
"No one in my family swam, I was the only one," Donaldson said. "I passed all of the available lessons and my only option was to swim for the club and I've been swimming ever since." The current sophomore from Colton, Ore. is a promising young member of the Linfield men's swimming team. 
Donaldson is grateful for strong role models that encouraged him to pursue the sport at the collegiate level. "I actually swam club for the Linfield coach, and he encouraged me to check out the program," Donaldson said.
Coming into his sophomore year, Donaldson has already racked up impressive achievements as a Wildcat. He placed first in the 400 freestyle relay at the Northwest Conference championships and holds four of the fastest times in program history in butterfly, backstroke and freestyle events.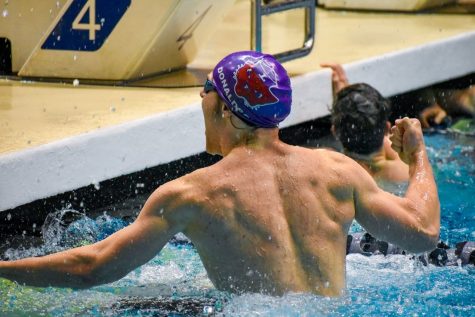 "The man is dedicated to his sport and loves to compete," said senior teammate Kahili Helm. "He is an amazing swimmer and great teammate." 
During the recent quarantine, Donaldson demonstrated immense commitment to his sport by getting creative when it came to staying in shape. "I didn't have access to the pool so I had to tie myself to a little deck pool and try to swim against resistance," he said. 
In addition to resistance swimming, he went for runs and lifted weights to stay in shape. However, returning to competitive swim was still a challenge after not having access to a full-size pool for months.
Donaldson said coming back felt "like building new foundations, it took a full two weeks to get back to speed after I was able to swim in the McMinnville pool." Still, this year he is excited to compete in the 100m back, butterfly, and freestyle. There is also a possibility that Donaldson may compete in longer races as well.
Donaldson continues to demonstrate a profound love of competitive swimming, but he looks forward to the next phase of his swimming career: coaching. After he graduates, Donaldson intends to use his business degree to open a CrossFit gym with his mother and start a youth club swim team. Though this goal remains a long way into the future, Donaldson is likely to imbue his pupils with his own competitive and dedicated spirit.