5 ways for students to enjoy spooky season (safely) 
If 2020 has taught us anything, it's how adaptable people can be. While many events and gatherings have been put on pause to protect our health and safety, but creativity has prevailed in finding new ways to enjoy canceled some holidays. We've celebrated Easter, the Fourth of July, and birthdays six feet apart — and Halloween will be no different. 
The lack of parties and trick– or– treating doesn't mean that spooky season is canceled. There are plenty of easily accessible ways for Linfield students to safely celebrate Halloween without sacrificing scares. 
The Fear PDX 
 The Fear PDX, Portland's largest Halloween event, is one of the few Oregon haunted houses open this fall. COVID-19 has forced many haunts to close, but The Fear has adapted their practices to remain open and safe for the public.  
The ground rules are clearly laid out: everyone must wear face coverings (even the monsters), temperature scans will be conducted, and social distancing guidelines are strictly enforced for the entire experience. Timed ticketing ensures that crowds don't form and guarantees quick access with no packed lines. They've taken out the claustrophobia inflatable squeeze tunnels, a traditional haunted house element that no one has ever enjoyed. Ever.  
For one ticket price, you have access to four different attractions, all with terrifying names like The Doll Factory and Dark Carnival. "It was really scary, like 9 out of 10," said junior Kira Sneddon. She also noted that social distancing was strictly enforced in line and once inside.  
For a fun and terrifying adrenaline rush to help you step out of the real world for a second, visit fearpdx.com to reserve your time now because as the website says, "the creatures are stirring…" 
Bauman's Harvest Festival  
Bauman's Harvest Festival is a Fall utopia. Bauman's is located in Gervais, about a 45–minute drive from campus, making it the ideal quick getaway for Linfield students. The main attraction is a Sasquatch-shaped corn maze that only costs $5.  
I'll say that again for the college kids. Only $5. That deal alone makes it worth a visit.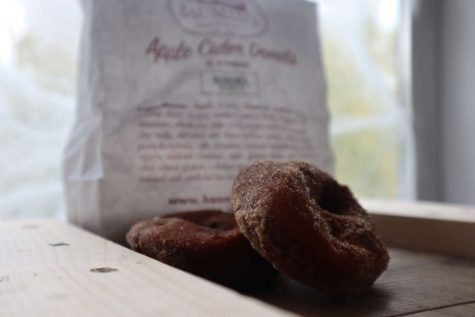 When/if you find your way out of the maze, there's plenty more activities are waiting to do. There's Bauman's has a huge pumpkin patch, petting zoo, and an extensive market with anything you could possibly imagine. Decorations, farm-grown products, and amazing baked goods are all for sale, but there's one shining star among all the snacks there.  
The apple cider donuts are unreal, sugary slices of heaven sold slightly warm from the oven. Junior Kaden Gass, who has made it a tradition to go to the festival yearly, strongly endorses the treat. "Do yourself a favor," he says. "It's worth the drive."  
Decorate your dorm/apartment  
In an effort to keep the "Linfield bubble" effective, Linfield the university administration is strongly recommending that students stay on campus to avoid exposure to the coronavirus. If we are going to be staying here with few activities actually occurring, let's make the campus a spooky Halloween haven.  
The Dollar Store in McMinnville is your friend. Fake spiders, light up pumpkins and menacing caution tape are just the tip of the decoration iceberg that you can find there. By creating a fun decorated environment on campus, it might restore a sense of normalcy this Halloween.  
Go to a REAL haunted house  
Ghosts are the best at social distancing. 
The iconic Pittock Mansion in Portland has a long, complicated history sprinkled with tragedy. Henry and Georgiana Pittock built the beautiful home in the early 1800s, filling it with the best that money could buy. The elaborate mansion was finished in 1814, but the couple died four years later after only briefly enjoying their new home. Employees at the tourist attraction believe this is why the Pittocks still roams the property to this day. 
Employees and tourists have reported multiple sightings of apparitions and oddities in the home. One occurrence of the commonly reported occurrences by tourists is the strong scent of rose perfume coming from Georgiana's room. Outside, the sound of a shovel hitting the ground and heavy footsteps is believed to be the Pittock's gardener going about his daily routine.  
Do you believe in ghosts? Pittock Mansion is open to visitors Thursday-Monday from 10 a.m. to 4 p.m. Tickets are $12 and a timed reservation system prevents overcrowding.  You'll have to go see for yourself if the stories are true.
Virtual haunted houses  
2020 has forced us to adapt in many ways, and virtual haunted houses may be one of the most interesting ways yet.  
Many real haunted houses have put spooky virtual tours online. The dark and twisted history of San Jose's Winchester Mystery House made it infamous as a spot for spooky encounters, and now the whole tour walkthrough is available on their website. Other places with online tours include room 217 in Colorado's Stanley Hotel (from The Shining) and the Lizzie Borden house in Massachusetts.  
You could also take a virtual walkthrough of a fake haunted house, like at Knott's Scary Farm or Universal Studios Halloween Horror Nights. It might sound really lame to watch a haunted house on a screen, but it's actually incredibly fun to watch. The high production value and effects at these haunts make it suspenseful, even when you aren't physically there.