Dual-sport athletes adapt to COVID changes
Some things never change at Linfield in the fall. The way the leaves turn red. The bustle of Starbucks as students and faculty get their morning coffees. Student-athletes scurrying to practice from dawn til' dusk. 
However, this year has presented numerous obstacles to student-athletes. COVID-19 has challenged the athletic department in many ways and, unlike in previous years, this fall is not characterized by spirited athletic competitions. 
The Catdome and other athletic facilities have been eerily quiet all semester. Out of caution, the Northwest Conference tentatively pushed fall sports schedules into the winter and spring. Sports like football, baseball, basketball, and soccer are likely to overlap in their delayed spring competitive seasons. 
"It's discouraging that I might have to choose between football and baseball," said dual-sport athlete Tanner Earhart. One of the major reasons he came to Linfield was the opportunity to play on both baseball and football. "It's unfortunate because I love them both," Earhart said.
The conditions of this fall season haven't been optimal, but Earhart's passion for both sports inspires him to continue pushing through. This semester alone, Earhart has overcome injuries, smoke from nearby wildfires, and COVID restrictions to be on the field with his teammates. These circumstances "have taken away valuable time, but it is what it is. We have to keep moving forward," Earhart said. 
Overall, Earhart said managing both sports in the preseason hasn't been that difficult. "It's almost easier this year, because we don't have as many in-person classes," Earhart said. Even though it took him a while to get figure out a schedule that worked, he's had a lot of support from his coaches and roommates. "Our baseball and football coaches have a lot of transparency, so my roommates and I are able to communicate with them what's going on," he said. 
Addison Klindt, a member of women's soccer and track and field, loves being a part of a team atmosphere. "There's a lot going on, but I love being able to see both of my teams," said Klindt.
Klindt is currently practicing six times a week between both sports. "It's nice to be able to go to track and soccer and see my team, but it's tiring for sure," she said. However, she says she's the "type of person that loves to go, go, go." 
"It is super tiring, but at the end of the day I feel better about myself," Klindt said. She believes being a part of both teams helps enhance her Linfield experience and gets her through all of the uncertainty surrounding COVID.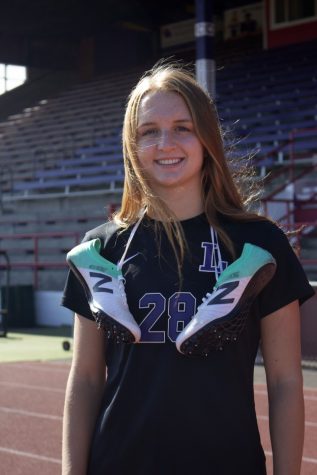 Klindt fears having to pick one team to compete with this spring. But, she remains optimistic because she still has a few years of eligibility left. "If I have to choose this spring, I'll definitely go back to doing both once their seasons return to their regular schedule," Klindt said.
Ultimately, Klindt's major concern is injury from overexertion. "I have to manage my body or I could end up missing both sports. That would really suck," she said. Klindt is grateful for the flexibility her coaches have regarding her schedule, saying, "I'm lucky to have coaches that have faith in me and communicate with me."
Braden Thorn is choosing to remain optimistic. He is currently balancing baseball, basketball, and a rigorous academic load. Despite the potential stress of having two sports in-season at the same time, Thorn views it as a challenge and an opportunity.
Thorn says being around the team has helped relieve his worries. "I have worried about my seasons, but now I'm actually excited," he said. The hardest part of COVID was being away from the court and the field, so coming back to practice has almost been "nostalgic" for him.
Injuries are the last thing on Thorns mind. He's confident in his ability to manage his own body, saying, "I take care of my body really well. I eat good food and make sure I sleep."
However, managing his mental health has been the most difficult part of this season. "I talk it out and vent to my teammates when things get hard," Thorn said. 
Even though this season is unusual and exhausting, Thorn is glad to be on campus with both his teams. For him, being able to put on a jersey and pitch to his teammates makes all the stress and uncertainty worth it.
"Not many people can say they have played in two college games for two different sports in one day," Thorn said. "After this year I can, and I think that's really cool."