Linfield University adopts new Title IX and Student Code policies, in line with federal changes
Linfield University recently adopted new Title IX and Student Code of Conduct policies. These changes came in lieu of Department of Education regulations announced in May that shifted the 2011 Title IX sexual assault procedures from guidelines to federal law. They went into effect on August 14, 2020.
A team of students and administrators worked together during the summer to adapt Linfield's existing Title IX and Student Code of Conduct policies to fit the new regulations. 
The Title IX Review Committee consisted of students Hannah Waterman, Sarah Born, and ASLU Vice President Michayla Sponsel. They worked alongside administrative staff, including VP of Student Affairs Susan Hopp and Associate Dean of Students Jeff McKay. Joining them was a Title IX education consultant who specializes in adapting college procedures. 
Although Linfield was in accordance with the original 2011 guidelines for Title IX, some parts of the school's policy had to be changed with the May update. The Review Committee met weekly for two months to go through the Linfield policies line-by-line.
"From the beginning, I really felt like [the administrative staff] listened to the students," said Sponsel. As ASLU Vice President, she said she received countless emails from fellow students with their concerns about sexual assault at Linfield and she was excited to share their perspectives with the administration
The new regulations require schools to be "strictly down the middle" in cases of sexual assault allegations, said Susan Hopp. This means any Title IX investigation must be "objectively fair" to the complainant and the alleged abuser, and allow for the same grievance procedures for both parties.
But the scope of complaints covered under Title IX has been reduced–meaning that fewer sexual misconduct cases are eligible for an official investigation.
Hopp made it clear that all misconduct complaints will be taken seriously and any complaint that is not covered under Title IX will be covered by the Student Code of Conduct. 
"I think the Student Code [of Conduct] is as wide as the college can get, wider than other schools," said Sponsel. "When a student submits a sexual assault report it goes through a process where it's determined whether it falls under Title IX or the Student Code."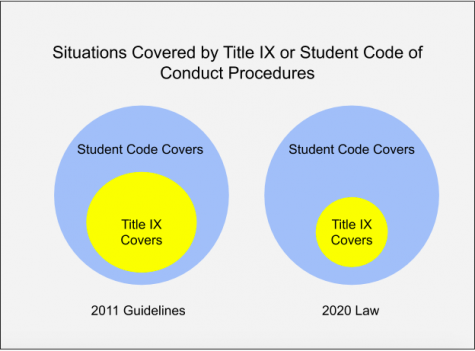 Linfield's Student Code of Conduct investigations will feature a hearings officer to preside over the proceedings. The hearings officer will be someone not associated with the school, and will work with both parties to find the outcome that is best for that situation. 
Sponsel said that the goal of having a hearings officer is to make the two procedures similar in legitimacy. "It's not like 'oh we have to go through the process,'" she said. Any claim reported to the school will be taken seriously.
Title IX investigations now allow live hearings with cross-examination, unlike Student Code investigations, said Hopp. The 2011 guidelines advised against cross-examination between parties because it could be traumatic to survivors. 
Hopp said she has reservations about the cross-examination aspect, but maintained that it is now law to allow them during hearings. 
Sponsel said that her experience working on the Title IX Review Committee showed her that the school administration was very clear that the students were important to them.
This story was updated on Oct. 6 to clarify the cross-examination process. Additionally, the use of "survivor" was changed to "complainant" in relation to Title IX investigations.