An orange glow engulfs McMinnville campus as Oregon wildfires rage on
Linfield University students saw the slowly encroaching cloud of smoke on Sept. 7, but little could prepare them for the eye-stinging, lung-burning day ahead of them.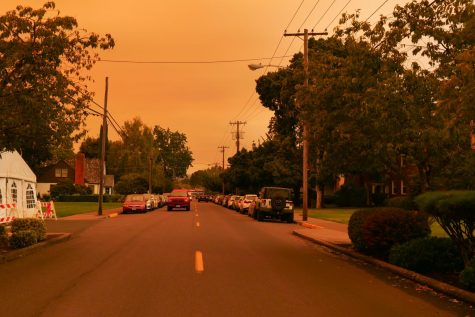 Active wildfires as close as Stayton and strong winds shrouded much of Oregon and Washington in smoke, starting on Tuesday. The Oregon Department of Environmental Quality issued an air quality advisory for the Willamette Valley that is likely to remain in effect until Thursday.
McMinnville's Air Quality Index (AQI) reached 445 by 5 p.m. on Tuesday afternoon, according to the IOS weather app. AQI measures the concentration of hazardous pollutants in the air for a specified area. Scores below 50 are considered "good," while scores over 300 are considered a health risk.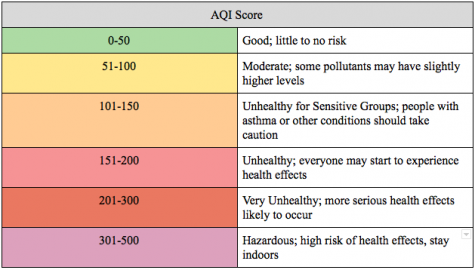 Other AQI monitoring services ranked McMinnville at 283 for the same time. It is unclear to students which platforms are trustworthy, but all services show AQI at unhealthy levels. 
By noon on Wednesday, the AQI score on the iPhone weather app said 599, though much of the orange hue subsided to a brown-yellow.
The main pollutant, known as PM-2.5, is made up of very small particles of matter suspended in the air. It is produced when organic materials, such as wood, burn. Health effects caused by elevated levels of PM-2.5 include burning eyes and throat, aggravated lungs, and increased coughing and sneezing for those without preexisting conditions.
The CDC advises everyone in smoke-affected areas to remain inside, keep windows and doors closed, and use high quality air filters if possible. Those with health conditions such as asthma or heart disease should be especially careful about inhaling the smoky air.
Students on the McMinnville campus are grappling with the added stress of remaining safe during the COVID pandemic. Some symptoms of COVID are similar to the effects of breathing in smoke. 
"Because of sore throats related to air quality, I didn't pass the Campus Clear for the day," said Linfield junior Zoe Braun. 
COVID-19 is more easily transmitted indoors, but being outside to reduce risk is not currently an option. McMinnville campus activities have halted while the air remains hazardous for the majority of the day. Many classes, meetings, and outdoor sports were voluntarily moved to Zoom or canceled as smoke continued to fumigate the campus on Wednesday.  
An email announcement sent to students on Wednesday evening confirmed that the campus will remain open but any outdoor activities or classes will be conducted remotely on Thursday and Friday. 
"While data from the Oregon Department of Environmental Quality suggests air quality has improved today as the hours went by, shifting winds and rapidly changing conditions continue to make this a situation we're watching very closely," the email said.
Students were surrounded by an orange haze for much of Tuesday and Wednesday, causing a stir on social media.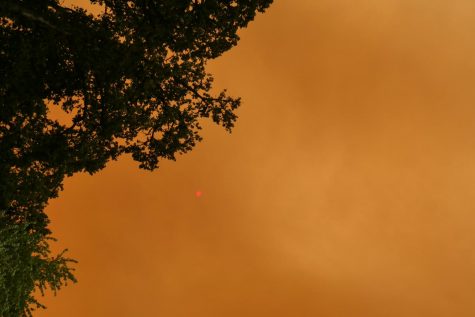 "It looks like an orange snapchat filter whenever I walk outside," senior Jordan Leis said on his Snapchat story. Leis was not the only one noticing the atmospheric hue.
Pedro Geterol, also a senior, posted a photo of the sky on his Snapchat with the caption, "My graphics card is not working. Who corrupted my saved file." Geterol's video game reference captured the apocalyptic vibe as students trugged to class through foul-smelling air.
Some students are preparing for the worst. Braun and Caitlin Fisher both coordinated evacuation plans with roommates and close friends in case a fire threatens McMinnville.
"My parents have always expressed the importance of being prepared for situations. Since there's a possibility of a fire impacting our community today or this week, an evacuation plan is part of preparing," she said.  "Obviously I hope that the fire can be contained, but worst case scenario, I need a 'to-go' bag of important items if the fire threatens my safety or that of the university."
Other students are expressing dismay at the changes they see in their home state. "The smoke is very interesting yet sad to see," said Colton Ramos, a senior Environmental Policy student. "I've grown up hiking around Oregon and these types of things don't normally affect the Willamette Valley."