Swimming excels with personal bests at NWI

On Dec. 1 and 2, the men's and women's swim teams competed at Linfield in the Northwest Invitational against nine teams that included Whitman College, Pacific Lutheran University and Lewis & Clark College.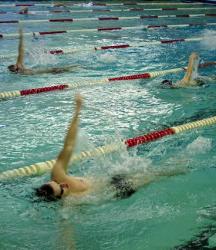 Pacific Lutheran won the men's meet with a score of 610 points; second was Whitman with 649 points. On the women's side, the Pioneers won with 810 points and Whitman came in second with 594 points.
Linfield's swim teams placed third in the standings. It was significant for the women's team because they were competing with only nine women, which is half of a normal team.
"I think everybody swam really well," junior Amy Goodloe said. "Everybody seemed to react really well to how hard we've been training."
Head coach Gary Gutierrez said many swimmers from both teams achieved personal bests.
For the women, those swimmers include freshman Lauren Anderson, sophomore Christine Nakamura, and juniors Amy Goodloe and Rose Hollingsworth.
The men who achieved personal bests include sophomores Dominic Rieniets, Yusuke Kobayashi and junior Josh Parfitt. The men also earned their spot near the top of conference standings.
To keep in shape throughout Winter Break, swimmers are required to practice while they are at home. They will return on Dec. 29 to start practice again because finals started earlier this year than in the past, causing them to lose a week of practice.
To help the team get back into shape, they will start endurance and speed training, which means practices will become more intense than they have been in the past.
"It's really hard," Goodloe said. "Right now we're in really good shape. With a couple weeks off, we lose a lot of it.
Gutierrez said this last meet was a learning experience because it helped him see his teams would be fine heading into finals based on their performance. Along with reassuring him, the meet also reduced concerns he had about their speed.
January Term is going to be an important time for both teams because they will be having the most intense training sessions in that month. During that time they will be continuing their racing strategies.