Review: Linfield Theatre's SWEAT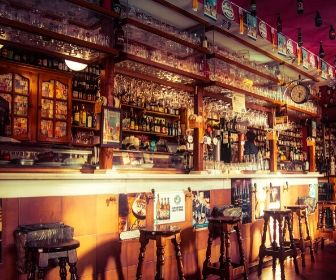 Linfield's production of SWEAT, directed by Adleane Hunter, takes you on a ride through the lives of factory workers in Reading, Pennsylvania, as they struggle through economic troubles and racial issues. Thanks to powerful and emotional acting, SWEAT is a must-see.
From the minute the lights go up, the suspense begins. Written by Lynn Nottage, SWEAT is an exploration of the lives of three women and their families as they battle to survive in a tumbling economy. While two worry about their own job security, the third is promoted. This leads to the question of whether the decision was racially motivated. Through this lens, SWEAT explores the prevalence of racial disparities in this country and how it affects society. A compelling and difficult subject matter, the story faces the issues head on. According to a quote in the program by Lindsey Mantoan, the play's dramaturge, "SWEAT unflinchingly portrays the brutal consequences."
Walking into the theater, you know you're in for something special. The entire play is centered at a bar, and the whole set is visible to you as you take your seat. The level of detail used is enough to pique your interest. The set design also allows for flawless transitions, keeping the story going even during set changes.
Most importantly, the actors do a fantastic job. The performances are incredibly emotional, thanks to extreme commitment by all of the actors. As you watch, you feel the tension and emotions of the story. The cast is almost entirely Linfield students, with the exception of a few. Isaiah Alexander and Edgar Lopez are guest actors, supported by the Lacroute Arts Series, a series with the intent of bringing external art events to campus and bringing artists to engage with students. Adleane Hunter, the director, was also brought to campus under this initiative.
This powerful story about real and prevalent issues in America is important for everyone to see, and is well worth the price of admission, so be sure to visit the Marshall Theater. The last performances are Nov. 15 and 16 at 7:30 p.m., so don't miss out on SWEAT before it's gone!