Jumping back into the outdoors
Linfield reintroduces the Outdoor Program after years of dormancy.
After years of dormancy, the Linfield Outdoor Recreation program is now bubbling with activity. Through a new team of student leaders, and staff supervisor Reza Refaei, the  program will be holding activities every weekend for students to get out and experience the great Oregon wilderness.
The Outdoor Recreation program is completely student run with the exception of Reza Refaei, their staff supervisor. Refaei's office is filled with plants and unique pottery as well as nostalgic photo albums containing photos from Linfield's first outdoor club that ran in the 90's. 
The club thrived on student leadership back then, too, but it died out when the student leaders graduated. Refaei said he hopes that this time around, with better organization, the program will have a stronger chance of lasting.
Refaei has served in a variety of positions on Linfield's campus. Most recently, he served as head of the Sustainability Office. Through his time on campus, Refaei has observed the need for more outdoor recreational activities. 
"Students are looking for something to do on the weekend that's not a sports game. They just don't want to be here, they want to go out and see Oregon. This program is a great mechanism to get students off campus."
The staff's main concern is making the outdoors easily accessible to any student who has the desire to explore. They have found ways to make all of the trips financially accessible as well as something that includes people of different skill sets. 
"All the trips cost a small fee, and this type of model is really popular at like any other university. We've priced ours in the cheapest range. If you look at any other schools, our price range is really not that much," Refaei said. The trip fee often covers the transportation it takes to get there and any of the gear students might need on the trip. 
Refaei said he thinks that the program being student-run is important because it allows students to learn about the logistics of planning and leading a group of people on wilderness adventures.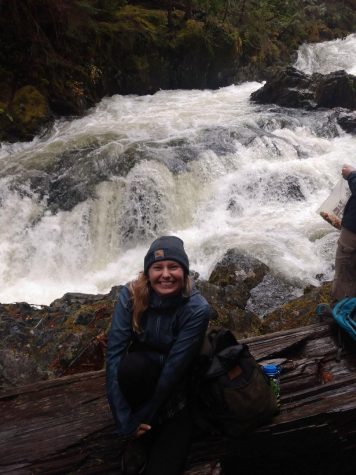 One leader, senior Magdalena McGuire, is especially excited about the program because it will allow her to see more of Oregon before moving back to Seattle after she graduates from Linfield this Spring. She was recruited to work with the Outdoor Recreation program after her leadership in the Wild Pre-Orientation program. 
The Wild Pre-Orientation program acted as a precursor to Linfield's Outdoor Program. Many of the participants, now trip leaders, were able to become wilderness certified with the help of Health, Human Performance & Athletics professor Janet Peterson. 
McGuire expressed a problem that many Linfield students likely faced before the outdoor program was created. 
"I have the motivation and time to get out and explore," she explained with gusto, "but I don't know anyone who enjoys the outdoors and is experienced enough to keep up with me." She has enjoyed the Outdoor Recreation program because she has met people who share her passion and knowledge of hiking.
Another leader, junior Eliza Rossman said, "I'm just getting paid for something that I would already be doing, and now I get to meet more people." 
McGuire and Rossman are not the only students that have seen friendships flourish as a result of the Outdoor Recreation program. First-year student Stella Davis came back from the "Backpacking in Bend" trip in September enthralled with the amount of people she met. "I just had lunch with the sweetest girl from the backpacking trip," she said. Davis went on to express her love for hiking: 
"Hiking is my preferred way of getting exercise, it doesn't feel like a chore. It's kinda like I'm carrying myself to a beautiful spot where I can just appreciate that my body took me there."
Davis also said she hopes more students will get involved so they can see how great of an experience it is. 
On the "Backpacking in Bend" trip in September, the group experienced a slightly rocky start to the trip when all of their dinner pasta spilled. But, participants did not seen phased. "It just adds a little extra spice." Many participants said this became the joke of the trip and only enhanced the backpacking trip. 
Rossman, the backpacking trip leader, said she had a great time on this trip but also learned a lot about the logistics of planning a weekend long backpacking trip. "It is super important to plan ahead and think of all the possible scenarios and make sure everyone is comfortable."
Trip-goers said the mishap did nothing but add to the adventure, and gave them a funny story to tell their friends. If anything, it was an incentive to go on more outdoor trips and tighten the bond with their new friends.
In the first two months of the program, the program leaders have taken Wildcats to a variety of places around the Northwest. Students have explored the Ape Caves in Mount St. Helens, hiked through falling leaves in the Opal Creek Wilderness, floated along the foggy Nestucca Bay and more.
The program's next adventure, which has a $10 fee, is a hike on the Upper Salmonberry River trail in the Mt. Hood National Forest on Saturday, Nov. 9. Students can sign up for excursions and view the calendar of events on the Linfield's IM League website. Students can also view see the beautiful places the program has ventured to on the program's Instagram: @linfieldoutdoorrec.