Professor Graff-Haight to give tips for last lecture
One of Linfield's most beloved professors willing be concluding her career at Linfield with a last lecture.
Professor of health education at Linfield College Dawn Graff-Haight will be presenting a "Last Lecture" on April 24, at 7 p.m. in Ice Auditorium at Linfield College.  
Graff-Haight has been part of the Linfield Faculty for about 23 years.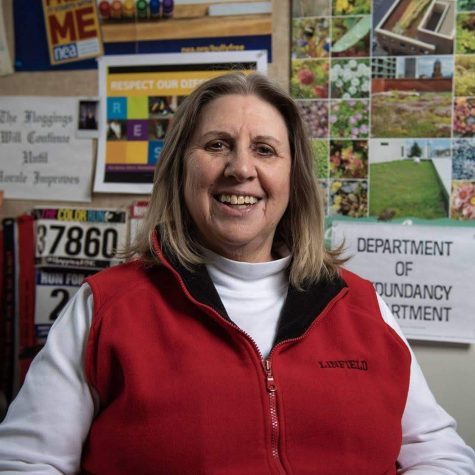 Her last lecture is called "Dawn's Tips: Reflections on Life as a Health Educator."
The series of lectures allows retiring faculty to reach out to Linfield community one last time.  
Graff-Haight has also devoted herself to developing innovative school-based health education programs and teacher training throughout the United States.
Her career also includes authoring and co-authoring books and articles on a variety of health subjects.
As a professor Graff-Haight challenges her students to grapple with difficult subjects around health issues.
Junior education major Aengy Pedrazzini took Graff-Haight's human sex class and remembers the course and Graff-Haight's teaching as a great experience.
"She is just such a humorous person,"  Pedrazzini said. "Even in topics that are awkward she still gets students involved."
Graff-Haight is also a strong advocate for LGBTQ+ and that part of her is present in the classroom.
Junior Accounting major Maddie Brunkhart said that Graff-Haight was, "the most passionate professor I have ever had at Linfield."
Brunkhart went on to say that even in large classes she still cares for her students and felt that connection.
Both Brunkhart and Pedrazzini said that Graff-Haight has a way of bringing her students into the conversation even if the topics are difficult.
Graff-Haight received her bachelor's degree in health education and physical education from the University of Wisconsin-LaCrosse. She received a doctorate degree in education from Oregon State University and a masters' of science in health education from the University of Wisconsin-LaCrosse.