Rain or cold can't dampen spirits at burn
Despite being dampened by the rain all afternoon on Friday, the robot sculpture constructed for the annual "Built to Burn" event ignited just as well as in other years. Well, almost.
The first attempt to light the sculpture involved shooting a flaming arrow at its base. After this method was abandoned and the more conventional lighter method was used, the sculpture ignited easily.
The event, which began at 7:30 p.m. in the field behind the Miller Fine Arts Complex, drew fewer people than it had in previous years. However, around 200 people still attended, which was a solid turnout considering the drizzly weather. The rain let up just before the start of the event.
"We were going to go through with it no matter what," said art professor Totem Shriver, who created the event 11 years ago and teaches a class in which the students build the sculpture. "We always say it's happening, rain or shine."
Sophomores Adele Stireman and Olivia Edgington said they would have come even if the rain had continued.
"In all, I had a good time, and I got to know the people standing around me better," Stireman said.
The event began with students performing fire-spinning arts, accompanied by drumming. A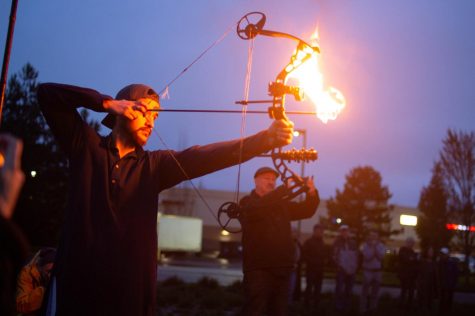 spontaneous fire spinner from the community joined the performers as well. "I'm not sure he's supposed to be part of the program," Shriver said. "I know him, though. He's a nice guy." Shriver said that one of his favorite things about the burn is that something impromptu seems to happen every year. "We've had people sing or recite poetry in past years," he said. He said that people have also walked around painting each others' faces, distributed food, or held tree branches.
Elsa Harris, '19, said that during the last two years, the crowd has run around the sculpture 
once most of it has burned down. "It's cool, like a big whirlpool," Harris said.
Shriver said his class, 3D Design, had to work harder this year to finish the sculpture in time. "I only had eight [students] working on it whereas I've had 21 building it in past years," he said. 
He said the class has to begin by brainstorming and sketching out ideas until they can agree on what they want the sculpture to look like. "I don't exactly recall the the moment it became a robot, but at some point someone said 'robot!' and everyone was like 'yeah!'" Shriver said he thinks the robot idea is inspired by videogame culture and the sculpture's title, "Deus Ex Machina" (God of the Machine), is an ode to videogames as well.
Stireman saw the robot as more of a human form. "I thought the idea of making it look like a
person was really meaningful," she said.
Shriver said his inspiration for the event came from "Burning Man," an art festival during which large sculptures are burned. The first year Shriver said only about 25 people attended Linfield's event, most of whom were members of the art department. The event has grown significantly since. It was at its height a couple of years ago with a crowd of around 300.
Shriver said the drummers and fire spinners are a relatively new addition the burn. "I think the drumming and fire spinning adds a whole new element," Harris said. "I remember when there were no drummers and it just felt so quiet."  
Shriver said he sees the burn as a way to bring people together. "Fire is such a primal and powerful element," he said.
Shriver said he thinks that for some people it's more about seeing a gian
t sculpture on fire and roasting marshmallows afterwards, and for others it has a more symbolic meaning.
"I think that's one of the greatest things about it–it means something different to everyone. It'll be something people remember," Shriver said.