'Catball flushes Pirates, Saylors dominates circle
Linfield stays hot as the team continues their winning streak in the series against the Whitworth Pirates. 
The 'Cats won three games handily and the last one got suspended in the bottom of the sixth inning because of rain.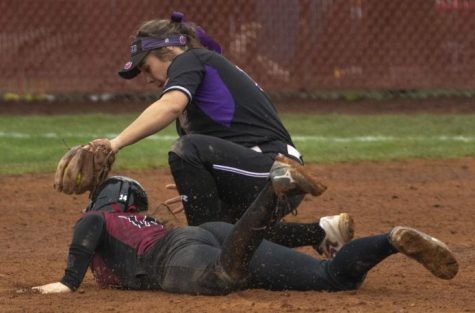 "As a team, we just wanted to come out swinging the bats well, and playing clean defense, as well as consistent in the circle attacking their weaknesses," Darian Stedman said. 
The first game ended with a shutout at 12-0, Linfield. Whitworth Pirates were run-ruled in the fifth inning, giving an early end to the game. 
The game was almost a no-hitter, but Whitworth's second baseman Desi Graham hit a single in the third inning.
There were three home runs from senior Paige Smotherman, junior Makenna Clizer, and freshman Abi Proffitt.
Senior Shelby Saylors pitched the entire game, keeping the bases clear for the most part. Out of the 18 batters she faced, she struck out eight. 
The second game, with a close score of 3-2, was a battle of defenses.
The batters on both teams struggled to find holes in the defense. Additionally, Linfield succeeded in striking out five Pirates. 
Whitworth pulled ahead in the third inning when they scored on a wild pitch from senior Tanna Benson.
However, the 'Cats tied it up in the fourth inning with a one-run-homerun from senior Darian Stedman.
Saylors subbed in for Benson in the fifth, finishing the game in the circle.
By the bottom of the fifth, it was tied at 2-2. 
Going into the seventh inning, it was still tied. Junior Chelsea Horita hit a walk-off single to left center, scoring sophomore Alana Nuttman.
The third game, another shutout, ended with a score of 5-0.
In the second inning, Proffitt hit another home run, scoring herself and junior Jocie Newton, bringing the score to 2-0.
In the fourth inning, senior Maddy Colson hit another home run, carrying in three runs. 
Saylors pitched the whole seven innings, allowing only six hits out of 28 batters faced. With six strikeouts, she continued her stellar weekend. 
"[Shelby] threw an insane amount of this weekend and threw great. She's a tank," Colson said.
The final game of the series was suspended in the sixth inning. Pirates were up 4-2 meaning there is a chance for the 'Cats to bring in another win when they finish the game at an undetermined time.