Student-athlete brands YouTube channel
His life as a college football player has expanded into a self-made brand on YouTube. Clark Hazlett, a senior on the Linfield Football team, started his channel "Adventure Athlete" a year ago.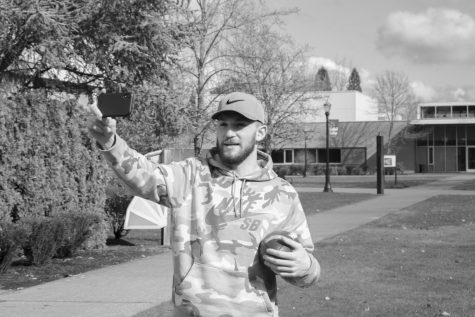 His double major in sports management and marketing and a minor in digital art has helped him grow his channel into business opportunities. 
"It was my senior year of high school when I started getting into videography. Before that though, I was really making videos my freshman year of high school before YouTube became a thing," Hazlett said. 
Hazlett's position as a backup quarterback has allowed him time to form a successful side career in YouTube. His channel has an audience of over 50,000 subscribers and holds over three million channel views.
Before Adventure Athlete, Hazlett had worked on three other channels with other people. But he learned that working with other people was not sustainable.  
As his YouTube presence grew, he felt more comfortable as a solo creator with complete control of the creative process. 
"One of the biggest mistakes that I made, beginning this channel, was putting a lot of emphasis on cinematics when really, you had to develop your own way to present yourself to the audience," Hazlett said about how being a solo creator has helped him figure out what it was that attracted his audience.
One of the most important aspects of success on YouTube Hazlett said was not to aim at being a major influencer. Rather one should move their ambition working toward smaller, community based channels.
Hazlett says that it is challenging to fit in the time for the creative process (filming, editing, and posting videos), especially with school, work, and practice. To get footage for the videos he often films on his iPhone during practice.
Yet despite all of these challenges, Hazlett intends to move forward with Adventure Athlete after graduation. He is looking to integrate his YouTube career into a tool for football player and their parents.