Linfield celebrates Davis' inauguration
Miles K. Davis was inaugurated as Linfield's 20th president on  Friday at Ted Wilson Gym in front of faculty, staff, students, and his family.
The week leading up to the inauguration was full of events that celebrated the distinct values and characteristics of a liberal arts education.
The festivities started with a procession of the Linfield faculty and students. The group was lead by a performance from the marching band and dance team.
After the group marched in the gym and everyone found their seats the audience was asked to stand for invocation. The invocation was lead by representatives of multiple faiths including Rev. David Massey, Rabbi Gary Ellison, Mr. Wajdi Said and Rev. J.W. Matt Hennessee.
Then, Board of Trustees chair member and 1978 alumni David C. Bac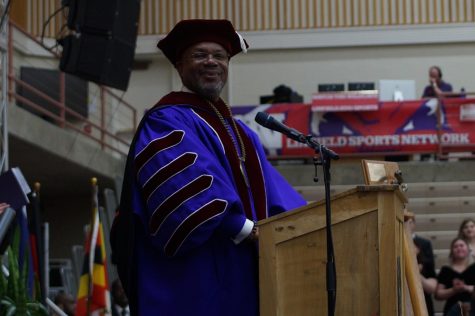 a officially welcomed all in attendance to the event. Baca was followed by the Linfield Concert Choir. The group under the direction of music professor Anna Song performed  "Hlohonolofatsa" (Bless Everything).
Senior and ASLC president Kainoa Cuttitta started the list of speeched with the charges to the president. After Cuttitta, the  chair of Alumni Leadership Council of Linfield Kristen (Teel) Taylor '98 said that the alumni community will follow Davis as he leads Linfield into the future with respect to the things that make Linfield special.
McMinnville Mayor Scott Hill also spoke and recognized the day as "Miles K. Davis Day."
Rev. Steve Bils, executive minister at American Baptist Churches of the Central Pacific Coast, followed Hill. Bils was then followed by Bryon Gringsby, president of Moravian College.
Linfield biology professor and FEC Chair John Syring gave his charges for the new president.
"As chair of the Faculty Executive Council, it is my responsibility to present to you, President Davis, this mace in recognition of your leadership at the institution in the hope and the promise of mutual respect and trust in working together to take this institution to greater excellence," Syring said.
After a song performed by the concert choir and the visiting Vancouver Avenue First Baptist Church Choir, Vice President for Academic Affairs Susan Agre-Kippenhan introduced the keynote speaker.
Award-winning performing artist and friend of Davis Phylicia Rashad spoke next.
"Excellence to Dr. Miles K. Davis translates as refinement of one's self in service to make the world a better place," Rashad said. "He forges friendships, he builds alliances, he values teamwork."
After Rashad's speech, Baca presented Davis with the medallion insignia of the office.
President of Shenandoah University Tracy Fitzsimmons introduced Davis as the 20th president of Linfield College.
"He's willing to give up, he's willing to lose in an argument because keeping the peace, being together, loving each other is far more important," Fitzsimmons said.
After Fitzsimmons' speech Davis came to the podium to speak.
"Linfield is anew, and the world is anew, and while we are gathered here to celebrate my inauguration as the 20th president of this great institution, I cannot ignore the difficult challenges that lay ahead of us," Davis said. "Those challenges exist on a global scale, even as they require local passion. The world is in need of leaders who can rise above and engage on our shared humanity."