Wildcat Football makes it three wins in a row
Although the Linfield football team had an uncharacteristically low scoring game, they still dominated as they won a road game against George Fox 14-0.
The defense of both teams relegated the offenses to minimal yards on the ground and hardly anything in the air.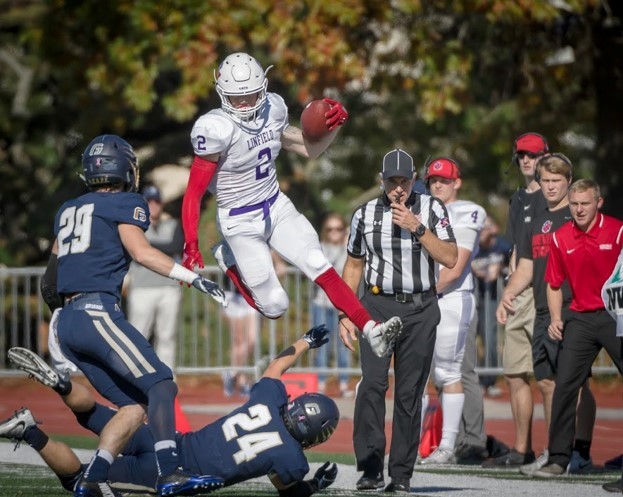 Then, on the Wildcat's third possession they got the chains moving. Sophomore Wyatt Smith completed two passes, the second one a 36 yard toss to junior tight end Jacob Calo, which placed the 'Cats within 5 yards of the endzone.
The Wildcats trusted the legs of junior Chidubem Nnoli, who scored the first touchdown of the game.
After another defensive stop the Wildcat offense took the field again. And once again, Smith and company would march down the field through the air, rushing, and penalties.  
On this visit to the redzone, Smith would throw it to running back Nnoli for his second touchdown of the game and make it a two score lead for the Cats.
Smith had about 192 yards passing and completed 21 of 30 passes attempted with a touchdown and an interception.  
Nnoli said the defense had a big influence on the the game and helped the team keep momentum.
Another highlight was the always-dominate defense. This time around the defense wrecked shop for the George Fox quarterback, sacking them a combined four times.
Sophomore defensive tackle Sam Gomez said "beating them at their home was just the cherry on top."
In the end, George Fox couldn't come back from the hole and the Wildcats took the 14 – 0 win.
The 'Cats need only one more win to keep the winning season streak alive. They will be looking for that win on family weekend as they come back home to face Pacific Lutheran at 1:30 p.m. Saturday, Oct. 27.