Wildcats feed the streak with blow-out win against Willamette
The Linfield football team put on a show for the crowd of Linfield alumni, current students and other lovers of this small college.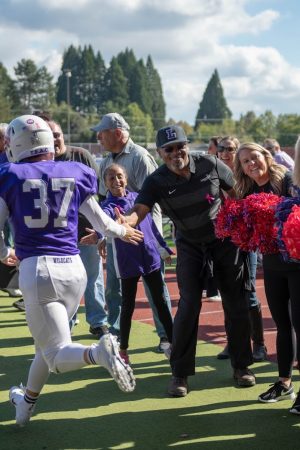 The Wildcats walked onto Maxwell Field with something to prove after their close loss to Whitworth 14-19.
Willamette had the ball first and started their drive on their own 30-yard-line. The first drive was the indication of how dominate the Wildcat defense would be throughout the game.
On a third down, the Bearcats elected to throw but the ball was intercepted by freshman Tyler Bergeron and returned for a touchdown.
Then, after another defensive stop of the Bearcats, the Linfield offense got to show what they had prepared for the home crowd.
The Wildcats marched down the field on the strength and power of their running game.
On fourth down on the Bearcats' 11-yard-line the offense put their faith in the hands of sophomore running back Artie Johnson.
Johnson did not disappoint when he found the hole in the defense and scored his first touchdown as Wildcat.  
"I was actually really nervous," Johnson said. "After I made that first cut and went inside I was like 'wow that really just happened.' Then I wanted to more, not for me, but for my team."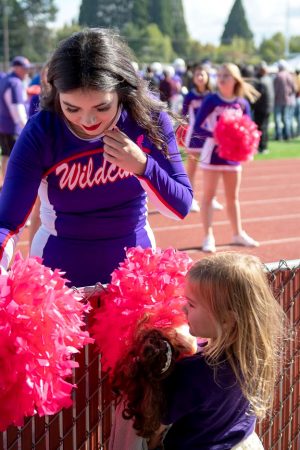 Johnson would score two more touchdown before the game ended. The running game for the Wildcats was unstoppable.
Not only did the 'Cats score six touchdowns rushing, but they also rushed a total of 316 yards.  
Not to mention, the defense kept Bearcats so far away from the red zone that the Bearcats could not even score a field goal.
The Wildcat defense only allowed 136 yards of total offense, whereas the Cats had 530 yards of total offense.
Sophomore defensive tackle Sam Gomez said a big reason for the defense's playing was the passion his team members had for each other and for the game.  
The game ended with a Wildcat win 59-0. The 'Cats are back at home this Saturday against Lewis & Clark at 1:30 p.m.