Soccer Coach returns with 'unfinished business'
In 2001, Steve Simmons left Linfield College but not without leaving an enduring mark on the campus, the culture, and players he coached. He returns 17 years later as the new director of soccer and assistant athletic director to complete some unfinished business.
When Simmons arrived to campus in 1996, he coached both men's and women's soccer teams. He was the first NCAA compliance officer as Linfield made it's transition to division 3 and also started the women's lacrosse program.
His career and long list of accomplishments at Linfield is only paralleled by his commitment to the student athletes. So much so that part of Simmons mission upon returning to Linfield is to find a way to fund and construct a new turf field for the soccer and lacrosse programs.
A difficult task for anyone, but this is not the first time Simmons has faced this challenge.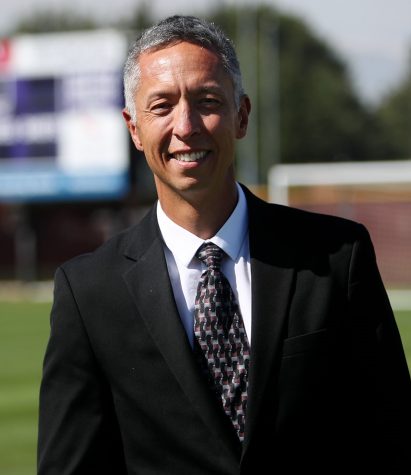 Simmons, along with the men's and women's soccer teams at the time, built what is now the home field of the soccer and lacrosse teams using whatever materials they could find.
He and his team were able to clear the game and practice fields and put up the fence using leftover materials from the construction of the HP apartments. They even found, moved and repaired the bleachers from the old gym in Riley Hall and built the dugouts that the players stand in.
"I just wanted more for my players, I was working them hard and they deserved more," Simmons said.
Simmons said that he still believes in that idea. In his new position, he is supporting the soccer programs and trying to get to know the players and the coaches to find what they need to succeed.
Senior Anne Ferguson, who plays center back on the team, has had to deal with the lack of resources for four years.
Ferguson said, "… it would be something special to have a locker room of our own, considering many other sports on campus have their own locker space."
Simmons said, unfortunately, that he understands that feeling all to well. "To have your home field is everything."
In his last season coaching at Linfield, his team couldn't host any NCAA tournament games due to the quality of the field. They even had to practice at Joe Dancer park, which was only slightly better than their own field.
"That is the year we made it to the final four," Simmons said, lacking the energy in his voice he had when talking about the future. "We could have hosted all four games."
He said he wants to give these athletes "a world class experience" and when their time comes to have to say goodbye to Linfield, he wants them to miss their time playing
Despite many of the accommodations that the team wants, Ferguson said:"These ladies are some of the most important people in my life because I look up to them so much for the inspiration to work hard… they hold me to a high standard [and] they expect I do the same for them."
It is with that same idea of high standards that Simmons said: "The past successes of Linfield are evident, but we have to take it to another level." Simmons not only believes that about the college but about his own reputation.
"There are a lot of things that drive me, but the one thing is that I have unfinished businesses," Simmons said.