Change in Student Affairs leadership
Dan Ferguson was an institution at Linfield during his many years of work here. This summer Ferguson left Linfield and a void opened up in an important position. Luckily, Sarah Fuller has stepped up to serve as the Interim Assistant Director of College Activities and Fraternity and Sorority Life.
Fuller graduated from Willamette University in 2014 after studying psychology and Spanish. She was involved in Greek Life at Willamette as well as worked in several positions related to student affairs and activities. Fuller attended graduate school at Oregon State University prior to filling this position at Linfield. She has lived in Oregon for nine years.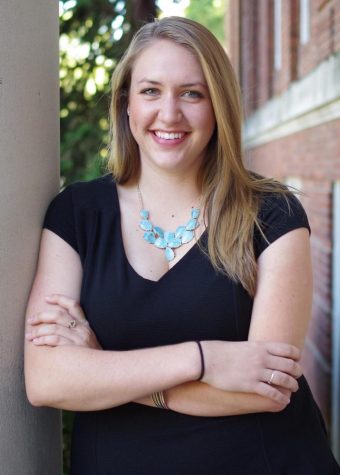 Fuller first came to Linfield in 2014 and was in Mikenna Whatley's previous position and worked under Dan Ferguson.
"Dan was wonderful to work with. I'm sad he's gone," Fuller said. She also that Ferguson imparted a plethora of knowledge upon her. Linfield reached out to her when his position opened up.
Fuller said that the transition and taking over the position has been an enjoyable but also a chaotic experience.
"Coming back to Linfield has felt like coming home," Fuller said. "Things have changed since I've been gone but I think all those changes have made Linfield a more inclusive and loving place."
Fuller is looking forward to opportunities for change given all the things going on at Linfield right now. She is also eager to meet and connect with more students.
Mikenna Whatley acts as the Program Coordinator of College Activities and Fraternity & Sorority Life. Fuller is her direct supervisor but they also collaborate on a variety of roles. Whatley described her and Fuller's relationship as the "dream team."
Whatley said that one of the difficulties faced after Ferguson left Linfield was sound. "Dan was in charge of the sound for many of the student activities events, especially ones like Cat Cabs and Saturday night LCAT events," Whatley said. "As of now we don't have an official replacement in place, but we have plans in the works."
"We both have lots of ideas and positive change we want to help our students achieve. In all we do we put our focus on our students and want to see them thrive as just just leaders and students at Linfield, but as whole humans in the world,"Whatley said. "Overall I absolutely adore working with Sarah and it's such a blessing to have a counterpart who can be both my mentor and dear friend."
As for student government, Fuller says "Our student government this year is amazing and cares deeply about meeting the needs of their peers." She says this makes her job more enjoyable.
ASLC Vice President AnnaMarie Motis seconded this notion. Motis said that there have been no major changes to the structure of the student government because ASLC, "…answer[s] to the student body." However, Motis said that she is excited to work with Fuller's fresh perspective because of how eager Fuller is.
"As sad as we are that Dan left Linfield, we are all so excited for him and his new chapter in his life," said ASLC President Kainoa Cuttita. "Working with Sarah has been amazing. It has only been a few weeks, but she has really helped myself and the whole Cabinet grow as leaders and as a team. Her positive and passionate attitude has really made the transition into the new year run so much more smoothly and I'm really looking forward to working with her the rest of the year."
Fuller is working on getting to know the Linfield students. She wants students to learn who she is and help them build trust with her. So far the events Fuller has worked on, orientation and welcome week, have gone well.
"There's a myriad of challenges that come with working in a role like this one," Fuller said. "Communicating with students and making sure their needs are being met is always a challenge. If it weren't it would mean I'm not doing my job."
Fuller said that her favorite part about returning to Linfield is the love people have for the college.
"People love Linfield. There is this deep, burning, undying love for being a Wildcat and even though I started as a Bearcat in my college career, I love Linfield a ton. It's a wonderful community and people feel strongly about giving back to it. I'm honored to be a part of that – giving back to a community that has given me so much."
Fuller said that she cares deeply about cultivating community and her hope is that all the decisions she makes comes from this place.
As for one of the biggest events of her year, she wants Luau to be successful for the students and has full confidence in the Hawaiian club and the people involved in Luau. She says the Hawaiian club knows what they are doing and just wants to provide support to them as much as she can.
"I tell this to the students I work with all the time: it's not a one way street. Students have as much knowledge to give me as I have to give them," Fuller said.
Fuller calls herself an "open book" and says that she will be having office hours from 3 to 5 pm every Friday this semester. Her office is located on the third floor of Riley.