'Cats clinch ninth consecutive conference title
The Linfield defense got a shutout for the first time this season in Saturday's 23-0 win against Puget Sound. The Wildcats clinched the program's ninth consecutive Northwest Conference title.
It was the 41st overall conference title for the program.
Puget Sound was limited to just 99 total yards. The Loggers could not seem to figure out the Wildcat defensive line. More specifically, they couldn't solve the mystery that was Asa Schwartz, '18, who picked up four sacks in the game. He also had a team-leading six tackles.
"It was just a perfect game plan and we were able to execute it," Schwartz said. "It was a successful day."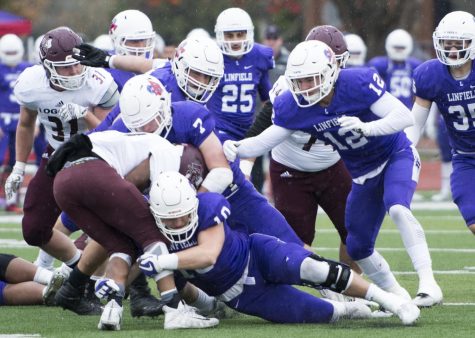 The Wildcats first struck early in the second quarter when Wyatt Smith, '21, found J.D. Lasswell, '19, in the end zone for an 11-yard touchdown pass.
It was the freshman quarterback's first start under center. He went 26 for 46 on the day with two touchdown passes and an interception.
The score was 7-0 in favor of the Wildcats going into halftime.
Smith got the offense marching downfield again with 8:28 left in the third quarter, throwing a 41-yard bomb to Kyle Kimball, '21, to make the score 14-0.
After that, it was the Willy Warne show once again. Warne, '19, added three more field goals to his resume to tab on the Wildcats' final nine points.
"The best thing I've been doing to stay focused during the game is just not overthinking it," Warne said. "I just go out there when they need me and do the best I can to do every kick."
And, oh my, have they needed him this season.
It seems as if all season long, the Wildcats could depend on Warne to send any kick in between the uprights, no matter the distance. His longest field goal on Saturday was a 48-yarder with less than a minute left in the third quarter.
The win only gave Linfield a share of the conference title. But when Pacific Lutheran pulled off the upset against George Fox, the Wildcats claimed the championship.
Needless to say, the championship run for the Wildcats may have been expected by many. After all, the program has not lost a conference game since 2014.
Saturday also marked Senior Day for Linfield Football. Although it was the last home game of the regular season, the team hopes to receive a bid to host a first round playoff game
Linfield's overall record is 7-1 and has a conference record of 6-0.
The Wildcats will conclude their regular season against Pacific University at 1 p.m. Nov. 11 in Forest Grove.